Delimitation brings Stokes back
Rakesh Lohumi




Rakesh Singha (CPM)
Theog: Delimitation has brought Leader of the Opposition Vidya Stokes back to her old constituency Theog, where she is locked in a multi-cornered electoral battle involving BJP, CPM and TMC candidates. She contested the last two elections from Kumarsain, which has been merged into Theog and Shimla Rural constituencies.
After delimitation, the present segment is a combination of Kumarsain and Theog, represented by Rakesh Verma. It has now the highest number of 73,500 voters in the district. This has led to an interesting scenario, with two sitting MLAs in the fray at the same time.
A part of Theog, the Balsan area, has been shifted to Chopal. Apart from delimitation, the entry of Rakesh Singha (CPM) and Pramod Sharma (TMC), has set the stage for a lively battle. The complexion of the constituency has been changed and so have political equations.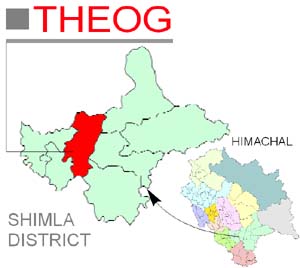 Stokes and PCC Chief Virbhadra Singh, who have been at loggerheads for the last two decades, have joined hands and, unlike the past, the latter is also campaigning for her. As a result, Pramod Sharma, a staunch Virbhadra Singh loyalist who contested as rebel candidate in last two polls, may not get the kind of support he got in the past. Stokes is also facing her old rival Verma, who defeated her in 1993.
However, it is the presence of new rival Singha that should be a cause of concern for her. He hails from her area, Thanedar, and also related to her. He is not new to electoral politics and won the Shimla seat way back in 1993. The CPM high command, which is keen to expand the party's base, chose to field him from Theog instead of Shimla, where the party has done well by winning the posts of Mayor and Deputy Mayor.
"I have all the advantage of being a fresh candidate whereas my main rivals Stokes and Verma have to contend with anti-incumbency. Moreover, with Verma's Balsan area shifted, he was keen to contest from Chopal," says Singha.
Stokes, on the other hand, maintains that delimitation has helped her as she is the only candidate who represented both Kumarsain and Theog and is familiar with the entire constituency. It will only hurt the prospects of Verma and Sharma as they will have to contend with a new area. In fact, Virbhadra Singh, while campaign for Stokes, emphasised that Verma was keen on contesting from Chopal, but he was forced to contest from Theog by the BJP.
However, Verma is a man of resources and has won all three elections as an Independent. The loss of Balsan area, which was his stronghold, will matter to him, but he stands to gain from the division of votes due to the presence of Singha and Sharma.
Thus, a keen but interesting contest is on the cards and it is matter of prestige for Stokes. She has contested all Assembly polls from 1977, wining from Theog in 1982, 1985, 1990 and 1998 and from Kumarsain in 2003 and 2007. The people are still facing basic issues of low voltage and erratic power supply, water shortage and lack of staff in schools and health institutions.
Statistics
Theog
total voters 73,500
male voters 37,612
female voters 35,888
2007
Winner Rakesh Verma (Ind) 48.56%
Runner-up Rajinder Singh (Congress) 36.85%
2003
Winner Rakesh Verma (Ind) 46.30%
Runner-up Rajinder Singh (Congress) 38.47%
Kumarsain
2007
Winner Vidya Stokes (Congress) 40.86%
Runner-up Pramod Sharma (Ind) 37.92%
2003
Winner Vidya Stokes (Congress) 43.06%
Runner-up Pramod Sharma (Ind) 32.61%