CM aspirant Kaul Singh faces challenge at home
Kuldeep Chauhan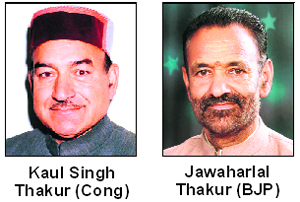 Mandi: Congress stalwart Kaul Singh Thakur, though a chief-ministerial aspirant, is fighting a battle of his lifetime from this constituency that he has lorded over for nearly three decades.
BJP's Jawaharlal Thakur, a man with an earthy approach, had given Kaul Singh the first wake-up call in the 2007 Assembly election, when the Congress leader managed to scrape through by just 1,809 votes. This time again Kaul Singh's castle seems under attack from all sides.
Kaul Singh had challenged state Congress chief Virbhadra Singh's hold within the party soon after the Congress debacle in 2007. But the ball went back to Virbhadra after the high command unseated Kaul as party president at the last minute.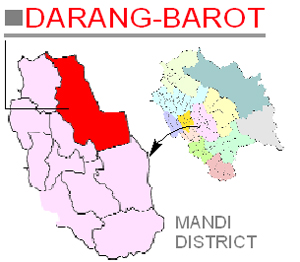 The developments came handy for the BJP in this constituency, which questioned Kaul Singh's leadership ability and stature. But Kaul's supporters, especially his trusted team of Puran Chand, SS Guleria and Darang election in-charge and his son Chander Shekhar, counter this by claiming their leader has developed Darang and "is sure to win by a greater margin this time".
Kaul Singh put up a show of strength when he filed his nomination, telling the crowd that he did not "go after posts" and had left it to AICC president Sonia Gandhi to decide on the next Chief Minister.
While Kaul Singh's detractors within the Congress allege he has been soft on Chief Minister PK Dhumal, he was able to sideline Jawaharlal and inaugurate a bridge besides a couple of buildings, which lowered the BJP cadre's morale in Darang.
Voter expectations
From Barot in the Chauhar valley to Panarsa in the Snor valley, voters have kept the candidates guessing. Kaul Singh's terms as MLA are being questioned. As many as seven gram panchayats are without roads — Lapas, Latran, Tarswan Batheri, Shil Bhadani and Kathog. "Politicians make promises they will provide us link roads, but nothing has happened for the past 20 years," villagers resent.
In the Chauhar valley, the poor have been illegaly cultivating poppy. However, campaigns against the practice have cut this source of income too. Another cause for resentment is that the Guma rock salt mines never became a source of employment for local youth, despite promises made by the MLA. Barot flood victims have not been rehabilitated.
Looking back
More than issues of development, the entire Mandi district is looking at Darang to seek one answer: Will Kaul Singh end up like his Congress predecessors: Chachiot leader late Karam Singh Thakur in 1963 and Sukh Ram in 1993. Sukh Ram played spoilsport and sidelined Karam Singh after he sided with the late Dr YS Parmar. Kaul Singh did the same in 1993 and sided with Virbhadra Singh to sideline Sukh Ram.
Kaul Singh claims all development in Darang is his contribution, but the BJP claims the roads are being built under the Prime Minister's Gramin Sarak Yojna, and not the Congress.
Jawaharlal Thakur's claim is he is closer to the grassroots and identifies with the poor that inhabit the Chauhar valley, one of the poorest and remotest areas in Darang.
Politically, the two main rivals are evenly placed. Both claim they are farmers, but Kaul Singh is more urbane and aristocratic in manner, and farmer only by proxy.
Kaul first won on the JNP ticket in 1977, but joined the Congress in 1982. He lost in 1990 and then won in 1993, 1998, 2003 and 2007. However, he faces a tough election this time, as most Congress contestants in Mandi back Virbhadra Singh as of now.
Between the BJP, new entrant Himachal Lokhit Party's Kapil Dev (one-time Kaul supporter), NCP, BSP and three independents, the Congress has to battle on multiple fronts.
But Kaul Singh can take comfort from the fact that a BJP rebel, Ramesh Sharma, is also in the fray and can upset Jawaharlal's cart, as he did in 2007. Much depends on how the BJP manages Sharma.