UN's World Cities Report

Delhi, Mumbai halfway from being prosperous
Ananya Panda/TNS
New Delhi, October 21
Both New Delhi and Mumbai register an encouraging infrastructural progress and quality of life; they have posted high human development trajectories but are still halfway from being prosperous, according to the recently released UN Habitat's State of the World's Cities Report 2012. The human development index (HDI) for Delhi is 0.71 and 0.77 for Mumbai, whereas the national average of HDI is 0.52.
Among the total 95 cities world-over whose prosperity index was assessed on five parameters -- productivity, infrastructure, quality of life, equity and environmental sustainability, Delhi and Mumbai were placed at 58th and 52nd position, respectively. These cities are lagging behind several other Asian cities such as Shanghai, Beijing, Manila and Jakarta.
While in terms of equity in income and access to basic services, Delhi and Mumbai are even behind Dhaka (equity index of .82 on a scale of 1), the setback mainly comes on account of poor environmental health and limited employment opportunities.
Mumbai's prosperity score stood at 0.694 and Delhi was rated 0.635 with the Austrian capital Vienna leading the list, followed by New York, Toronto, London and Stockholm.
The productivity scores of Delhi and Mumbai are seen at a modest level 0.596 and 0.645, respectively. What came as a jolt given the New Delhi's tall claim of being a "green capital" was the dismal state of environmental conditions with its environment index gauged at 0.448, one of the world's lowest. It is even less than that of Mumbai 0.632 vis-à-vis the highest (0.963) of Canada.
While attributing the deteriorating environmental conditions to less usage of public transport and increase in personal vehicles, Eduardo Lopez Moreno, the chief author of the report, said, "Both the cities are penalised for poor environmental conditions, inadequate access to public amenities, space and low productivity levels with majority of the population engaged in informal sector."
Moreno observed, "In terms of infrastructure, Delhi and Mumbai may have left many cities behind, but the economy is not absorbing in terms of job generation, resulting in informality. This makes people prone to poverty trap and exploitation."
Recommending holistic development policies, Moreno noted that similar to several other countries, India's notion of development is distorted as the real purpose of urban planning is to expand prosperity levels considering the five factors and not to enclave it to mere economic dimension.
Questioning the country's urban planning system, Moreno stated, "The public institutions at the centre of the wheel of prosperity are not holding together the five dimensions of prosperity. Urban planning to some extent has been confiscated by economic interest and more for the use of real estate development."
On the one hand, the report makes it amply clear that India has failed to reap the dividends of having one of the youngest and productive population, on the other hand, it reveals the far from adequate reach into rural areas of the country's much-hailed national programmes such as the Mahatma Gandhi National Rural Employment Guarantee Scheme and National Rural Health Mission reflected in the wide gap in the HDI of cities and national average.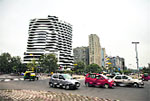 Growth quotient
* The prosperity index of 95 cities world-over were assessed on five parameters -- productivity, infrastructure, quality of life, equity and environmental sustainability
* While in terms of equity in income and access to basic services, Delhi and Mumbai are even behind Dhaka, the setback comes on account of poor environmental health and limited employment opportunities
* Mumbai's prosperity score stood at 0.694 and Delhi was rated 0.635 with the Austrian capital Vienna leading the list, followed by New York, Toronto, London and Stockholm