Shruti taken ill, shifted to hospital in Faridkot
Faridkot, October 28
Faridkot girl Shruti was shifted to Guru Gobind Singh Medical College and Hospital (GGSMCH) here this evening for a medical examination after she fell ill at Nari Niketan, Jalandhar.
For a healthy living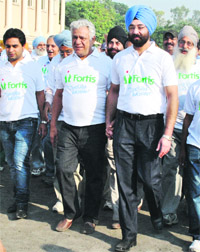 Veteran actor Om Puri takes part in Walkathon, an event organised by Fortis Hospital to create awareness about the prevention and cure of osteoporosis, in Patiala on Sunday. Tribune photo: Rajesh Sachar
Inaccessible despite Badal's claim
Jalandhar, October 28
Despite Chief Minister Parkash Singh Badal's claim that anybody was free to talk to Shruti lodged at the Nari Niketan here, the Jalandhar police continues to deny the media access to the minor girl.
PCC to reassess chances of sitting MPs
Chandigarh, October 28
The Pradesh Congress Committee (PCC) is set to reappraise the candidature of all its sitting MPs and is open to fielding new candidates, including celebrities, from the seats it had lost in the last Lok Sabha elections.
Capt hits out at Bhattal
Chandigarh, October 28
Punjab Pradesh Congress Committee president Capt Amarinder Singh has taken objection to the statement of former Chief Minister Rajinder Kaur Bhattal in Jalandhar on Sunday questioning party decisions to which she was a party.
Monitor Central funds given to Punjab, Jakhar urges PM
Jalandhar, October 28
Congress Legislature Party Leader Sunil Jakhar has requested Prime Minister Manmohan Singh to ensure a close monitoring of central funds allocated to Punjab.
Not just weddings, Ludhianvis spend tidy sum on challans too
Ludhiana, October 28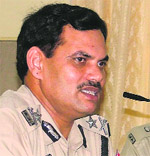 Ludhianavis are known for spending lavishly on marriage parties. It is now learnt that they spend a tidy sum on challans too. The city traffic police has collected a whopping Rs 4 crore by way of challans in the past nine months. At a press conference here today, Commissioner of Police Ishwar Singh said: "The strict implementation of traffic rules has started yielding results. Last year, we generated Rs 2 crore from traffic challans and this year we have generated a revenue of over Rs 4 crore already."
Police Commissioner Ishwar Singh at a press meet. A Tribune photo
Cold store plan comes a cropper
Chandigarh, October 28
The SAD-BJP government has been opposing tooth and nail the Union Government's foreign direct investment (FDI) in the retail sector even though the policy aims at building high-quality farm infrastructure so as to minimise post-harvest losses. But, Punjab itself has also not done much to bail out farmers growing easily perishable crops. The state government's plan to attract investment for setting up state-of-the-art cold stores has come a cropper.
3 sewer men die in Kapurthala
Kapurthala, October 28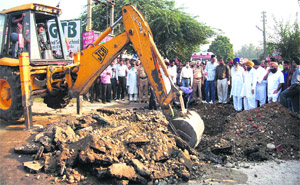 Three sewermen, two of them brothers, were asphyxiated while trying to clean a sewer here this afternoon. Jojo, his brother Gora of Tarlokpura locality and their friend Sonu of Ajit Nagar were private sewermen who worked for a paltry sum. Sources said the three had been hired for cleaning a main sewer on the Kanjli road. Jojo was the first to go inside the sewer.
Rescue operation in progress at the mishap site. Tribune photo
799 ITI trainees picked by auto majors: Joshi
Chandigarh, October 28
A record 799 trainees from the three ITIs at Patiala, Rajpura and Batala have got placement in Maruti Udyog and Tata Motors.
Punjab ups efforts to nail drug peddlers
Jalandhar, October 28
In a bid to tighten the noose around drug peddlers, the Punjab police has started attaching their properties. The district (rural) police has prepared a list of drug smugglers. It has attached the properties of some of these named in over seven cases under the NDPS Act.
Chemists refuse to file monthly return
Amritsar, October 28
The Punjab Chemist Association today declined to abide by the state government's decision to make it mandatory for pharmacists selling scheduled HX (habit forming) drugs to submit a monthly report to the drugs department.
Punjab Govt okays Rs 140-cr road widening projects
Chandigarh, October 28
The Punjab Government has approved four-laning of the Kotkapura-Sri Muktsar Sahib and Batala-Mehta-Beas roads. Both the projects involve a cost of Rs 140 crore.
Adarsh school staff on warpath
Bathinda, October 28
Members of the Punjab Adarsh Schools Teaching and Non-teaching Staff Association yesterday blocked the Bathinda-Barnala road for over five hours.
Four years on, no action against guilty officers
Fatehgarh Sahib, October 28
No action has been taken against the erring officers involved in the community centre scam despite being indicted by the Vigilance Bureau four years ago. The centre was built on the Khanpur road in Sirhind at a cost of Rs 1.20 crore in 2008.
Bhangra beats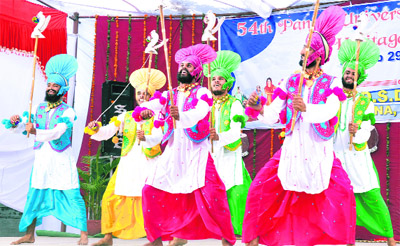 Students perform bhangra during the 54th Inter-Zonal Youth Heritage Festival organised by Panjab University at GGSD College in Hoshiarpur. Tribune photo: Malkiat Singh
Sarabhdyal's remand extended by a day
Amritsar, October 28
A local court today extended the police remand of Sarabhdyal, the personal assistant of former Cabinet Minister Gulzar Singh Ranike, by a day, while his brother-in-law Harjit Singh and three others arrested yesterday were sent to judicial custody.
Army job racket busted; 1 arrested
Ferozepur, October 28
In a joint operation, military intelligence and Punjab CID personnel have busted a module allegedly involved in "cash for job" racket for recruitment in the armed forces.
Spurious milk unit raided in Fatehgarh Sahib
Fatehgarh Sahib, October 28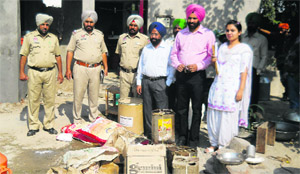 A team of the district health department, led by Civil Surgeon Dr Jaswant Singh, unearthed a synthetic milk preparing unit run by Balwinder Singh in Mathi village. The team seized 2 quintals of skimmed milk, 50 kg of chemicals, tins of refined oil and ghee and synthetic milk. The district police has registered a case and arrested the culprits.
Officials of the health and police departments with seized material in Fatehgarh Sahib. A Tribune photograph
Highway robbers on prowl
Muktsar, October 28
Highways in Chief Minister Parkash Singh Badal's home district Muktsar are turning unsafe with every passing day. In the past one week, two vehicle snatching incidents have occurred on the district roads, putting a question mark over the functioning of the district police, which otherwise claims that night dominance and special security measures had been taken due to the ongoing festival season.