Rebels may affect parties' vote banks

Kuldeep Chauhan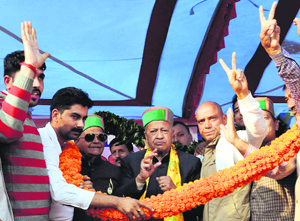 Sukh Ram and Virbhadra Singh with Parkash Chaudhary at a rally. Photo: Jai Kumar

Balh: With nine candidates in the fray, the battle for the ballot in Balh (SC) has emerged as a four-cornered contest between sitting Congress MLA Parkash Chaudhary, new BJP face Inder Gandhi, BJP rebel Mahant Ram Chaudhary and CPM's Paras Ram. With delimitation, voters have been reduced as 10 panchayats have been merged in Nachan and Mandi constituencies.
In the political din raised by the nine candidates, residents have come out with their own agenda for candidates. India Against Corruption activist Des Raj says the rising crime among the local youth due to unemployment, illegal mining, wildlife menace and Suketi khud channelisation are the main issues which have not been addressed.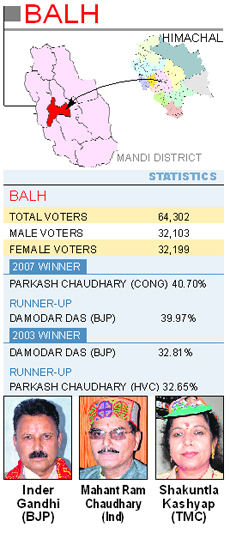 Ravi Rana, a veteran Congress activist, says the BJP government has done nothing for Balh and roads are in a bad shape. Milkfed Chairman Mohan Joshi says the BJP has launched the Dugdh Ganga Yojna in the state and Balh has performed well. Both the Congress and the BJP claim credit for the 500-bedded ESIC Medical College in Balh.
Retired judge-turned-politician Mahant Ram, ditched by the BJP for the second time, is fighting a battle for political survival. The BJP has fielded a newcomer, Inder Gandhi, an IPH surveyor and Sangh Parivar activist, who represents the Duman community.
Mahant Ram is banking on the legacy of his father, the late Piru Ram Chaudhary, a four-time Congress MLA, and is cutting mainly into the BJP vote bank in his community. But his fate hangs in the balance as it is not clear if his community rallies behind him or Parkash Chaudhary.
It is not a cakewalk for Parkash either. He won two elections, first on Sukh Ram's Himachal Vikas Congress ticket in 1998 and on Congress ticket in 2007. Both Chaudharys represent the same community. The trend in Balh shows that Parkash has managed to keep his base intact in three elections. This time, he is banking on the strength of the Congress, taking advantage of the caste combinations and permutations that have emerged in Balh.
Parkash is not only seeking to take advantage of Mahant Ram, an Independent candidate, but also of two rejected BJP ticket seekers, Sanjay Surehali (Independent) and Netar Singh (HLP), and two non-Chaudhary candidates, Purshotam Bhatia (BSP) and Padam Singh Bhatia (Himachal Swabhiman Party).
These candidates will corner their pockets of influence in the non-Chaudhary vote bank, which can dent the BJP's non-cadre vote bank as Gandhi is also a non-Chaudhary. But he has a clean image and is social and accessible. He is banking on the support of the divided Sangh Parivar cadre among different contestants.
Parkash also faces a Congress rebel, Shakuntla Kashyap, now a Trinamool Congress candidate. But she hails from Kumi, the home area of Gandhi, and may corner her pocket of influence spread across different panchayats. CPM's Paras Ram is banking on the strength of the Left cadre and his community.