Cong leader's daughter takes on BJP MLA
Kuldeep Chauhan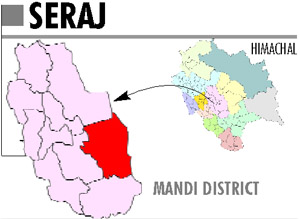 Seraj: Having completed a hat-trick of wins, BJP MLA Jai Ram Thakur faces a soft spoken JBT-teacher-turned-Congress candidate Tara Thakur this time.
Thakur took mutual bickering and squabbles among party men since 1998 in his stride to capture the Congress bastion.
Tara Thakur has gained ground in her father Moti Ram's legacy here.
Jai Ram's 15-year score card in Seraj is under the public scanner. Even after they were denied party ticket, Vir Singh Chauhan, Chet Ram Thakur and Shiv Lal have not joined campaign against Jai Ram much to his relief.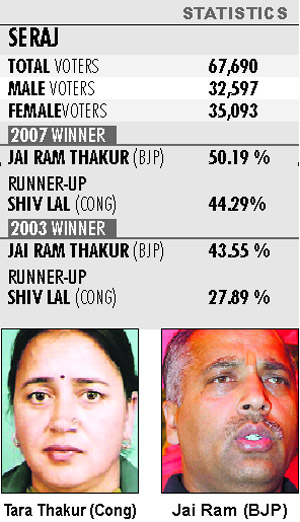 The voters in Chatri-Chuini and Gara Gushaini belt, the most neglected area in Seraj, did nurse some grudge against Jai Ram.
Chatri belt remained disconnected with Thunag and Jankheli as he started HRTC bus service for few days across Magrugala at the time of inauguration, but the bus service was stopped, local residents rued.
Nalwagi, Khola Nala, Baga Chenogi and Janshla panchayats do not have road links.
There are over 80 big villages spread in 58 panchyat areas with no roads, the lifeline in the hills, politicians don't even visit the villages, the villagers rued.
Congressmen also allege that Jai Ram promoted 'thekedar raj' in Seraj. They are campaigning for him, but the common man is not happy, they claim.
The Gara Gushaini-Chatri, Kalodahr-Chatri, Gohar-Janjheli, and other link roads are in pathetic condition. It was during Jai Ram, BJP president in 2007, that BJP had given a slogan, "Sarkar Badlo, Halaat Badlo" to oust the Congress. But he could not do much to change circumstances (Halaat) in his own segment, leave alone other parts of the state, Congressmen claim.
The plight of tourism is the same in Janjheli-Shikari Devi as nothing concrete has been done to promote tourism here for the past 15 years, residents complain.
Jai Ram Thakur is also the Sangh parivar ambassador because of his ABVP background, but he has been sulking when he got non-attractive rural development ministry.
Chief Minister PK Dhumal has been promoting his son, Anurag Thakur as the main star of the second-rung leadership in the state, Sangh insiders say.
Jai Ram and his supporters claim all-round development was achieved in Seraj during the BJP regime, but the Congress put a full stop to it.
"We have built connecting roads between Aut-Panjain and Thathi, Chatri-Thunag," BJP claim.
Development is a major issue in Seraj, but squabbles in Seraj unit of the Congress are working against Tara. Among Congress leaders, only former telecom minister, Sukh Ram came in her support.
Aspirants for the Chief Minister's post Kaul Singh Thakur and Vidya Stokes have kept themselves restricted to their Darang and Theog segments.
Tara's father late Moti Ram, was Sukh Ram's supporter. Tara is trying hard to rope in Virbhadra Singh, one-man army of the Congress to take part in a rally to woo voters in Bali Chowki-Thatchi belt, one of the biggest vote banks outside Janjheli-Thunag belt.
Jai Ram Thakur has presented a show of strength to cut into this vote bank, which is a traditional Congress fort.
Jai Ram Thakur gained his mass base because of infighting in Seraj Congress and thrived on the Moti Ram group.
With the exit of Moti Ram, Tara and her supporters have managed to win back "Moti Ram supporters", but still half of them are with Jai Ram.
Virbhadra Singh has quelled Congress rebellion in Seraj, asking his supporters, Chet Ram and Vir Singh Chauhan to support Tara. At one time, Chet Ram had got the Nationalist Congress Party ticket. But both of them have been sulking ever since.
Another worry for Tara is that CPM candidate Jagdish Thakur, who hails from Janjheli, is in the fray and may cut into Congress votes.