OPED

Health
Training guns on tuberculosis
Dr Madhukar Pai
The rise of multidrug-resistant TB in the recent past in India is worrying. The government, and both the public and private sectors, must work together to check the spread of this new threat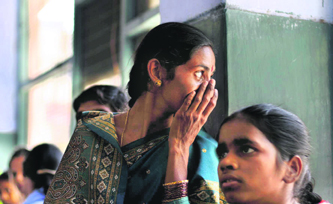 Tuberculosis (TB) is one of India's oldest and perhaps most neglected public health challenges. The perception among the majority is that we are not at risk of being infected by TB. This assumption is deeply flawed.
TB is caused by bacteria that spread from person to person through air. We are all exposed and vulnerable to it at all times. Chronic cough (for more than two weeks) and fever are the most important symptoms of the disease. When a person with TB coughs, the bacteria get ejected into the air. These get inhaled by someone else who then becomes infected. Now, with the rise of drug-resistant TB, the disease has become more complicated to control and difficult to treat.
In most cases, TB is curable. However, it requires several antibiotics simultaneously and long-term treatment for cure. Patients must take at least six months of medication without interruption. If the medicine course is not completed, the bacteria can become resistant to the first-line treatment drugs. This usually happens when patients do not complete their full course of treatment; when doctors prescribe some wrong treatment, the incorrect dose, or length of time for taking the drugs; when the supply of drugs is not continuous; or when poor quality drugs are used.


Checklist for govt
For the NSP to succeed, several things need to happen.
For universal access, the government must increase spending on TB control, and support the RNTCP by providing an adequate budget for the next five-year plan.
Universal access implies a large-scale engagement with the private sector in India. Currently, there is little collaboration between the RNTCP and the private sector and this is a major concern. Innovative business models and market-based public-private partnership models must be tested to engage the private sector to improve TB diagnostic and treatment practices. Getting the private sector to notify all TB cases is a good step in this direction. The RNTCP should also engage with private labs in India, to expand quality-assured diagnostic services.
New diagnostics and drugs are required to reach the goal of universal access. Many existing diagnostic tests in the public sector (e.g. sputum smears) are insensitive and cannot detect drug-resistance. Widely used tests in the private sector (e.g. antibody blood tests) are inaccurate and banned. Investments in new, WHO-endorsed diagnostics such as molecular tests and cultures should be a priority for rapid diagnosis of drug-resistant TB.
Efforts must be made for better regulation of TB drugs in India and to reduce rampant over-the-counter use of TB drugs. The government should also try to indigenously manufacture second-line TB drugs at lower costs, or aggressively negotiate lower prices with pharma companies.
The government should develop a clear strategy and advocacy plan to follow up on its recent directives on ban of TB blood tests, and mandatory notification of all TB cases.
The RNTCP needs to think beyond treatment of drug-resistant TB, and focus on preventing a major epidemic. In the case of drug-resistant TB, an ounce of prevention is definitely better than a pound of cure.
Multidrug-resistant TB
The rise of multidrug-resistant (MDR) TB in the recent past in India is worrying. MDR-TB is resistant to isoniazid and rifampicin, two of the most important and commonly-used first-line antibiotics used to treat TB. The MDR TB requires extensive treatment (two years or longer) with multiple drugs, and outcomes are usually poor. Treatment of drug-resistant TB is also very expensive because of the high cost of second-line drugs.
While the current numbers may not seem alarming, the potential of how many more TB patients can become drug resistant becomes apparent when one considers the magnitude of the burden of the disease in India. India leads the world in TB-related morbidity, mortality and drug resistance. The country has over two million new cases every year. TB kills nearly 1,000 persons every day.
A 2011 Global TB Report by the World Health Organisation estimated that approximately 64,000 cases of MDR TB emerge annually from the notified cases of pulmonary TB in India. Recently, a team from Mumbai reported cases of 'totally drug-resistant tuberculosis' – suggesting that this form of TB was incurable because of resistance to all kind of TB drugs tested.
India's Revised National Tuberculosis Control Programme (RNTCP) is widely appreciated for having made a huge contribution as it expanded basic diagnostic and treatment services to cover 100 per cent of the Indian population. Despite these achievements, TB continues to be a huge problem in India. It is because due to the neglect of TB as a public health problem and mismanagement of TB patients in both the public and private sector.
The original National Tuberculosis Programme (NTP) was grossly underfunded, and failed because of low rates of case detection and cure. The RNTCP has reversed these trends in the public sector, with expanded access to improved diagnosis, short-course drug regimens and high cure rates. The diagnosis and treatment of patients with drug-resistant TB is one area that the RNTCP needs to address through better prevention and treatment services. In the public sector, a large fraction of patients with drug-resistant TB do not get adequate drug-susceptibility testing and second-line drug treatment.
Mismanagement in private sector
The private sector, which diagnoses and treats more than half of all TB patients, is a continuing source of mismanagement of TB, and is largely outside the scope of the RNTCP. TB management practices in the unregulated private sector vary widely, often deviating from established standards. For example, inaccurate, blood-based, antibody tests are widely used, along with irrational drug regimens. Indeed, since antibiotics are easy available over the counter, antibiotic resistance is a major threat for control of all infectious diseases. Also, there is virtually no reporting or notification of confirmed TB cases to the RNTCP by the Indian private sector.
Recognising these problems, this year the Ministry of Health and Family Welfare has issued two orders. One order banned the use, sale and import of all TB antibody blood tests in India, and the other required all healthcare providers to notify every TB case to local health authorities (e.g. district or municipal health officers). While the government must get credit for announcing these directives, it is unclear if the government has a clear strategy, advocacy plan, and funding to implement and enforce these.
Between devil and deep sea
A typical TB patient in India is caught between two suboptimal options — an under-funded public programme with limited capacity to deal with drug-resistant TB, and an unregulated private sector where mismanagement is likely. Not surprisingly, patients often move from one provider to another, and between private and public sectors. And while they do this, they continue to transmit the infection to those in their families and communities. By the time a patient is adequately diagnosed and put on correct TB treatment, he may have infected nearly 15 other individuals in their homes, communities and workplaces.
Patients, healthcare providers and the government will need to do their part. To begin with, all individuals with cough for more than two weeks must get their sputum tested for TB. Indeed, this is the key message behind an ongoing media campaign called "Bulgam bhai", which informs viewers that sputum testing is available free via thousands of designated microscopy centres run by the RNTCP. If patients seek care in the private sector, they must demand sputum testing over blood tests for TB. If TB is diagnosed, the most important thing a person can do to prevent the spread of drug-resistant TB is to take medication exactly as prescribed. No doses should be missed and treatment should not be stopped early, even if symptoms improve. Patients, who cannot afford to buy drugs in the private market, must seek treatment in the public sector where drugs are given free.



Thinkstockphotos/ Getty Images


Role of experts
Healthcare providers can help prevent drug-resistant TB by diagnosing cases quickly, following recommended treatment guidelines, monitoring patients' response to treatment, and making sure therapy is completed. Healthcare providers should screen all individuals with chronic cough for TB using sputum tests such as smears, culture, or polymerase chain reaction (molecular) tests. TB cannot be diagnosed by any currently available blood test. Providers should also avoid starting anti-TB drug treatment without doing any laboratory testing to confirm the disease. If TB is confirmed, they should start treatment promptly and follow WHO or RTNCP guidelines.
Treatment
For drug-sensitive TB, a standard four-drug treatment must be started, and the total duration of treatment must not be less than six months. If drug-resistance is suspected, it should be confirmed using laboratory tests such as culture or molecular tests. A second-line drug treatment then must be started, and the total duration of treatment must be at least two years. In all forms of TB, providers must counsel their patients about the importance of adherence, and periodically check if patients are taking the medications as prescribed. Private practitioners must refer poor patients, unable to afford medication, to the RNTCP. Pharmacies and drug stores must not dispense TB drugs without a valid prescription.
The RNTCP is beginning a new phase, the National Strategic Plan, for 2012-2017. The vision of the government is a "TB-free India" with reduction in the burden of the disease until it is no longer a major public health problem. To achieve this, the RNTCP has now adopted the new objective of aiming to achieve 'universal access' for quality diagnosis and treatment for all TB patients in the community.
The writer is Assistant Professor, Department of Epidemiology, Biostatistics & Occupational Health, McGill University, Montreal, Canada; co-chair, Stop TB Partnership's New Diagnostics Working Group