Another flight from Amritsar airport grounded
British Midland International to discontinue its Amritsar-Almaty-London service from today; financial losses main reason
Perneet Singh
Tribune News Service
Amritsar, October 26
With the British Midland International all set to discontinue its Amritsar-Almaty-London flight from tomorrow, the local Sri Guru Ram Dass Jee International Airport has lost another significant air link.
The flight was the holy city's most convenient air link with Europe. Apart from passenger traffic, it will also have an adverse impact on the export of fresh farm produce from the state.
Sources said the flight is being withdrawn for two reasons: the British Airways, which has taken over the BMI (British Midland International), doesn't believe in point to point connections; secondly, lease of two Airbuses-330 being used on this route ends on October 30. There are also reports that the BMI pulled out as its business class seats were going vacant.
Though a huge amount has been spent on building infrastructure, the airport is yet to attract national and international players in the civil aviation sector. A number of major airlines had started operations from Amritsar over the past few years, but they later withdrew their flights. Singapore Airlines had launched thrice a week Amritsar-Singapore flight on October 1, 2004. The service ran well for around five years before being discontinued in early 2009.
However, what surprised all was Air India's move to discontinue its Amritsar-Birmingham-Toronto flight, which was termed as the most successful flight in the national carrier's history. It used to witness over 90 per cent occupancy and was withdrawn on October 31, 2010.
Gunbir Singh, a member of Amritsar Airport Advisory Committee, said the BMI primarily withdrew its operations because they were not getting enough business class and first class category passengers, which contributed 25 per cent of its revenue.
High landing charges at the airport, expensive air turbine fuel and absence of duty drawback facility in air cargo were the other reasons, he said.
Gunbir claimed that the state government was not marketing well the Amritsar airport as a destination for international flights.
"This treatment must stop… The upcoming Mohali airport will cater to south Punjab, Haryana, Himachal Pradesh and Chandigarh. But it is the Amritsar airport that has a huge demand among the Non-Resident Indians as well as tourists. A large number of fliers who reach New Delhi airport are from Punjab and if given a choice, they will prefer direct flights from Amritsar," he said.
He said the airport had witnessed several improvements, including introduction of EDI system, which facilitates duty drawback, and reduction in value added tax on ATF from 22 to 5 per cent. "Now, the key is to market it as a major destination. We must try to get low-frill airlines to start flights from here and encourage various airlines to form their base in Amritsar. It is cheaper to have a hub in Amritsar than in Delhi," he said.
Member of Parliament Navjot Sidhu had said in July that the airport was reeling under an annual loss of Rs 33 crore. With the BMI withdrawing its flight, the airport is now likely to suffer an additional Rs 4 crore loss.
The Air India's Amritsar-Delhi-Toronto flight continues to remain suspended and there are no signs of its early resumption. The flight was suspended in view of a strike by Air India pilots earlier this year.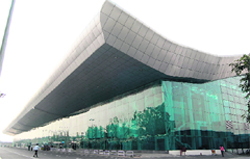 An outer view of Shri Guru Ram Dass Jee International Airport in Amritsar. A Tribune photograph
Vital connection to europe snapped
The thrice-a-week flight was the holy city's most convenient air link with Europe
The departure time from Amritsar airport was 4.10 am while the arrival time was 2.45 am
The Amritsar-London flight used to take 12 hours whereas the return flight took 11.35 hours
The move will adversely impact the export of farm produce from Punjab
Why the step
Most of the business class seats were going vacant on this flight
another setback
Several airlines have discontinued flights to Amritsar airport of late
Singapore Airlines discontinued its Amritsar-Singapore flight in 2009
Jet Airways also stopped its flight to London recently
Heavy losses
The airport is reeling under an annual loss of Rs 33 crore
With BMI's move, it will suffer additional Rs 4 crore loss
An official claimed that the Amritsar airport was not being marketed well by the govt for international flights
Remaining flights
Turkmenistan Airlines: Amritsar-Ashgabat
Air India Express: Amritsar-Dubai
Air India Express: Amritsar-Sharjah
No start to AI flight
Air India's Amritsar-Delhi-Toronto flight continues to remain suspended and there are no signs of its early resumption
The national carrier had also discontinued its Amritsar-Birmingham-Toronto flight recently