M A I N N E W S
Not to blame for Delhi smog: Punjab
Sarbjit Dhaliwal & Vibha Sharma/TNS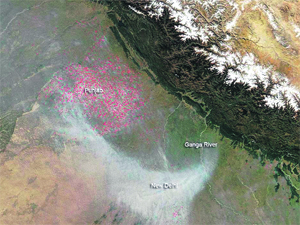 NASA's latest satellite imagery shows the extent of the particulate cloud over Delhi
Chandigarh/New Delhi, Nov 8
Days after Delhi blamed the northern states, particularly Punjab, for the choking smog hanging over Delhi's sky, the Punjab Government on Thursday strongly refuted the "unsubstantiated allegation", saying there was no scientific evidence to hold it responsible.
An official team from Punjab, headed by chief secretary Rakesh Singh, is expected to convey the official view to Central officials on Saturday. "For many days, there was no wind movement from Punjab towards Delhi. It was in fact toward Pakistan," said Harcharan Bains, media advisor to the State Government.
"It has surprised us that the Delhi Government has held Punjab farmers responsible for the smog in Delhi without citing any scientific evidence," said Bains.
Environmental experts say while Delhi has turned a blind eye to the ever-increasing number of vehicles, it was a fact that this year the illegal burning of paddy husk has risen sharply in north, specifically in Punjab. To prove their point, their refer to a US's National Aeronautics and Space Administration (NASA) satellite image that confirms that granaries of India are literally on fire with pollution plume visible over many parts of the north.
The Punjab Government, however, disagrees. "In Punjab, the sky is very clear. There is no haze even after a considerable fall in the temperature. Had the smoke originated from the burning of the paddy straw, this should have first hit the state and adjoining areas such as Himachal Pradesh, Jammu and Kashmir and Haryana. But there is no such development", said Bains.
The environmental NGO, Centre for Sscience and Environment (CSE), there is evidence that farm fires in Punjab are leading to pollution plumes. "NASA's latest satellite imagery shows the extent of the particulate cloud. Burning biomass on the fields is illegal in Punjab as it leads to a serious health hazard," it says.
Paddy husk burning is not unusual for the region. Every year, after rice is harvested, bountiful fields of northwest turn into a furnace as farmers use the shortcut to clear fields for the next crop.
Regarding paddy-husk burning, it seems, Punjab, after registering some gains last year, is back to square one. Umendra Dutt of Punjab-based Kheti Virasat Mission says there are fires everywhere in just-harvested fields.
Agricultural expert Devinder Sharma says Punjab burns 85 per cent of husk, producing energy equivalent to the burning of 30 to 40 MT of coal. It is not just environment, paddy-husk burning is causing health damages worth crores.
Explains Manoj Misra of Delhi-based Yamuna Jiye Abhiyaan: "Traditionally, North India is wheat-bearing and its soil is not designed for paddy. Ideally, biomass should never be burnt but composted. But the process is laborious and requires extra money. Even though Punjab and Haryana have banned it, for farmers it is easier to burn the stalks than compost it. But there is no justification that the biomass that should ideally go back into soil is being reduced to ash sans nutrients. It is illegal on all counts." The alternative is a better technology.