Deputy CM's power boast invites criticism
Patiala, November 8
Industrialists and the Congress have termed Deputy Chief Minister Sukhbir Singh Badal's statement that Punjab would be power surplus by 2013 and would be more than willing to export power to Pakistan Punjab, subject to approval of the Centre, as "highly irresponsible."
Vidhan Sabha session from December 17
Chandigarh, November 8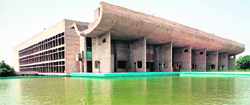 The Cabinet today approved the summoning of the third session of the Vidhan Sabha from December 17 to 21. A decision to this effect was taken at a meeting here that was chaired by Chief Minister Parkash Singh Badal.


The Punjab Vidhan Sabha in Chandigarh. A file photograph

Sidhu to quit Bigg Boss, says his wife
Chandigarh, November 8
Former cricketer-turned-Amritsar MP Navjot Singh Sidhu's wife and Punjab chief Parliamentary Secretary (Health) Dr Navjot Kaur Sidhu today announced that her husband would exit from reality show Bigg Boss to campaign for the BJP in Gujarat. She was addressing the media here.


Dr Navjot Sidhu, BJP legislator, at a press meet in Chandigarh. A Tribune photograph

Experts back fish-duck farming
Ludhiana, November 8
Scientists at Guru Angad Dev Veterinary and Animal Sciences University (GADVASU) have successfully demonstrated an economically viable model of fish farming. In the wake of the rising cost of fish feed and chemical fertilisers, fish-duck farming is a boon for pisciculturists as it is much cheaper than traditional aqua-farming.
'New Star' that was located in Goa!
Bathinda, November 8
"New Star found at Dona Paula beach": the short message from Goa set off a wave of celebrations among a 30-member police team in Faridkot on October 21.
Man dies during police raid; villagers block NH
Ludhiana, November 8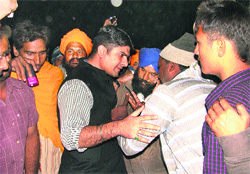 Over a thousand residents of Ladhowal and surrounding villages went on the rampage following the death of a man during a police raid to check illegal sand mining. The protesters kept the body of the victim, Balwinder Singh (42) of Talwandi village, on the National Highway-1, blocking traffic. They even damaged some vehicles. The protest led to a major traffic jam.

A police official (in civvies) consoles the family members of the victim. Photo: Inderjeet Verma
Gen Bikram Singh to attend PPS founder's day
Patiala, November 8
Chief of Army Staff General Bikram Singh will be the chief guest at the 53rd founder's day of Punjab Public School (PPS), Nabha, on November 10. Singh is the alumnus of the school.


Ropar firm gets liquor licence after court order
Chandigarh, November 8
Just about four days after Punjab Excise Department was accused of not issuing permits for purchase of Indian made foreign liquor to a Ropar firm despite renewal of licence following court orders, the authorities concerned finally released the permit to KD Sharma & Company of Ropar.
Shruti's father moves court for termination of her pregnancy
Faridkot, November 8
The court of Chief Judicial Magistrate (CJM), Faridkot, today allowed DNA testing of Nishan Singh, the main accused in the kidnapping of 15-year-old Shruti Sachdeva. The girl was kidnapped from her house here on September 24 and recovered from Goa on September 21.
HC allows PTU to fill 37 posts
Jalandhar, November 8
As a major reprieve for Punjab Technical University, the Punjab and Haryana High Court has allowed it to fill 37 posts. However, the court has asked the Chairman, Board of Governors, Sunil Kant Munjal, to oversee the selection process while also mentioning that "the Vice Chancellor may not participate in the selection process."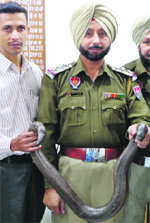 Five held with sand boa in Ropar
Ropar, November 8
Ropar police has arrested five persons for possessing sand boa, an endangered snake species, here last night. The accused identified as Suleman Rana, Johnson, Charanjit Singh, all residents of Ropar, and Nadim and Arshad, from Saharnpur. Ropar Station House Officer (SHO) Manvir Singh said he got information that five people were spotted near Sadavrat forest area under suspicious circumstances. We nabbed them and upon searching them found a sand boa concealed in a bag, he said.




The recovered sand boa in Ropar . A Tribune photograph
Two rice mill owners booked for cheating
Patiala, November 8
In two separate cases, Patiala police have booked two rice owners for cheating after receiving a complaint from the district manager of PUNSUP that there were irregularities in the government-stocked paddy stored at the two mills.