HC wants govt to crack down on drug menace
Chandigarh, November 7
The Punjab and Haryana High Court has called for curbing with a heavy hand the menace of drugs "in this part of the country", after observing that the addiction to make easy money by trafficking narcotics was on a rise.
HC seeks details of old FIRs against Nishan
Chandigarh, November 7
Nishan Singh's past may come back to haunt his present. Already in dock in nothing less than 18 cases, Nishan Singh may find the Punjab and Haryana High Court looking at his past record when a petition for independent probe filed by his minor "wife" Shruti's parents comes up for resumed hearing on the next date.

'Hand over Shruti to her parents'
Lokpal in two weeks: Govt
Chandigarh, November 7
Punjab will have a Lokpal within two weeks. During the resumed hearing of a petition filed in public interest by advocate HC Arora, the Punjab and Haryana High Court was today informed by Additional Advocate-General JS Puri that the Punjab Government has initiated the process of appointing the Lokpal.
Teachers reporting drunk, but principals look the other way
Chandigarh, November 7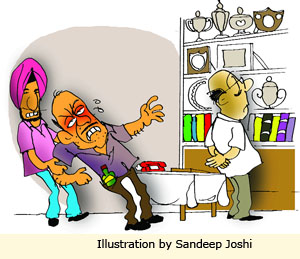 Principals and teachers in several government schools of Punjab appear to be shielding their colleagues who report drunk on duty, something that is sure to leave a bad impression on students. Four staff members, including a District Education Officer, were suspended over the past fortnight alone for coming to their workplace in an inebriated condition. And in all these cases, no complaints were received from either the colleagues or principals of the employees concerned. Their mischief was caught by Education Department teams that conducted raids following complaints from the public.
PPP has failed to make impact, says Dr Johl
Bathinda, November 7
Dr SS Johl, Chancellor of the Central University and a former patron of the People's Party of Punjab, headed by Manpreet Badal, today said the party had failed to serve the purpose for which it was formed. He said a number of Manpreet's close associates had already deserted him.

Power Corp mgmt concedes to demands, staff call off strike
Patiala, November 7
Buckling under pressure, the Punjab State Power Corporation Limited (PSPCL) management has accepted the demands of its employees. Hence, the Punjab State Electricity Board (PSEB) Employees Joint Forum has called off its strike scheduled for November 8.


King Khan in Jalandhar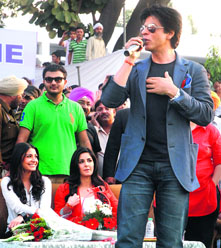 Tribune photo: Malkiat Singh


Shah Rukh Khan arrived at Adampur Air Force station in a chartered aircraft along with Katrina Kaif and Anushkha Sharma


Though Punjab police personnel were present, burly bouncers of a Delhi-based security agency manned his security


The actor repeatedly mentioned he had come to pay tributes to Yash Chopra — TNS
Batala MC's wait for chief gets longer
Batala, November 7
The Batala Municipal Council (MC), which faced criticism due to the outbreak of gastroenteritis in the town last month, remains without a president. The Punjab and Haryana High Court yesterday postponed the hearing on a petition filed by MC president-elect Jatinder Kalyan till December 13.
Farmers meet Pawar over wheat MSP
Chandigarh, November 7
A nine-member delegation of farmers from Punjab and Haryana today met Union Agriculture Minister Sharad Pawar and demanded that the minimum support price of wheat be hiked to Rs 1,610 per quintal.
Farmers need to eat better: Scientist
Ludhiana, November 7
"There is tremendous need to improve the health of the farmers. The farmers neglect their health, as the farming community largely is not taking balanced food. Most of their diet comprises wheat or rice," said Dr Pritam Kalia, Head and Principal Scientist, Division of Vegetable Science, Indian Agriculture Research Institute, Pusa, New Delhi.
Police assistance on 108 service delayed
Ludhiana, November 7
The plan to provide police assistance to assault or accident victims through 108 ambulance service has been further delayed . This service was supposed to start from August but due to lack of data on state police stations, the project is yet to take off.
Group clash
Four policemen suspended
Jalandhar, November 7
The city police today suspended four policemen who allegedly failed to act when two groups clashed on the Cool Road here yesterday. As many as six persons were injured in the clash.
Green Divali campaign kicks off in Patiala
Patiala, November 7
Punjab Pollution Control Board (PPCB) in association with a private engineering college started the Green Divali campaign in the city today. Students of the college distributed 2,000 saplings among people in the presence of Ravinder Singh, chairman of the PPCB, and Pawan Kumar Garg, Environmental Engineer of PPCB.
Students hold a 'Green Divali' rally in Patiala on Wednesday. Tribune photo: Rajesh Sachar


Disproportionate assets case slapped on Sarabhdyal
Amritsar, November 7
The Vigilance Bureau has slapped another case against former Cabinet Minister Gulzar Singh Ranike's personal assistant Sarabhdyal Singh, who is currently in 14-day judicial custody. Senior Superintendent of Police Opinder Singh Ghuman said during investigations, the Vigilance Bureau found a palatial house in posh Rani Ka Bagh area. Besides, Sarabhdyal also had partnership in a private school, he claimed.
Red chilly banned after jailbreak bid
Ludhiana, November 7
Borstal Jail authorities today banned the entry of several items into the compound after eight inmates had tried to escape by throwing red chilly powder in jail guard Balwinder Singh's eyes three days ago.
Navjot's sting op misses target
Ropar, November 7
A government doctor running a private clinic here proved lucky as he had left the place before Chief Parliamentary Secretary (Health) Navjot Kaur Sidhu could catch him red-handed today.
Patiala admn cracks the whip on illegal miners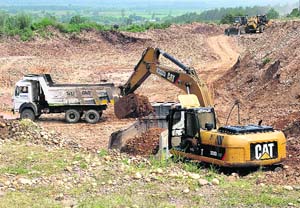 Patiala, November 7
The Patiala police has registered three separate cases and arrested several persons involved in illegal mining in the district. They have also confiscated the vehicles the accused used to mine with. Officers from the Mining Department confiscated seven tippers for loading sand in Faggan Majra village. In Sanaur and Marhu villages, two JCB machines and five tractors were held. Police has arrested the accused and are conducting raids to arrest the contractors.
No trace of abducted minor sisters
Amritsar, November 7
There is still no trace of three minor sisters of a migrant family who were allegedly abducted by their neighbour about a week ago. Their mother has been making rounds of the police station seeking their early recovery. "I don't know why Gobind and his wife (the accused couple) have kidnapped my children," said Poonam, victims' mother. Poonam has been doing menial jobs to look after her three daughters aged eight, three and five after her husband separated from her a few years ago. The incident has also brought to the fore that despite orders residents do not care to inform the concerned police station about the antecedents of their tenants.


Cable network case: Petitioner gets bail in 6 cases
Chandigarh, November 7
More than a year after Amritsar-based cable operator Gurdev Singh Bhullar alleged that Deputy Chief Minister Sukhbir Singh Badal and another person had taken over 95 per cent of the cable business in the state, the Punjab and Haryana High Court granted anticipatory bail to him in six cases registered against him.
Pak-based gang duped 11 persons; 10 from Punjab
Jalandhar, November 7
Less than 24 hours after the special branch of the city police busted an international gang of fraudsters, 11 victims have come forward with their grievances. Ten victims from Punjab and one from Himachal Pradesh complained of having been duped of several lakh rupees by the gang, which had links with Pakistan-based swindlers.