Automated meter readers to check power theft
Patiala, November 1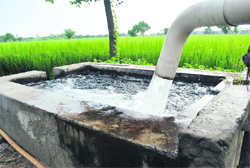 To check the misuse of free power being supplied to 11.7 lakh agricultural pumpsets (APs) across the state, Punjab State Power Corporation Limited (PSPCL) has decided to install automated meter reading (AMR) systems on APs in a phased manner. The scheme is in line with the Electricity Act, 2003. In the first phase, 10 per cent of the AP consumers will be covered. KD Chaudhari, CMD, PSPCL, said under the AMR system, advanced technology meters would be installed at the APs.
Power engineers oppose Centre's bailout terms
Patiala, November 1
The All India Power Engineers Federation (AIPEF) today said it would oppose the mandatory conditions imposed on the state government and power distribution companies (Discoms) if the state accepted the bailout package for the power sector, cleared by the Cabinet Committee on Economic Affairs (CCEA) last month.
Service rules for Vidhan Sabha Secretariat staff quashed
Chandigarh, November 1
Punjab Vidhan Sabha Speaker went beyond his perceived role to frame "Service Rules" for The Legislative Assembly employees. Five years after Punjab Vidhan Sabha Speaker framed "The Punjab Vidhan Sabha Secretariat Service Rules, 2007", the Punjab and Haryana High Court, in a significant order, has quashed the same after holding that the "Speaker cannot himself frame these rules"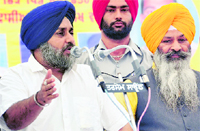 Langah silences detractors
Gurdaspur, November 1
Beleaguered senior SAD leader and former Cabinet Minister SS Langah, who was in news recently for alleged bungling of funds from his discretionary quota, managed to score enough political points by roping in Deputy Chief Minister Sukhbir Singh Badal to preside over a cultural festival at Jaura Chhattran, 10 km from here.

Deputy Chief Minister Sukhbir Badal and former minister SS Langah at Jaura Chhattran village in Gurdaspur.

Manpreet dismisses Sodhi's charges as 'wild rant'
Chandigarh, November 1
People's Party of Punjab (PPP) chief Manpreet Singh Badal today termed the allegations of party media in charge Arunjot Sodhi as "wild rants of an employee" who had been sent home a fortnight ago.


Special plan for state villages
Chandigarh, November 1
Deputy Chief Minister Sukhbir Singh Badal today cleared a Rs 13,000 crore rural development plan aimed at transforming state's 12,775 villages.
Few takers for livestock insurance
Muktsar, November 1
The livestock insurance scheme of the Centre has failed to catch the fancy of cattle owners in the district. The data procured from the Animal Husbandry Department revealed that not even half of the target fixed was achieved by the department.
Govt to begin campus recruitment for doctors
Chandigarh, November 1
The Punjab Health Department will now conduct campus recruitment of medical students to hire the best talent in view of the severe shortage of doctors in State service.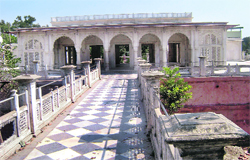 Baradari to regain its lost glory
Sangrur, November 1
The Punjab Heritage and Tourism Promotion Board is busy with the renovation work on the 150-year-old Baradari to restore its lost glory. The work will be completed by the end of December at a cost of around Rs 50 lakh.



The 150-year-old Baradari complex situated in Sangrur. A Tribune photograph
RO plants for 52 Patiala villages
Patiala, November 1
The process of installing Reverse Osmosis (RO) water units in 52 villages of Patiala district has begun. The first RO water plant was installed at Main village yesterday.
Chandigarh part of Punjab, says Sukhbir
Ludhiana, November 1
The Punjab Government will take all possible routes available to it to get Chandigarh transferred to the state. Deputy Chief Minister Sukhbir Badal said this while talking to media persons here today. He said Chandigarh was part of Punjab and as per constitutional conventions and past practices, the parent state retains the capital and the state that is carved out of the parent state gets a new capital.
Suspended IGP Asthana hospitalised
Mohali, November 1
Suspended Inspector General of Police (Vigilance) of Punjab SK Asthana suffered a heart attack today evening.



Bibi Jagir Kaur gets bail 7 months after she was jailed
Chandigarh, November 1
Seven months after she was put behind bars for abduction and forcible abortion of her daughter Harpreet Kaur, the Punjab and Haryana High Court today granted bail to senior Akali leader and former Shiromani Gurdwara Parbandhak Committee chief Bibi Jagir Kaur.
HC sets aside school board appointment
Chandigarh, November 1
More than a year after Pavitar Pal Kaur was promoted Punjab School Education Board Joint Secretary, a Division Bench of the Punjab and Haryana High Court has set aside the order.


Passport Scam
2 more cops dismissed
Moga, November 1
The Punjab police has terminated the services of two head constables Gurdial Singh and Ranjit Singh, the alleged kingpin of the Moga passport scam.