Paddy glut in mandis
Sangrur, October 30
As the paddy procurement process has picked up pace, lifting of the procured produce has emerged as a problem. A large number of paddy bags can be seen lying at the procurement centres.

Maximum dengue cases in Ludhiana, Mohali
Ludhiana, October 30
With the temperatures plunging, more cases of dengue are being reported from different parts of the district. The district has reported 141 confirmed cases of dengue and there has been no casualty so far, said epidemiologist Anil Verma.
Unemployment, drugs & now gastro deaths
Batala, October 30
The once vibrant township of Batala, which had the sobriquet "Iron bird of Asia" as it produced the top-class agricultural and mechanical machinery, is now in the news for all the wrong reasons.
Cement import from Pakistan down by 30%
Amritsar, October 30
A slump in the construction activity coupled with the recent heroin seizures in rail cargo has led to a decline of 30 per cent in cement import from Pakistan.





Special teams looking for Keetu's killers
Moga, October 30
The Moga police has constituted special teams for conducting raids at various places to nab those accused of murdering former Akali legislator Malkiat Singh Keetu at his residence in Bilaspur village in Moga district yesterday.

MS Keetu

3 of family killed in road mishap
Sangrur, October 30
Three members of a family were killed when the Maruti Swift Dzire car they were travelling in hit a roadside tree near the Zila Parishad office here last night.


The damaged car which met with an accident in Sangrur. A Tribune photograph

Punjab to acquire 12,500 acres in Patiala district
Patiala, October 30
With a view to develop industry and boost the manufacturing sector, the Central government and the Punjab government along with private investors will acquire 12,500 acres of land in 33 villages of Ghanaur and Rajpura tehsil, to set up a National Manufacturing and Investment Zone.
Food processing units in Rajpura raided
Patiala, October 30
Tightening its noose on various factories that manufacture food products, a team of Health Department led by Patiala Civil Surgeon today raided two factories in Rajpura.


A riot of colours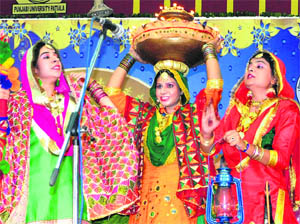 Girls performing gidda during the Punjabi University Inter-Zonal Youth Festival in Patiala on Tuesday. Tribune photo: Rajesh Sachar
Youngsters go for pirated books
Bathinda, October 30
Youngsters preferred to buy the pirated versions of top-listed books which were otherwise sold at a higher price. At the ongoing NBT fair, many youngsters demanded "cheaper" version of books, especially that of English writers like Paulo Coelho's "Eleven Minutes" and "Alchemist", Kiran Desai's "Inheritance of Loss", Arundhati Roy's "God of Small Things", books of Brian Weiss on spiritual experiences and Daniel Carnegie's books on success and career. "I came here looking for cheaper books. But the prices here are the same as that at any other book stall.
No swap cards, farmers in trouble, says Bhattal
Chandigarh, October 30
Senior Punjab Congress leader Rajinder Kaur Bhattal today said a large number of farmers had not got their payment for the paddy procured from them because the firm, which had been given the contract for issuing swap cards and swap machines to facilitate payments to commission agents, had not commissioned the project in time.
SC candidates complain to Commissioner
Chandigarh, October 30
Certain Scheduled Caste (SC) candidates, who appeared in a test to get employed at the Agriculture Department, have complained to the Financial Commissioner (Development) stating that rules related to reservation in jobs were violated while issuing appointment letters to candidates selected as Agriculture Development Officers (ADO).
Police clueless about 19-yr-old missing girl
Fatehgarh Sahib, October 30
The whereabouts of 19-year-old girl Ashia, who had gone missing from Mandi Gobindgarh on October 18, are still not known. The girl had left her home to appear in Class XII exams, but never returned home.



Police moves court for Nishan's DNA test
Faridkot, October 30
The Faridkot police today moved an application in the court of the Duty Magistrate here, seeking permission for a DNA test on Nishan Singh, the main accused in the Shruti abduction case.
Family suicide case
Court rejects bail plea of former SSP, SHO
Amritsar, October 30
A local court today rejected the bail plea of former Amritsar Senior Superintendent of Police (SSP) Kultar Singh and the then SHO of the Division-C police station Hardev Singh in connection with a suicide case in 2004.
ETO suicide case
VB officer's bail plea dismissed
Chandigarh, October 30
The Punjab and Haryana High Court today dismissed the anticipatory bail plea of Mohali Superintendent of Police (Vigilance) Amandeep Kaur. She is facing the allegations of implicating an Excise and Taxation Officer (ETO) in a false corruption case.
Bogus Ration Cards
Govt told to hold probe in two months
Chandigarh, October 30
The Punjab and Haryana High Court has given the Punjab Government two months to carry out a probe and come out with facts and figures on the alleged issuance of bogus ration cards in the state under the Below Poverty Line Scheme.




SAD councillor held for gambling
Amritsar, October 30
An Akali councillor was arrested for allegedly indulging in gambling after a raid was conducted at his house late last night. An amount of Rs 11.34 lakh and several boxes of liquor were seized.


Surinder Kumar