About 700 years back, when the advent of information technology was beyond human comprehension, knowledge systems were exchanged, adapted and applied, propelled by a desire to improve the lot of humanity. Yoga travelled to Islamic countries where mantras and breathing techniques of the yogis were adapted without reservation for their religious basis. Compare this to the efforts of a commercially successful yoga practitioner who tried to get copyright for a sequence of yoga postures in the USA, few years back. In contrast, the translator of "The Pool of Nectar", one of the earliest books on yoga translated into Persian postulates that famous Indian yogis are the equivalents for Elijah, Jonah, and Khidr (revered figures in Islam).
When the Italian traveller Pietro della Valle stopped at the western Indian city of Cambay in 1624, he took the opportunity to visit a temple outside of town which was the resort of many yogis. After describing them in detail in his memoirs, he added a long account of their practices. Strangely, long before Della set foot in India, he was familiar with yogis.
Perhaps, he received this knowledge from a Persian treatise "The Kamarupa Seed Syllables" on yogic breathing and divination techniques, which was circulating independently in the intellectual circles of Iran, prior to the translation of "The Pool of Nectar", since it was quoted in a fourteenth-century Persian encyclopaedia (the Nafa'is al-funun of Amuli). Della acquired a copy of "Kamarupa Seed Syllables" for himself during his stay in Iran, prior to his India visit.
Della decided to translate the book into Italian. He was fluent in Turkish, Arabic, and Persian, so his plan to translate the work from Persian into his native Italian might have yielded the first European study of an Islamic interpretation of yoga. But, it never materialised. In the list of his oriental manuscripts, donated to the Vatican in 1718 by della Valle's heir Rinaldo de Bufalo, it was described as "a book on magic, translated from the Indian into the Persian language." This work is still preserved in the Vatican library.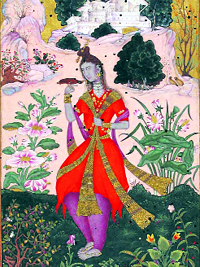 Lady Feeding Parrot. Bijapur, ca. 1603–4. Opaque watercolor. Courtesy, Chester Beatty Library, Dublin.

It is remarkable that, despite his theological criticism of the yogis, Della found their divination and breathing practices to be effective and practised them.
In today's globalized world, when knowledge is offered at the click of a button, one is forced to wonder, how would a translator prepare a Persian-reading audience for this kind of subject, and what kind of Islamicate categories would be used to present material such as yoga and feminine deities (yoginis)? By accounts available from the memoirs and travel documents of the period, one learns, the world welcomed and embraced knowledge systems irrespective of their religious origin back then. As a result, yoga was a well known word to the Arab world long before the advent of communication and even printing technology.
Process of amalgamation
In fact, scholars say, the extent of amalgamation of these knowledge systems in the Arab world is so complete it makes one wonder, where and how did yoga originate. Prof Carl W Ernst, Kenan Distinguished Professor of Islamic studies at the Department of Religious Studies, University of North Carolina, who has researched the subject for over two decades says, "It is safe to say that yoga originated in India, but texts on yoga began to be available in Arabic and Persian as early as the 14th century. The main text on yoga translated into Arabic was "The Pool of Nectar," supposedly translated from the Sanskrit "Amritakunda", though we have not been able to find any such Sanskrit work with this title still in existence. The Arabic text was translated from Arabic into Ottoman Turkish, Persian, and Urdu."
Though, history played its little tricks with the origins of yoga in the Arabic world. The Arabic translation of "The Pool of Nectar" travelled to the Ottoman Empire, where for some reason it became ascribed to the authorship of a famous Sufi, Ibn `Arabi. There are numerous copies of the manuscripts of this text in Istanbul. And, there is a Sufi Shaikh in Damascus who still teaches this text, which he firmly understands in terms of Sufi metaphysics, and not yoga.
This brings one to the obvious question, if there are different approaches to yoga-- as practiced in India and the Arab world, despite both carrying the common thread of spiritualism? According to Dr Ernst Muslim readers such as Sufis and philosophers, who became interested in texts on yoga, tended to understand it in terms of familiar categories of spiritual practice, such as zikr as the equivalent of mantra. "Sometimes the Arabic and Persian accounts of yoga do not look very Indian at all, because they have been rather familiarized in terms of Islamic references, including such things as Arabic "translations" of mantras. There was some ambivalence about these texts, which were sometimes considered to be magical and sometimes spiritual," he adds.
Arabic accounts of yoga too emphasize on ascetic practices such as fasting. The miraculous or magical techniques of yogis caused much curiosity among travelers. The postures described in Arabic and Persian texts on yoga are not the same in name or detail as those practiced today, which reflects important historical differences in the development of yoga.
And the stream of time
Evidently, this confluence of knowledge was not limited to a certain time frame. There are practitioners of yoga in countries like Egypt, Turkey, and Iran even now. Though, often hatha yoga is presented more or less like physical exercise and relaxation rather than an esoteric spiritual technique. Recent publications on yoga by popular authors like Richard Hittleman and Swami Satyananda Saraswati have been translated into Arabic and Persian.
In India, it has been believed that Patanjali Yoga Sutra is the original and the oldest treatise on yoga, it is interesting to know how scholars in the Arab world took to the original source of yoga. Al-Biruni (d. 1048) translated Patanjali's Yoga Sutras into Arabic from Sanskrit, including in the text an unidentified commentary. But this translation was not widely read, and it exists in only a single manuscript, now located in Heidelberg. Nearly a thousand years later, in 2010 Dr. Abdul Wahab Al Maqaleh from the Republic of Yemen translated an English version of Patanjali (by Swami Prabhavananda and Christopher Isherwood) into Arabic, and it has been published by the Abu Dhabi Authority for Culture and Heritage (ADACH).
Interestingly, the Lebanese Druze leader, Kamal Jumblatt (d. 1977), was very dedicated to yoga both as practice and philosophy. In recent years, the International Yoga Festival in Egypt has become a popular event. There are numerous yoga classes available in Turkey, Iran, and other Middle Eastern countries.
A Yogini
A rare 10th century granite sculpture, a gift of Arthur M. Sackler, to be exhibited for " Yoga: The Art of Transformation"
The oldest Persian text on yoga is called in Hindi the Kamrubijaksa, or "Kamarupa Seed Syllables." It was discussed in a Persian encyclopedia dated 1350, and a complete version was obtained by the Italian traveller Pietro della Valle in the 17th century, which is now in the Vatican Library. The most important text, the Arabic version of "The Pool of Nectar," was translated into Persian by the famous Shattari Sufi, Muhammad Ghaus Gwaliyari.
"Their scholars and sages observe their breath; if their breath goes well, they perform their tasks, but if the breath goes ill, they do no work, but strenuously avoid it. They have taken this subject to the height of perfection. The common people of India know nothing of this, and they are not privy to this secret, nor do they know anything. They call this the science of [reading] thought (Arabic damir)."
— The translator of "The Kamarupa Seed Syllables"