Drug abuse in Punjab alarming, indeed
Manpreet Badal
The gabroo jawan of yore fails to clear the police and army recruitment tests, shuns work in fields, is averse to any physical activity and is dying an untimely death.



A few days ago, Congress general secretary Rahul Gandhi, addressing a public meeting, said seven out of 10 youngsters in Punjab were into drugs. Ever since, there has been a strange reaction in Punjab government circles. While the members of the ruling Akali-BJP combine have resorted to the predictable refrain of "shall not tolerate any insult to Punjab", senior bureaucrats have been claiming it to be a case of "lies, damned lies and Rahul's statistics". This cacophony and display of sham love for Punjab threatens to dim the focus on what has now become the state's single biggest problem.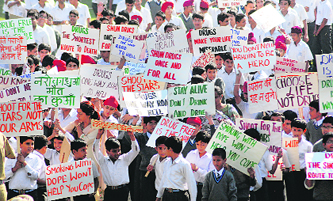 On a low: Drug abuse among the youth is unimaginably high in Punjab.

One may argue till the cows come home about the veracity of Rahul Gandhi's claim, but the fact remains that drug abuse among the young is of unimaginably magnitude in Punjab. Various studies by government, independent institutions, universities, research scholars and journalists have pegged different figures regarding the extent of the problem. Some credible reports say that 75 per cent of Punjab's youngsters between the age group of 15 and 25 years are into some form of drug abuse. None of these groups have reported a figure of less than 60 per cent. Therefore, 60 per cent or 75 per cent, either figure should have rung the alarm bells in the government.
While these statistics make glaring headlines in the national and international media, they don't surprise people who live in Punjab. We do not need validation of any data to know that this scourge is a termite that is eating away Punjab's youth. Poppy husk, hash, opium, cough syrups, analgesics, myriad tablets, injectibles and other deadly chemicals are staple of the youngster's diet in a state once legendary for its pure and salubrious diet.
The famous sturdy "gabroo jawan" of yore today fails to clear police and Army physical recruitment tests — in an Army recruitment drive for 400 posts, where 8,000 youngsters showed up, only 80 were selected — shuns working in his own fields, is averse to any physical activity, (while neighbouring Haryana is scripting so many sporting success stories, Punjab's once famous trophy trove looks appallingly empty?) and is dying an untimely death. There are more than half a dozen villages in Punjab with a morbid appellation of "village of widows".
An honest admission of the problem is the first step towards solving an issue. Unfortunately, all we have seen in Punjab is a mock debate, lacking in sincerity and full of denial about the problem. In doing so, the Punjab Government is only confirming its worst reputation. The people of the Malwa region, the Chief Minister's bailiwick, would know better. Over the last decade, the Bathinda area has witnessed a large number of cancer deaths. But to date, what people have got is a "debate" on the causes. There is a perpetual argument over the numbers of these deaths, with the government, agriculture-related chemical companies and NGOs exchanging figures. Some blame the high incidence of cancer to indiscriminate use of chemicals in fields, some to the peculiar topography of the region while some to high levels of arsenic in the region's water and air. In short, an unconscionable passing of the buck has been happening for a long time, even as the number of people who succumb to this deadly disease increases by the day. No one in the government is looking for solutions. Suggestions from experts remain on paper with no implementation at the ground. It seems convenient for the government to dodge responsibility by raising its decibel levels rather than take any concrete steps towards a solution.
Also, Rahul Gandhi isn't the first one to highlight the appalling extent of this problem in Punjab. In the run-up to the Assembly elections earlier this year, the then Chief Election Commissioner, SY Qureshi, said while the use of liquor for voter inducement was seen in many states, the rampant use of narcotics "was unique to Punjab". His observation was also dismissed with insensitive disregard. No effort has been made to check the unhealthy liaison between several local politicians and drug peddlers. The Punjab government has often blamed the open sale of poppy husk in the neighbouring state of Rajasthan for this problem. This might be worth looking into, but it cannot be a major factor. Also, we must introspect why the Rajasthani youth is not hooked to drugs.
The rot is much deeper as was evident by the catch of a drug consignment containing some of the most dangerous narcotics in Jalandhar a few months ago. As per conservative estimates, these drugs were worth Rs 200 crore! The fact that close to one third of the inmates in Punjab's prisons are there on myriad charges under the Narcotics Act tells the extent of smuggling. Police collusion also cannot be ruled out.
Rather than considering these figures, the Chief Minister's office expressed its displeasure over the tendency of outsiders to "give Punjab a bad name". A circus is currently on in the state where the administrative machinery is busy furnishing its own "data" to disprove the veracity of the "outsiders' claim". They need to remember that Punjab is a part of India, and there are no outsiders here. Its wellbeing is in everybody's interest and the Punjab Government is answerable to the people of India.
The writer, a former Finance Minister of Punjab, is the head of the People's Party of Punjab.