Nitin Gadkari lashes out at Congress over graft
Tribune News Service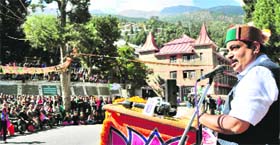 Nitin Gadkari, BJP president, addresses supporters during an election rally at Reckong Peo in Kinnaur. Photo: Amit Kanwar
Shimla, October 27
A day after getting the backing of his party, BJP chief Nitin Gadkari on Saturday blamed the Congress-led UPA government at the Centre for price rise, corruption and poor governance.
Ending uncertainty that had been prevailing over his his visit to the hill state for campaigning, Gadakri addressed rallies at Reckong Peo in Kinnuar and Nerwa in Shimla.
"Despite the Congress slogan of Garibi Hatao since the days of Jawaharlal Nehru and Indira Gandhi, it is only the big corporate houses and those close to the Congress, who have become rich. The gap between the rich and the poor has widened in the Congress regime," he said.
"The only contribution of the Congress has been scams -2G Spectrum, Commonwealth and the latest Coalgate - involving crores of rupees," said the BJP chief who himself is in the thick of controversy over allegations of dubious funding of companies run by him.
The BJP chief said unemployment was a very serious issue but the UPA regime had failed to take any concrete steps to generate job opportunities for the educated youth.
Comparing the NDA and UPA rule, Gadkari said prices were stable, rupee was strong and steps were taken to strengthen the basic infrastructure by Atal Bihari Vajpayee but the UPA government has failed on all fronts and done nothing for overall development of the country.
"In the UPA regime, the farmers are committing suicide, the common man is reeling under rising prices and unemployment is on the rise," Gadkari said.
"When we have the best brain and resources, there is no reason why we should not be a super power and the most prosperous nation," he said.
"In sharp contrast to the UPA regime, the clean and efficient governance by PK Dhumal-led BJP government in Himachal has taken the hill state to greater heights in every sphere of development," he claimed.
If the people of Himachal want this pace of development to continue, they should vote and support the BJP in the Assembly polls, said Gadkari.
"Our party will make efforts to promote tourism which has maximum potential for employment generation along with electric transport system and aerial ropeways which will reduce distance and save petrol and environment," he said.