Last word: RAJAT K GUPTA
The good man who ended up bad
By Ashish Kumar Sen
An inspiration for Indians hoping to make it big on the world platform, one misstep has brought the US corporate hero to ignominy, and turned his tale into a lesson on integrity in public life.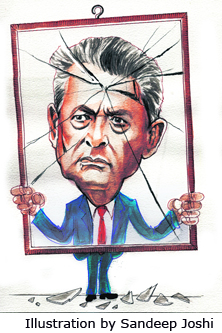 Rajat K. Gupta scaled the highest peaks of his profession. At the top, he rubbed shoulders with Bill Clinton, Bill Gates and Kofi Annan. In the November of 2009, when US President Barack Obama hosted his Administration's first state dinner in honour of Prime Minister Manmohan Singh, Gupta and his wife Anita were among those to be invited to the exclusive soiree.
Gupta's life was an inspiration. He was living the American dream.
But that dream turned into a nightmare less than two years ago.
Gupta, the Kolkota-born former director of Goldman Sachs and former global head of McKinsey & Co, was charged by the US Securities and Exchange Commission with illegally leaking corporate secrets to Raj Rajaratnam that helped the Sri Lankan-born hedge fund manager's firm secure profits or avoid losses of $23 million. Prosecutors said Gupta stood to gain because of his business partnerships with Rajaratnam, who was sentenced to 11 years in prison last October for insider trading.
The jury agreed. And on October 24, a judge in New York sentenced Gupta to two years in prison and ordered him to pay a $5 million fine for securities fraud. Prosecutors had asked for more than 10 years. Gupta had sought probation and a community service programme that included helping the poor and sick in Rwanda. He plans to appeal his conviction.
"The last 18 months have been the most challenging period of my life since I lost my parents as a teenager. I have lost my reputation that I have built over a lifetime," a remorseful Gupta told US District Judge Jed Rakoff before being informed of his fate. "The verdict was devastating to my family, my friends and me.... I want to say here that I regret terribly the impact of this matter on my family, my friends and the institutions that are dear to me," he added.
Gupta's family and some of his friends have stuck by him. Many wrote glowing letters of support to the court, praising Gupta's service and philanthropy. Gates wrote that Gupta's contributions "have made a real difference in the lives of literally millions of people around the world." The avalanche of accolades prompted Wall Street Journal columnist Al Lewis to write: "Before former Goldman Sachs Group Inc. director Rajat Gupta reports to prison on Dec. 11, someone should nominate him for sainthood. Gupta, 63 years old, has committed more acts of loving kindness than any felon I can name. Judging from letters that people sent to U.S. District Judge Jed Rakoff, he is practically on par with Mother Teresa."
Rakoff said there was little doubt that Gupta was "a good man". But, he added, "the history of this country and the world, I'm afraid, is full of examples of good men who do bad things."
High rise
Gupta's rise to the top was meteoric and, in some ways, without precedent. He shattered Corporate America's proverbial glass ceiling when he became the first non-white and non-US-born head of McKinsey & Co.
An alumnus of the Indian Institute of Technology in New Delhi, Gupta earned an MBA from Harvard Business School in 1973 and went on to join the global management consulting firm McKinsey & Co.
He was affiliated with several organisations, some of which he served as a board member, while others benefited from his counsel. He was a senior adviser to the Bill and Melinda Gates Foundation and served on the board of the Global Fund to Fight AIDS, Tuberculosis and Malaria, which he also chaired in 2007.
It is his association with three non-profits linked to the land of his birth that Gupta cherishes the most. He helped found the Indian School of Business in Hyderabad, the America India Foundation and the Public Health Foundation of India. Gupta, incidentally, met Rajaratnam almost 10 years ago through their work for the Indian School of Business, to which Rajaratnam was a major donor. "I love these institutions as if they were my own children," Gupta told the court. "I never want to hurt them in any way. It is a great disappointment that I have not been able to serve with any of these institutions during this time and may not be able to do so going forward. Most importantly, I regret terribly any potential damage to their outstanding reputations."
Gupta will trade life in his lavish waterfront mansion in Westport, Connecticut, for a prison cell.
So why did he squander what to outsiders was a near-perfect life?
One explanation is the tremendous pressure on well-educated Indian immigrants to the US in the 1970s to be successful. This was especially true for those who came from elite educational institutions like the IITs. Under this burden of expectations, shortcuts to success, while not always legal, are viewed as attractive opportunities.
Another, more cynical, explanation is that Indian immigrants brought to America's shores their contempt for the law. Gupta would never have been sent to prison, let alone be brought to trial, had this happened in India, is the general opinion offered by most Indians.
The release of a wiretapped conversation between Gupta and Rajaratnam shaped much of the opinion against Gupta. The SEC said the conversation was one of several between the two in 2008, in which Gupta illegally shared corporate information with Rajaratnam.
Gupta would frequently quote the Bhagawad Gita in his public remarks, many of which were, ironically, devoted to integrity.
Family pain
His downfall has most affected his tight-knit family. "My family has always meant the world to me," he told the court. "The extended family has been devastated... Every time I look at their faces, I get overcome with a deep sense of letting them down... It is unbearable to me to see how much they have suffered. I just feel terribly that I have put them through this."
United States attorney in Manhattan Preet Bharara, who is also Indian America, said of Gupta, "His conduct has forever tarnished a once-sterling reputation that took years to cultivate."
"We hope that others who might consider breaking the securities laws will take heed from this sad occasion and choose not to follow in Mr Gupta's footsteps," the prosecutor added.
Gupta will report to a minimum security prison on January 8.
A life that was once an inspiration to so many has now turned into a cautionary tale.