Roadways buses to be GPS-enabled
Jalandhar, October 31
Punjab Roadways is all set to equip its about 1,700 buses with GPS (global positioning system) within the next one-and-a-half years. The GPS-aided vehicle monitoring system has helped the roadways management in a big way in tracking errant bus drivers and curbing indiscipline and pilferage on long distance routes.
Senior Addl A-G not on list of law officers
Chandigarh, October 31
Punjab and Haryana High Court advocate Rupinder Khosla's name reportedly does not appear in the list of 94 law officers released by the Punjab Government this evening. Khosla's importance in the Advocate-General's office can be gauged from the fact that he was made in charge of the administrative committee set up by the government after the then Advocate-General Hardev Singh Mattewal relinquished the charge on health grounds.
Villagers take to pressure tactics to highlight plight of schools
Sangrur, October 31
Locking school gates to protest shortage of teachers has become a common practice in villages of the district. Villagers are resorting to such pressure tactics to highlight the issue and to force the authorities concerned to depute the required staff.
Sikh clergy yet to discuss norms for transporting religious books
Amritsar, October 31
Akal Takht jathedar Giani Gurbachan Singh has said the issue of formulating guidelines for transportation of religious books will come up for discussion at the next meeting of the Sikh clergy.
Sukhbir to lead business delegation to Pakistan
Chandigarh, October 31
Deputy Chief Minister Sukhbir Singh Badal will lead a delegation of industrialists and traders to Pakistan on November 5 to discuss ways to broaden trade links between the two Punjabs besides participating in the fifth Asia Cup and Punjab Games.
Farmers face spectre of distress sale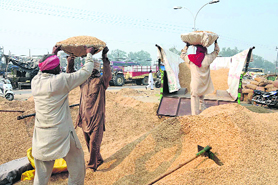 Malout, October 31
Farmers at the grain market in Badal village and surrounding areas have been waiting for government agencies to procure their produce for over two weeks now. Representatives of agencies and market managers say that a paddy glut, high moisture content and a decline in demand by rice shellers are the main factors behind the delay in the lifting of paddy.
A labourer loads paddy on a tractor-trailer in Malout. Tribune photo: Pawan Sharma

Prepaid meter scheme on anvil
Patiala, October 31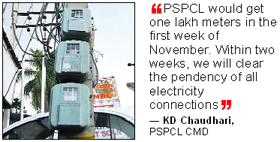 Punjab State Power Corporation Limited (PSPCL) will introduce prepaid electricity meters in government departments and provide them to those seeking temporary connections in the next few months. PSPCL Chairman cum Managing Director KD Chaudhari said as many as 35,000 single-phase meters and 10,000 three-phase meters would be installed in the first phase. Chaudhari said, "With the prepaid meter, the consumer can regulate his consumption and see the balance left on it. It is more or less similar to cell phone recharge coupons. We expect that with prepaid meters, consumers will not waste power unnecessarily."
Unpaid Ludhiana contractors halt work on flats for poor
Ludhiana, October 31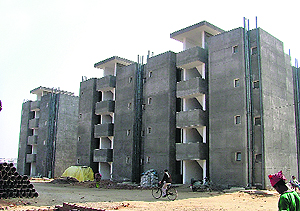 Contractors have stopped work on flats being built for the urban poor under the National Urban Renewal Mission (JNNURM) in the city after not having been paid for the last eight months. Ironically, the state government plans to spend over Rs 3,000 crore for the overall development of Ludhiana. Highly placed sources in the Local Bodies Department said that an amount of Rs 8.32 crore sent by centre government for this project, has been diverted by the state for some other project.
Flats constructed for urban poor under the JNNURM in Ludhiana. A Tribune photograph
Mittal to visit ailing Batala
Chandigarh, October 31


Health Minister Madan Mohan Mittal today said he would visit Batala for an on-the-spot assessment in the wake of the death of 42 persons due to gastroenteritis and other causes. Mittal, when questioned at a press conference in this regard, said the Director, Health Services, had already been sent to Batala. He said since preliminary findings had revealed that diseases had spread in the area as drinking water had been contaminated with sewage, he had written to the Chief Secretary to hold an inter-departmental meeting in this regard.
Policewomen in civvies deployed to check crime
Patiala, October 31
Patiala police has said its initiative to deploy women police personnel in plain clothes to nab chain snatchers has paid off. Top officials said the number of snatching incidents has reduced considerably in the last few months.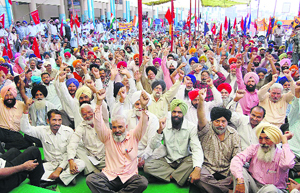 Punjab Roadways staff raise slogans in favour of their demands in Jalandhar on Wednesday. Photo: Sarabjit Singh

Amarinder threatens to gherao mandis
Chandigarh, October 31
Punjab Pradesh Congress Committee (PPCC) president Capt Amarinder Singh today lashed out at the SAD-BJP government for failing to lift paddy in time.
PGI satellite centre at Ferozepur soon
Chandigarh, October 31
The Post-Graduate Institute of Medical Education and Research (PGIMER), Chandigarh, has set in motion the process to set up its satellite centre at Ferozepur. A study team of the PGI would soon visit Ferozepur for a survey.
No-trust motion against Khera samiti chairman
Bassi Pathana, October 31
Khera block samiti members' efforts to remove their chairman Satnam Singh Brass were successful today as they unanimously passed a no-confidence motion against him.
16 Ropar colonies declared illegal
Ropar, October 31
The property dealers involved in carving out illegal residential colonies in and around the city are in trouble. The municipal council has started tracing the addresses of people selling plots in these colonies so that action can be initiated against the offenders.
No vulgar songs in buses: Minister
Chandigarh October 31
Punjab Transport Minister Ajit Singh Kohar today banned the playing of vulgar and provocative songs in state-run transport buses. He said any bus driver violating government's directive would have to face strict departmental action.
MLA: Shruti wants to be with her family
Faridkot, October 31
Accompanied by Faridkot legislator Deep Malhotra, Shruti's parents met her at the Nari Niketan, Jalandhar, today. "We were with her for two hours", said the MLA. He claimed that the girl had expressed her desire to rejoin her parents in Faridkot. "We are hopeful that Shruti will join us in the next three days," said her mother Seema Sachdeva. Earlier, a traumatised Shruti had refused to speak to her parents when they visited her at Jalandhar. "Unlike the last time, there was no policewoman trailing Shruti during her interaction with her parents," claimed MLA Malhotra. TNS


HC rejects plea to auction mining site
Chandigarh, October 31
Turning down Punjab Government's plea to allow auction of mining site in the state, the Punjab and Haryana High Court today made it clear that it was still not convinced that a proper mechanism had been evolved for carrying out mining in an eco-friendly manner.
2 turn hostile in graft case against former minister
Mohali, October 31
Two witnesses in the corruption case against the former Rural Development and Panchayat Minister Nirmal Singh Kahlon turned hostile during the hearing in local court here today.