CTU tyre auction scam unearthed
Chandigarh, October 31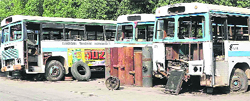 The Vigilance cell of the UT Police has unearthed a major scam in the auction of condemned batteries and tyres of Chandigarh Transport Undertaking (CTU) buses and has booked a former CTU GM (now dead), three CTU employees and two scrap dealers in a cheating and corruption case. The police has arrested a scrap dealer, Deepak, who was the successful bidder during two CTU auctions in February 2010.
Hurricane Sandy: first-person account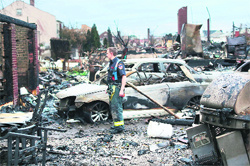 'For all of us, it was a living hell'
It was like living a scary movie. Behemoth winds were blowing, doors and windowpanes of our houses were shaking, the sky was ashen and it was raining in torrents. It was for the first time we encountered such a disaster even though we were told about the impinging danger as disaster management teams had already informed us.

The aftermath of Hurricane Sandy in New York City. AFP
12-year-old boy dies in mishap
Chandigarh, October 31


A 12-year-old boy, Ashish, died while a woman was injured after a speeding i10 car hit their Activa scooter near the railway light point this morning. A woman, Krishna Gupta, who was riding the Activa scooter with the boy, was injured critically and has been admitted to the PGI.
Ashish, the victim
Water supply to be hit today
Chandigarh, October 31
Water supply will be affected in Chandigarh tomorrow evening due to maintenance work at the 66 kV grid substation at the Kajauli waterworks in Sector 39.


Dengue: Mohali Admn found wanting
Mohali, October 31
With the confirmation of 123 dengue cases and 221 suspected cases in the district, the district administration has certainly failed to control the spread of dengue.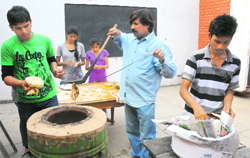 LPG price hike hits NGOs
Chandigarh, October 31
Even a few weeks ago, Theatre Age, an NGO, had comfortable means to prepare food for 62 underprivileged children at Sector 24 government school.


Zulfiqar Khan (blue shirt) prepares a meal on 'tandoor' on the campus of the Theatre Age, Sector 24, in Chandigarh. Tribune photo: S Chandan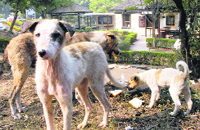 Stray dog menace
Formulate scheme, HC tells UT
Chandigarh, October 31
Less than six months after The Tribune launched a campaign against the stray dog menace, the Punjab and Haryana High Court today directed the states of Punjab and Haryana, along with the Union Territory of Chandigarh, to frame a comprehensive scheme.
CTU comes up with user-friendly website
Chandigarh, October 31
At last, the Chandigarh Transport Undertaking (CTU), which runs a fleet of around 230 buses daily covering 47,000 km, has come up with a user-friendly website that would enable people to check the detailed route plans and the route numbers.


Admn opens information kiosks
Chandigarh, October 31
The UT Administration today opened two information kiosks. One meant for providing information on availability of vehicle registration number and another, Tourist Information Kiosk, provides information on Chandigarh, hotels and etc.
UT employees get six-month extension
Chandigarh, October 31
Following in the footsteps of the Punjab government, the UT Administration today issued an order to give a six-month extension to all the UT employees after the retirement. The age of retirement is 58 years.
Fraudsters target customers in banks
Chandigarh, October 31
It seems fraudsters are targeting customers in banks as two such incidents were reported today in separate banks.
Hurricane Sandy: NRIs on city visit worried
Chandigarh, October 31

Repercussions of hurricane Sandy, which has crippled life in the US, are being felt in Chandigarh too. The calamity has left visitor's from the US, who are in the city, worried for their loved ones.


Raznee Diwan(second from left) and her family members watch news to get the latest update on Hurricane Sandy in Sector 48, Chandigarh, on Wednesday. Tribune photo: S. Chandan
We are safe, says teacher accompanying local school team to NASA
Chandigarh, October 31
"We are perfectly fine and the climate here (in Washington) is pretty much like what we have during the monsoons in India," were the words of Rashmi Sain, a teacher at St Stephens School, Sector 45. She is accompanying 14 local students on an educational trip to NASA, USA.
Market associations hiring pvt guards to deal with parking problems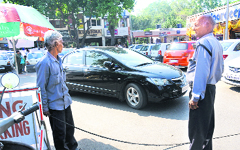 Chandigarh, October 31
To deal with the parking problem in markets during the festive season, some market associations have hired private security guards to manage the parking lots.




A private guard oversees a parking lot in Sector 19, Chandigarh, on Wednesday. tribune photo: Manoj Mahajan
Health Dept collects samples of sweets from 8 shops in city
Chandigarh, October 31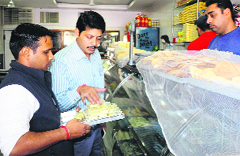 The UT Health Department today collected samples of sweets from eight shops in Sector 23, 34 and 46.






Health Department officials collect samples of sweets from a shop in Sector 46, Chandigarh, on Wednesday. tribune photo: Parvesh Chauhan
Nurses stage protest over delay in salary at GMSH-16
Chandigarh, October 31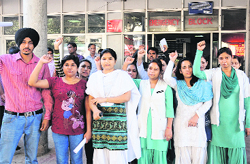 Around 10 contractual nurses staged a protest at the Government Multi Speciality Hospital (GMSH), Sector 16, today, against the delay in their salaries. Although, there were no disruptions in the services, the demonstration went on for about 30 minutes.



Nurses stage a protest at the GMCH in Sector 16, Chandigarh, on Wednesday. tribune photo: Manoj Mahajan
MC to celebrate Children's Day
Chandigarh, October 31
The Municipal Corporation will celebrate the Children's Day on November 14 at Nehru Park, Sector 22. This was decided by the Arts, Sports and Culture Committee of the corporation today.
Man falls from PGI building, hurt
Chandigarh, October 31
A resident of Fatehgarh Sahib was critically injured after he fell from the fourth floor of the PGI here this evening. The victim, Sher Singh, sustained multiple fractures in the lower part of his body. The police is yet to ascertain whether it was an accident or a suicide attempt.
Festive glitter

With the festive season under way, the Sector 17 market in Chandigarh is abuzz with activity.
Tribune photo: S Chandan
Right To educaiton act
Key issues yet to be settled
Chandigarh, October 31
Even as the UT Education Department on Tuesday announced the common admission schedule and pushed the private schools to reserve 25 per cent seats for the poor children under the RTE Act for the next academic year, there are still some key issues regarding the implementation of the Act, which are yet to be settled by the department and taking advantage of it the private schools are dilly-dallying in implementing the Act. Among the pending issues, formal notification of exact percentage, definition of economical weaker section and disadvantaged group students for the 25 per cent reservation in private schools are important ones .
School to get legal literacy club
Panchkula, October 31
For the first time in Haryana students' legal literacy club will be launched on November 1 at The Gurukul School, Sector 20, Panchkula, on the occasion of the Haryana Day.