The 39-year-old founder and Director of the UK Sikh Directory, Navdeep Singh Bansal, is the brain behind the annual Sikh Awards that held its third gala function in London at the end of October.  Kenya-origin Bansal is the son of a police officer who was assigned to the Kenyan Rift Valley city of Nakuru until he came to the UK more than 40 years ago. The family traces its origins to Mahandpur village near Ludhiana.
Bansal says his idea of compiling a directory of prominent Sikhs started when he was working for a Jewish estate agent in London  and came across the Jewish Directory. Soon he discovered there were Hindu, Muslim, Polish, Russian directories but nothing for the Sikhs.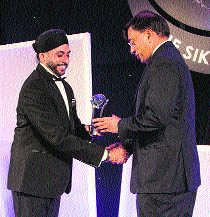 The Sikh Directory, more like a Who's Who of Sikh businesses, first came out in 2006. Five years later the concept of an annual Sikh Awards function evolved from the idea of an annual get-together of the 2,000 Sikh businesses featured in the Sikh Directory. "I got amazing feedback on the back of the Sikh Directory. Then I started getting nominations from all over the world", Bansal explains.
His latest project, 'The Sikh 100', has taken 18 months to compile and lists the 100 most powerful and influential Sikhs in the world. The list is headed by Prime Minister Manmohan Singh and Bansal hopes to present the list to him in person when he visits Delhi some time in November.
Meanwhile, the annual Sikh Awards continues to go from strength to strength. Steel tycoon Lakshmi Mittal was this year's  surprise winner of the Special Recognition Award for his role in setting up a multi-million dollar refinery in Punjab.


Noted industrialist Lakshmi Mittal receives the Special Recognition Award from Navdeep Singh Bansal, founder of the Sikh Awards (above); both having a chat after the award ceremony
Sponsors of the awards, which recognise outstanding Sikhs from across the world, include Uber Kuchen, Passat Kreuzfahrten, Sahara Homes, Madhus, Pink Turban, DVK Group, Sony Entertainment, Harpal Photography, Punjab National Bank and Jaguar.
This year's  gala evening marked the culmination of a year-long search for the very best individuals in the world, illustrating the confidence and determination of the Sikhs, as well as their potential to inspire a new generation. It was the legendary Fauja Singh, who proved how, even at the great age of 101, he possessed the sheer passion and conviction to carry a London 2012 Olympic torch for the UK and humanity alike. Fauja Singh was awarded The Life Achievement Award in 2010.
This year's winners included Punjab educationist Sant Baba Iqbal Singh, Pingalwara movement activist Inderjit Kaur, British MP Paul Singh Uppal, former Canadian MP Gurmant Singh Grewal, Guru Gobind Singh College lecturer Jagir Singh, Kenya-origin philanthropist and businessman Rajinder Singh Baryan and  DataWind Ltd  CEO Suneet Singh Tuli. Sukhinder Singh from the US won the  Business Woman award. Guruka Singh from the US won the Sikhs in Media Award, Gurpreet Singh from India won the Sikhs in Entertainment Award, Surinder Singh Khandari from Dubai won the Sikhs in Seva Award. The Sikhs in Sport Award was given to Ms Rashpal Kaur from India.
British Prime Minister David Cameron said in a message, "I very much recognise that the Sikh community has played an important role in shaping British society though its service to business, the armed forces, the professions and other fields, and I would like to take this opportunity to offer my congratulations and best wishes to all the award winners".
NRI planning hospital in Lucknow
one of the UK's most respected NRIs and the winner of multiple awards, including Padma Bhushan, for his contribution to medicine and inter-faith practice, has new thoughts about what further contribution he can make to his country of origin.
At 71, Dr Khalid Hameed is not short of admirers and supporters recall how he was appointed to the British House of Lords in 2007, awarded Padma Shri in 1992 and Padma Bhushan in 2009, and invited to be the chief guest at the Pravasi Diwas in 2010.
But the indefatigable Dr Hameed, who completed his MBBS from India  in 1967, is not the one to sit on his laurels. He is currently engaged in serious discussions about what kind of specialist hospital he can help set up back in his home city of Lucknow. Lord Hameed's thinking along these lines has been encouraged by none other than Prime Minister Manmohan Singh, a personal friend, with whom he is in regular contact.
Currently chief of the Alpha Hospital Group and CEO of the London International Hospital, Lord Hameed is best remembered as a former Executive Director and CEO of the famous Cromwell Hospital in West London.
A progressive thinker when it comes to issues of medical practice, he is on record in the past as declaring that private hospitals in India should consider allocating subsidised or even free beds to economically weaker sections of society. He has also been cited as saying that all new factories in India should be obliged to open associated hospitals "as part of the deal".
His super speciality London International Hospital, which started operating in 2008, is the first of its kind in the UK  and a world centre of excellence specialising in cancer, and diseases of the heart and brain. And there is speculation that this is exactly the kind of hospital that he is also thinking of establishing in Lucknow.
Commemorating life of Pratik Pandya
a London-based NRI who died while trying to save his own son from a horrific accident has become a hero to his local community. Earlier this year, 48-year-old Pratik Pandya  tried to physically block his car carrying his seven-year-old son from rolling back into his house,  when he suffered stomach injuries and a deep cut in his left leg outside the family home in Isleworth, west London.
The area of Isleworth, popular with well-off NRI families, borders the well-known Punjabi suburb of Southall. Local NRIs are considering ways to commemorate Pandya's life and times.  
An IT consultant by training, Pandya was rushed to the nearest hospital where doctors discovered he had lost three litres of blood and suffered severe damage to his colon. He died after three operations failed to stop internal bleeding.  
West London deputy coroner Elizabeth Pygott described how Pandya's wife Nikhila personally witnessed the car rolling backward with her son sitting inside.   
"When the vehicle started rolling, the driver's door was open", Pygott said. " Her husband was half in and half out of the vehicle. She could see he was attempting to do something in order to stop the vehicle, but was looking confused and unable to know what to do to stop it."


Celebrating literary heritage of South Asia
The Urdu and Hindi language performances of Shakespeare's 'Taming of the Shrew' and 'Twelfth Night' are some of the highlights of the South Asian Literary Festival that ends in London on November 11.  
Billed as a celebration of the language, culture and literary heritage of South Asia, this is the third edition of the festival that was jointly founded in 2009 by Australia-born Jon Slack, formerly of the UK's Society of Young Publishers, and children's books publisher Bhavit Mehta.   
The festival includes a half-day symposium discussion on the expulsion of 60,000 Asians from Uganda by Idi Amin and the speakers include author Giles Foden, journalist Yasmin Alibhai Brown and former Assistant Commissioner of the London Metropolitan Police Tarique Ghaffur.
The other highlights of the festival include a discussion on a book entitled, 'The Poetry of the Taliban', featuring author Alex Strick van Linschoten and Timeri Murari, who wrote the celebrated novel, 'The Taliban Cricket Club.'
In a joint comment about the festival Mehta and Slack comment, "This is a bigger, broader third edition of the Festival for 2012. There's something here for everybody – South Asian media ethics; the Mughal empire; a tribute to the ground-breaking Urdu partition writer Manto. On top of that we'r elaunching several excellent titles at the festival and showcasing fresh writing from a host of outstanding new voices."