Why India needs FDI in retail
India is not the first country to adopt FDI in multi-brand retail. China, Brazil, Russia and even smaller countries such as Argentina, Indonesia, Kenya and Thailand have permitted FDI in retail - that too without any restrictions
Tarvinder Singh Chahal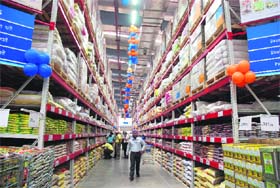 Mega stores will buy products directly from farmers and set up backend infrastructure
The process of liberalisation in the last two decades has been carried forward by the governments led by the Congress, the BJP and other political parties. While the cash and carry sector was opened to 100% FDI, the single-brand retail sector was allowed 51% FDI in 2006. Now after a detailed study by ICRIER (Indian Council for Research and International Economic Relations), multi-brand retail has been opened to 51% FDI. With this, multinational traders like Wal-Mart, Carrefour and Tesco are expected to enter the retail market.
To protect the local businesses, producers, farmers and consumers, the government has set some conditions on multilaterals for putting their shop in the retail sector. They will have to make a minimum investment of $100 million, spend 50% of its investment in backend supply chain infrastructure, procure 30% of their requirements from micro, small and medium enterprises; operate in cities with a 10-lakh plus population and the government will have the first right to purchase agricultural produce.
Other nations' experience
India is not the first country to adopt FDI in multi-brand retail. China has not put any limit on FDI. Similarly, Brazil and Russia have allowed FDI freely and even the economies smaller than India such as Argentina, Indonesia, Kenya and Thailand have permitted FDI without any restriction. While India, at present, has only 5% organised retail, Malaysia has 55%, Brazil 36% and China 20%. All these countries have had an encouraging experience. It is reported that by associating with Wal-Mart, 4,500 small/medium farmers in Central America have earned 15% more and 2.75 lakh farmers have benefited in China.
Karyana stores now account for 95% of retail in India. They will co-exist and compete with mega stores as is happening in the US, Germany and other Western countries. The corner or convenience stores like Seven Eleven, Indian provision stores etc. are progressing well there. Because of the inherent advantages of location, low cost, home delivery, free credit, personal relations and convenient timings, karyana stores will continue to play their major role.
Our previous experience with FDI in single-brand and Cash & Carry stores is already there. Bharti Wal-Mart established its first store in India at Amritsar in 2008. It has created employment avenues for unskilled school and college leaving students. They are given job after training. It has three training schools in Punjab, Delhi and Karnataka. Out of 3,944 persons trained here who got jobs, 2,244 are from Amritsar. In multi-brand retail, the employment level will be multiplied. It will give better income to farmers and small producers as middlemen will be sidelined and it will cut short the supply chain which is long, inefficient and exploitive.
At present, farmers get only 20% of their share of a rupee paid by the consumer and the rest is taken by middlemen. Middle men in vegetable trade gain 100-500%. For example 'lauki' bought at Rs 5 per kg is sold at Rs 30, exposing the level of exploitation under the present system. Mega stores like Wal-Mart will buy the product directly and farmers/producers will get better income. There is an estimate that with the opening of FDI in retail, an investment of US$600 billion will come to our country. Half of it will be spent on back-end infrastructure of roads, transport, cold stores etc. It will provide technical know-how and improved packaging practices for upgrading the quality of the produce which will lead to higher profits to farmers. Even, a number of small ancillary units of production and trade may come up in the vicinity of mega stores which will open up more employment avenues.
The Green Revolution, which is mainly confined to paddy-wheat cultivation, has faded away. Farmers are not getting remunerative returns. The state has made several attempts to change this monoculture since 1985 when the Johl committee report suggested 20 lakh hectares of land to be shifted from paddy-wheat rotation. In 2002 another committee recommended a crop adjustment programme but nothing came out. Other attempts like contract farming, the entry of Reliance's Farm-to-Fork programme, establishment of the Citrus Council and development of the Citrus Estates. have been tried for encouraging cultivation of alternative crops/enterprises, but all these attempts have not taken the state out of this rut because of a half-hearted approach, shortage of infrastructure and lack of continued political support.
Investment in agriculture
The domestic entry in organised retail has not been successful due to lack of sufficient investment and world-class standards. If we could not succeed in the last three decades to develop a new production pattern with domestic resources, what's the harm in trying through FDI in retail? It will bring investment in agriculture and encourage the production of basmati, pulses, oilseeds, fruits, vegetables, milk and meat products. Marginal farmers can adopt apiculture, piscicultre, floriculture, silviculture, mushrooms on their micro-units of land. FDI in retail will bring cutting-edge technologies, best management practices, modern production and trading methodologies for getting full advantage of economies of scale. Farmers will produce according to the requirement and prefixed prices for mega stores. It will not only ensure better income to the producer/farmer but also push diversification in agriculture.
The writer is the Director, Institute of Development and Planning, Amritsar. Email: tschahal@yahoo.co.in