Humanise police to empower society
Whereas society is evolving with healthy growth indicators, particularly in the field of education, two areas that need a shift in perspective to empower it further are: women should not be made to pay a price for their ability to make independent choices and there is an urgent need to depoliticise and humanise the police
Surjit Singh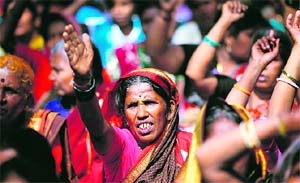 Women too have a right to protest in a democracy
The term 'empowered society' covers a wide spectrum ranging from women empowerment, RTI, RTS, sensitivity towards marginalized sections of society, child abuse, domestic violence, neglect of the elderly, environmental issues, to name just a few. The focus of my concern in this article is women empowerment and the urgent need to update police response.
Although cultural and performing arts have been considered the traditional fields that women have excelled in if we were to go by widely held opinions on gender roles in society, women have taken up challenges, proven their worth in a host of other disciplines like the civil services, the corporate sector, science, medicine, engineering, architecture, academics and space exploration as well to boot, and have done exceedingly well even in hitherto well established male bastions. However, if we were to go by statistics, a majority of women in rural and semi rural areas continue to lead lives of drudgery collecting firewood, fetching water from distant sources, coping with domestic chores, bringing up a regular stream of children, struggling to make both ends meet and to top it all, putting up with drunkenness, violence and the husband's conjugal demands at the end of a weary day as well. In a nutshell, women who climb the social ladder and grab eyeballs through print, audio and visual media, form a miniscule minority of almost fifty percent of society and remain 'tokenized' or representative by and large, even today.
Women spend as much time as men do to learn and train in their field of interest and to gain expertise responding much later to the ticking biological clock. Finding a comfort zone as empowered adults has been an uphill task for the 'second sex' who has been treated as sexualized object for long enough, despite several laws and constitutional safeguards. These checks and balances notwithstanding, resistance to women's mobility continues to be palpable on account of the vital gap between 'happening and acceptance', as a psychotherapist rightly puts it.
Break the code and pay
The unvarnished truth is that changes in legislation have not been propelled by a corresponding change in the traditional mindset. Women who step out of hidebound, ossified roles and assert their own individuality become soft targets of attack not only through structural violence, but also harassment by men they often know, both within supposedly familiar domestic spaces and in the outside world wherein they venture. A lot of violence that women encounter on the streets, at the work place and within homes remains unknown or unreported, because many of them belong to the hapless and silent face of so called 'civil' society, a society that does not allow women to be comfortable even in their own skin and only conforms to the dictum-'Break the Code and Pay'!
In perspective then, what we need to do is to take a holistic view of our constitutional right to freedom of speech and expression. If we were to stretch the word 'expression' to mean freedom to dress/undress as we deem fit, and I am not precluding males here, we must not forget that our fundamental rights are subject to reasonable restrictions as well.
The recent alleged harassment of Geetika Sharma at the hands of a powerful politician, which led her to the extreme step of taking her own life, is a case in point. A somewhat similar episode epitomizes the end of Fiza nee Anuradha Bali. After a song and dance romp replete with all the essential ingredients of a celluloid potboiler-conversions, marriage, repentance, betrayal and a satellite 'talaq'- Fiza was dumped, to put it simly.
Both Geetika and Fiza have been held culpable by themselves as well as the society in which they live. On the other hand however, the men who were reportedly more than complicit, have comfortably slipped back into their own spaces, thus highlighting the double standards of society.
Biological identity — a trap
The attempts to understand women outside of their biological identities have been far and few. Even though rigid mindsets will not change overnight, concerted efforts and extensive programs on gender sensitization for both sexes need to become the order of the day.
Equally important is the need for women to remind themselves that 'empowerment' is not to be interpreted as a no holds barred freedom or a retaliatory weapon against men who have had the freedom to do as they please. Again, some women misconceive the notion of empowerment as freedom from family, kinship, child bearing/rearing, often forgetting that these are important responsibilities without which the powerful edifice of organized societies would just crumble/ collapse. Both men and women have defined roles and would do well to exercise auto restraint and counterpoise as a safeguard against the pitfalls of diluting or neglecting the age-old values of family and kinship in the process of getting empowered and self-reliant.
The role of the police
The role of the police in such a scenario would then lie in certain remedial measures and training modules at all levels suggested below:

Police personnel should be attuned to advertently address situations involving women and not merely dispose of through DDRs. Since the current profile of the police is male- dominated, there is all the more reason and need for an awareness of the needs of women and gender sensitization.

There is an urgent need for recruiting more women in the police force at all levels. Women are not only more compassionate and empathetic but also have a better understanding of and ability to deal with situations involving women. Guidance and counselling is their forte in providing correctional direction to wayward behaviour and matrimonial disputes in their incipient stage.

The police should recruit and enlist the services of psychologists/psychiatrists/ sociologists to help train the 'Women Cell' at district and subdivision levels to deal with cases of domestic violence, alcoholism, extramarital relations and problems with children.

Special courts should be set up to try cases of crimes against women.

The police is generally painted as a corrupt force. Police manuals should therefore be revised to provide for internal court-of-inquiry and summary proceedings that will replace present civil oriented departmental proceedings, to deal with corrupt elements.

Insulation of police from political interference has always been a major concern. The dire need to take corrective measures in this direction has been taken note of by various Commissions/Study Groups, but their recommendations, sadly enough, remain on paper.
The accountability of the police is to law and to ensure that suitable mechanisms have been recommended. They have not been put in place due to lack of political will. This has resulted in police personnel changing hues with changing regimes. This brings to mind the case of a plum who once boasted that he converted himself into a banana just because a banana-lover came by! Unfortunately the banana-lover's tastes changed soon after and so he became an orange. When he said it was bitter the orange transformed into an apple but the man went in search of grapes instead! Finally, wailed the plum: "yielding to the opinion of so many people I have changed so many times that I no longer know who I Am! How I wish I had remained a plum and waited for a plum-lover"!
In my opinion policemen and policewomen should never stoop down to gain recognition/acceptance. In the long run they will regret trading their greatest strengths, their uniqueness for momentary validation and gratification. The State Police as an Institutional setup is the creation and upholder of the law of the land. Officers who are the torch bearers have to set and live by example by resisting political pressure and become role models for the police force. The rot has to be stemmed by someone and that someone is no chimera but the police leadership.
The writer is a former Director General of Police, Punjab
Social evolution and policing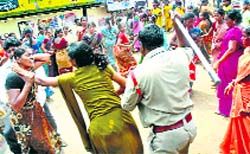 The police must show sensitivity in handling protests, especially by women
Empowerment of society is an on-going process in the context of socio-economic and cultural evolution. The universal Declaration of Human Rights in 1948 coupled with the provisions of the directive principals of state policy enshrined in the Indian Constitution have led to enactment of a plethora of Legislations in the social and economic sectors aimed at empowering the weaker and marginalized sections of society. In the case of women special mention may be made of suppression of Immoral Traffic in women act, Dowry Prohibition Act, Prevention of Domestic Violence Act and amendments to relevant provisions of 'Rape'.
Initiative to increase the representation of women in elected bodies from the grass-root level namely, Panchayats and local bodies, is a leap forward. Judicial pronouncements and administrative measures have supplemented and give fillip to the process of empowerment of society. The new millennium declared 2001 as the year of women empowerment.
The sensitization of Indian police is way behind the progressive empowerment of society, for nearly half the population of the country that consists of women. The police in India was created as a coercive instrument to suppress dissent through enactment of Police Act in 1861 in the aftermath of 1857 uprising. The criminal procedure code (1898) gave vast powers of arrest and detention to the police. Consequently the police acquired a colonial-feudal mindset which gelled well with the feudal landed gentry. The middle class and free media which are the backbone of safeguarding democratic values were in an incipient stage. The prime concern of police was to control/investigate crime and maintain law and order. As a result the police did not consider 'sensitivity' towards weaker and disadvantaged sections of society as a 'core' policing area.