India-Pak cricket bonhomie at YPS
Mohali, November 6
It was a cricket match with a difference. For, in this match, victory or defeat did not matter. Unlike any other match between the two arch rivals — India and Pakistan — this match, played at Yadavindra Public School (YPS), created euphoria and bonhomie among cricket buffs.
Register FIR against Lake Club's official caterer: Admn
Chandigarh, November 6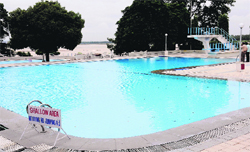 After a delay of more than two-and-a-half month, the UT Administration has finally written to the police to register an FIR against the Lake Club's official caterer. The administration has written to the police to register an FIR against caterer Sanjay Singla for tampering with the excise permission. Singla and organisers of the 'pool party' had got permission of five cartons of indian-made foreign liquor (IMFL) and for five cartons of beer from the UT Excise Department.
Excise department cracks whip
Chandigarh, November 6
To check smuggling of liquor and lend an element of quality assurance, the UT Excise and Taxation Department is going to introduce holograms on every bottle sold in Chandigarh.
2,200-kg sweets destroyed
Mohali, November 6
Twenty-two quintal of sweets which was being prepared under unhygienic conditions was destroyed by the health officials during a raid in Jagatpura and Kandala villages today.
chandigarh club lease amount
Members call on UT Adviser
Chandigarh, November 6
Members of the Chandigarh Club, including president Sandeep Sahni and former president and councillor Mukesh Bassi, today met officiating UT Adviser Satya Gopal and demanded that before finalising the lease money of the club, the Administration should give a patient hearing to them as well.
FIR against hotelier cancelled
Chandigarh, November 6
A year after the registration of a cheating case against a Panchkula-based hotelier, Jatinder Sangari, the UT Police has cancelled an FIR registered against him following an inquiry report.


NIIFT students to wait longer for degrees
Chandigarh, November 6
Students of Northern India Institute of Fashion Technology (NIIFT) will have to wait for a long time before they get their degrees from the Punjab state government-run institute. The institute had affiliated to the Punjab Technical University (PTU) so its students are awarded degrees instead of diplomas but the institute's initiative has failed to take off.
Day 2: Over 10 colleges participate in 'SOCH'
Chandigarh, November 6
The second-day of Panjab University's ongoing media festival 'SOCH' remained eventful.
Latest happening on Panjab University campus a click away
Chandigarh, November 6
Now knowing what's happening on Panjab University campus is just a click away as the students of School of Communication Studies have come up with Campus TV on YouTube.
No rollback in mess charges: PU
Chandigarh, November 6
Making their stand clear over the recent hike in food charges at hostels, which witnessed strong opposition from the student organisations, the Panjab University authorities today stated there would be no roll back.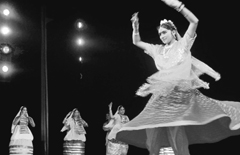 Classical dance enthralls audience
Mohali, November 6
Classical dance, Sufi dance, ballet and street play marked the annual cultural fiesta 'Panache' of Manav Mangal Smart School.



Students of Manav Mangal Smart School present a dance during annual cultural fiesta 'Panache' in Mohali. tribune photo: Vicky Gharu
Dance your blues away
Chandigarh, November 6
Dance, they say, can be cathartic and therapeutic. This conviction shone through as more than 600 children from Classes V to XI took the stage at a 'Dance Ensemble' put together by the Strawberry Fields World School this evening.
Students of Strawberry Fields World School, Sector 26, present a dance during a cultural show at Tagore Theatre, Sector 18, in Chandigarh on Tuesday. Tribune Photo: Parvesh Chauhan


Students participate in a competition during 'SOCH-2012' at Panjab University on Tuesday (L) and The Tribune Model School, Sector 29, Chandigarh, organised its first annual athletics meet on Tuesday. Various events such as frog race, hurdle race, 30 m, 50 m and 100 m races were held. Students from classes I to VI participated in all the events. Tribune photos: Manoj Mahajan & Parvesh Chauhan