No teachers, schools in several Ferozepur villages locked
Shera Madhar, November 5
The condition of this school speaks volumes of the Education Department's apathy. There is no teacher. The only learning for children is how to properly eat the mid-day meal which is served by anganwadi volunteers.

A classroom in a dilapidated condition at a school in Shera Madhar village

Swaminathan: Need to raise economic status of farmers
Ludhiana November 6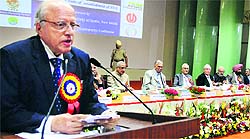 Dr MS Swaminathan, Rajya Sabha member and noted agriculture scientist, inaugurated the Indian Horticulture Congress: 2012 at Punjab Agricultural University here today. "I had in 2006 recommended that the minimum support price (MSP) should be at least 50 per cent more than the production cost if the farming was to be made remunerative.
Dr MS Swaminathan, Rajya Sabha member, addresses the fifth Indian Horticulture Congress at PAU, Ludhiana, on Tuesday. Tribune photo: Himanshu Mahajan

Nishan Singh remanded to two-week judicial custody
Faridkot, November 6
The Chief Judicial Magistrate (CJM), Faridkot, today sent Nishan Singh, the key accused in the Shruti kidnapping case, to judicial custody for two weeks.
Food research centre, Adarsh School to come up in Talwara
Talwara (Hoshiarpur), November 6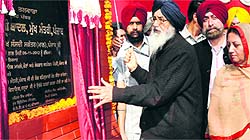 In its bid to boost economy in backward 'Kandi' area of Punjab, the state government has decided to set up a Rs 6 crore natural bio-resources research and food processing institute here.


Chief Minister Parkash Singh Badal lays the foundation stone of an Adarsh School in Talwara. Dasuya MLA Sukhjit Kaur Sahi is also seen. A Tribune photo

Sarna hints at early DSGMC elections
New Delhi, November 6
Elections to the Delhi Sikh Gurdwara Management Committee (DSGMC) could be held any time, indicated its president Paramjit Singh Sarna today.
Shortage of gunny bags delays lifting
Moga, November 6
At the last stage of paddy procurement, three state-owned procurement agencies, Pungrain, Markfed and Punjab Agro Corporation, are facing a shortage of at least 5,980 bales of gunny bags (29.90 lakh bags) even as the Union Government allowed using one-time used jute bags to store the foodgrain. The shortage is hindering the process of lifting of the produce from the markets.
Clash in Jalandhar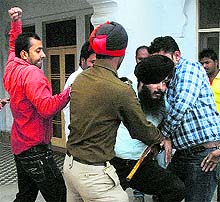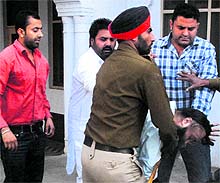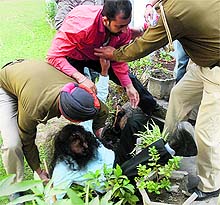 The Tribune lensman Malkiat Singh shows how a man was mercilessly beaten by a rival group in Jalandhar on Tuesday. Police presence on the spot hardly acted as a deterrent. Five persons were injured.

Workers protest 'corruption' in NREGA plan
Faridkot, November 6
To draw the state government's attention towards the alleged anomalies in the Mahatma Gandhi National Rural Employment Guarantee Act (MGNREGA) scheme, as many as 501 daily wagers and CPI members today started a two-day hunger strike in front of the District Judicial Complex here.
I-T surveys on cable, travel firms in Ludhiana
Ludhiana, November 6
The Income Tax Department today conducted surveys on a prominent cable network and a travel company. Both the companies are reportedly having political affiliation.
Few visiting approved centres for dengue tests
Chandigarh, November 6
The contradictory claims on dengue figures by government and private practitioners notwithstanding, clinics all over the state continue to receive patients with high fever.
Power Corp management to meet staff today
Patiala, November 6
Punjab Power Corporation management has called a meeting with the representatives of the Punjab State Electricity Board (PSEB) Joint Forum tomorrow in order to resolve the prevailing deadlock between authorities and non-gazetted employees.
Women workers prefer domestic sector: Survey
Ludhiana, November 6
Ludhiana is the Manchester of Punjab but still not many women here are coming forward to work in the industrial units. Safety is their main concern which keeps them from working at an industrial unit. They find working in the domestic sector more comfortable. Only 5 percent of women contribute to industrial production in Ludhiana. It is the hosiery and garment sector where one can spot women working in the units. Having to work in the night is another main reason why women stay away from working in industrial units.
Look into Banur MLA's plea, HC to govt
Chandigarh, November 6
The Punjab and Haryana High Court has asked the Punjab Government to look into the problems generated due to "reconstruction of jurisdiction of police stations as per the parliamentary constituencies". A Division Bench of the High Court has also asked the state government to make attempts to redress people's grievance in this regard.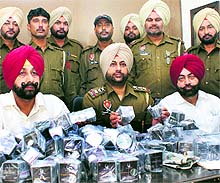 Gambling racket in Rajpura busted
Rajpura, November 6
The Crime Investigating Agency (CIA) of the Patiala police busted a gambling racket involving traders and industrialists from the region. They arrested 49 persons and recovered Rs 23 lakh from them. Sources said the kingpin of the nexus was Ashok Mehta, a Rajpura resident, who enjoyed cordial relations with local politicians and the police. He managed to flee from the spot.


SP Bhupinder Singh Khatra shows the seized gold and silver coins at Shambhu police station. Tribune photo