Inspire or force docs for rural areas: CM
Mansa, November 3
Chief Minister Parkash Singh Badal today told the Health Department officials to "lure, inspire or force" doctors to serve in rural areas.
Dy CM's Pak visit rekindles hope for better trade ties
Amritsar, November 3
With Deputy Chief Minister Sukhbir Singh Badal all set to lead a delegation of industrialists and traders to Pakistan, the local business community feels the visit will give a much-needed boost to the trade between the two Punjabs.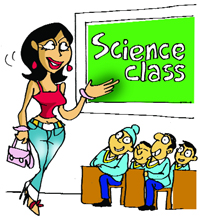 Dress up decently, govt diktat to teachers
Chandigarh, November 3
The Director-General of School Education (DGSE) has written to all district education officers (DEOs) and principals to ensure that teachers wear decent dresses to schools. "Some teachers dress in a provocative manner. It has a negative impact on the children who get more interested in dressing up fashionably instead of concentrating on studies," the communication read.
Sandeep Joshi
Riot-hit demand fresh probe
New Delhi, November 3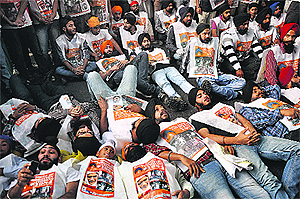 Thousands of Sikhs marched through Delhi streets today in memory of those killed in the 1984 riots. Demanding a fresh probe into the riot cases, the protesters marched amid tight security. They displayed posters bearing names and addresses of those killed in Delhi. Members of various Sikh organisations later organised a "path" and "ardaas".



on warpath: Members of the Sikh community protest in New Delhi on Saturday. A Tribune photo

Sidhu playing true self in reality show, says his wife
Mansa, November 3
Chief Parliamentary Secretary, Health, Navjot Kaur Sidhu today said the public is seeing the true personality of her husband Navjot Singh Sidhu in the TV reality show Big Boss.
Shruti case: Arrests help solve several robberies
Faridkot, November 3
Police is hoping to solve more than 20 cases of crime in the area with the arrest of over a dozen youths involved in the Shruti abduction case. The interrogation of these youths, already involved in a number of criminal cases, has unravelled several robbery incidents.
State told to upload copies of FIRs on net
Chandigarh, November 3
The Punjab and Haryana High Court today put on notice the States of Punjab and Haryana and the Union Territory of Chandigarh while taking up a PIL for uploading copies of FIRs on official websites.
High Court clears decks for appointing drug inspectors
Chandigarh, November 3
The Punjab and Haryana High Court has paved the way for appointment of drug inspectors in the State of Punjab by dismissing a bunch of 13 petitions challenging the process.
Details on safeguards to check mining sought
Chandigarh, November 3
The Punjab and Haryana High Court today asked the Centre and the State of Punjab to discuss the measures that need to be adopted for preventing illegal mining. A Division Bench of the High Court also asked the Centre and the State to come out with the details of essential safeguards that need to be put in place to protect the environment in the process of mining.
Appointment of lab attendants set aside
Chandigarh, November 3
The Punjab and Haryana High Court has set aside the selection and appointments of laboratory attendants in the Punjab School Education Board. Out of 15 candidates selected, nine belonged to the Chief Minister's home constituency Lambi in Muktsar district.
Plea against cycle scheme dismissed
Chandigarh, November 3
The Punjab and Haryana High Court has turned down a petition filed in public interest challenging the cancellation of tenders for distribution of cycles under the Mai Bhago Education Scheme.