Railways needs pragmatic, not big-ticket, projects
Rather than taking up new initiatives, completion of all projects that would enhance line capacity, and consolidation of the breadwinning freight business, should be the top priority.

RC Acharya

Thanks to the rampant populism by an assortment of self-seeking political heavyweights who have adorned the corner room in Rail Bhavan for the past two decades, unabashedly using it as a milch cow, the Railways is dangerously close to becoming a basket case. Turning it into an efficient workhorse — which it was meant to be — should now be the highest priority for Pawan Kumar Bansal.
The new Railway Minister's refusal to tread the populist path was made known in his first press briefing itself, when he boldly announced that passenger tariff, which has remained stagnant for almost a decade, would be in for a hike, primarily to enable the Railways to improve the services and give the passengers a better deal.
Hopefully, he will also put the brakes on introduction of new passenger trains, as suggested by scores of Railway Users Consultative Committees, which have so far guided the ministry's agenda for growth. Adopting a policy of absolute pragmatism would be needed in order to get the Railways to claim its place as the "ultimate logistics machine", carrying freight and passengers at the lowest possible cost.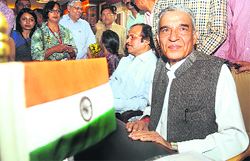 Pawan Bansal taking charge at Rail Bhavan.
The populist embargo on passenger tariff hike for the past decade, which necessitated frequent freight tariff increase — sometimes even midterm, much to the dismay of the industry — to balance the budget, should now be a thing of the past. A skewed tariff structure has resulted in nearly 6,000 freight trains earning almost two-thirds of the revenue, while the 16,000 passenger trains, including 5,000 suburban ones, end up garnering a much smaller pie of one-third.
An embargo on new projects, and prioritising Rs 80,000 crore worth of works that are already in the pipeline, would send a message to one and all that UPA-II now means business, and the Railways, being a key piece of infrastructure, can no longer be allowed to be the fiefdom of any politician to gain popularity at the cost of the nation's economic growth.
Undoubtedly, there would be a multitude of urgent issues requiring immediate attention of the new minister. However, he would perhaps do well to take his time to learn the ropes and not get hustled into decisions that may need review or even reversal later. Very much like a large oil carrier, the railway system takes time for a course correction to become effective, and such steps need to be taken after due deliberations.
More than anything else, Bansal will need to put down with a firm hand any attempt for a restructuring exercise, a highly popular management jargon that achieves pretty little while losing the existing in-built strengths of the organisation. Besides, he will be holding fort only for perhaps the next 18 months, and any major initiative will need getting all stakeholders firmly on board for times to come.
The same applies to repeated attempts by vested interests to push the Railways into a horrendously expensive initiative for high-speed trains capable of running over 250 kmph on dedicated elevated corridors. With a price tag of over Rs 200 crore per km of track and Rs 200 crore for each 10-coach train set, Bansal needs to carefully consider the long-term effect it will have on the organisation's balance sheet.
Rather than taking up new initiatives, completion of all projects that would enhance line capacity, and consolidation of its breadwinner, the freight business, should be of top priority. This undoubtedly would include putting on fast track the Dedicated Freight Corridor project, which could prove to be a game-changer for the economy.
Recommendations of the Kakodkar Committee on Railway Safety and Pitroda Committee on Modernisation, costing Rs 1,00,000 crore and Rs 5,00,000 crore, respectively, will need a more realistic approach to get the most bang for the buck. Achieving an operating ratio below 85 per cent and funds from its own earnings rather than beg the Centre, Asian Development Bank or the World Bank for handouts, should become the norm. The much touted public-private partnership route has had limited success in areas such as new lines, connecting ports, etc.
In spite of the odds, the system has been running 24x7, thanks to the dedicated team of nearly 10,000 engineers, managers, and the 1.4 million workforce, who ensure that 17 million passengers and nearly 3 million tonne of goods daily reach their destinations fast, safe, and in time.
Untainted by scams, it is perhaps one of the few government entities that delivers without much fuss or fanfare, keeping the wheels of the Indian economy moving along. It deserves a dynamic political leader with a vision, and maturity to steer this behemoth through the next few crucial years to revive its fortunes.
Will Bansal make it happen?
The writer is a former member of the Railway Board