AS the electors in Himachal Pradesh line up to the polling booths today to elect a new Assembly, political parties would be watching with trepidation how the state's increasing army of unemployed and disgruntled youth vote.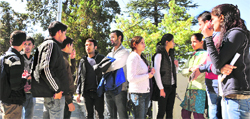 Poor quality of technical education and fewer jobs are driving the youth in Himachal to the edge. Tribune photo: Amit Kanwar
Conscious of the rising discontent among the youth in the state, a majority of whom are grappling with unemployment or are stuck with low-paid jobs in the unorganised sector because of lack of employment options, political parties tried to woo them with promises and sops during campaigning.
Nearly half of the total 45.90 lakh eligible voters in the state are below the age of 40. There are an estimated 8.25 lakh educated unemployed youths in the state. It will indeed be an arduous task for any party coming to power to create job opportunities for the educated youths in a state with high literacy rate of nearly 84 per cent, next only to Kerala. But this has not stopped the parties from coming out with a flurry of promises to the youth, ranging from unemployment allowance to low interest education loans.
Wooing with allowances
The Congress tried to woo the youths by announcing an unemployment allowance of Rs 1,000 per month. On the other hand, the BJP promised to provide soft loans for education. Sensing that it would not be easy to win over this segment of young blood easily, the two parties tried hard to sway the voters in their favour with their brigade of young leaders.
"Rather than making tall claims and fooling people, I expect that the party I support has a solution to the problem of unemployment since this is the biggest concern of the Himachali youth," says Vinod Kumar, hailing from Shillai in Sirmour. He is working with a courier service company while studying for a bachelor's degree.
The ruling BJP has claimed that it provided government jobs to 46,000 youths in the government sector along with one lakh jobs in the private sector, but the situation does not seem to be getting any better. With limited job avenues in the government sector, only a thriving private sector can help absorb youth in suitable employment, which is yet to happen.
Quota only on paper
However, the industry and the services sector — mainly tourism — have remained stagnant. There are serious doubts about the industry adhering to the stipulation of reserving 70 per cent jobs for Himachalis in all industrial units, including hydro-power plants. In most cases, the implementation is poor as it exists only on paper as most investors prefer outside employees.
Coupled with the issue of unemployment is the grim scenario with regard to the quality of education and the increasing role of private players, leading to commercialisation of education. This has put a question mark on the quality of education, with private universities mushrooming all over the state within the last three years.
"Though quite a few universities and professional colleges have come up in Himachal, there is a question mark on the academic standards they maintain," says Payal Chauhan, a student of BA (final year). She says it should be the responsibility of the government to ensure that these engineering and medical colleges or other vocational centres offer quality education with a regulated fee structure.
Amenities missing
Poor quality of higher or technical education will obviously have implications for the availability of employable youths for the industry in the state. Another aspect that pains Payal is that though Himachal is touted as an international tourist destination, basic civic amenities like water and adequate parking space still elude the state capital and most other destinations.
Corruption is another issue that has a strong imprint on the minds of the youth and often has a demoralising impact. Vishal Choudhary, a BSc-I student at Dharamshala College, says: "Politicians need to be more sensitive to corruption charges against them as lack of sensitivity is eroding their credibility in public. There is a sense of despair with systemic
corruption everywhere. We do not believe that merit prevails in government jobs. There's hardly a level playing field for all, which is disheartening."
If education and employment weigh on young minds, the price rise and hike in LPG and diesel prices also has them agitated. Shrikant Sharma, working in a private enterprise in Solan, feels jobs are hard to get and to make matters worse, price rise has made it impossible to make ends meet. He also feels strongly about the high cost of education, especially professional and vocational courses in private universities.
Inputs: Lalit Mohan, Ambika Sharma

Too many scams
The scams surfacing every now and then have tarnished the image of the country internationally, but the average voter is more concerned about issues like the rising cost of essential commodities. — Rajesh Kapila, doing a private job in solan
The count
Total voters 46.08 lakh
Below 40 years 22.86 lakh
18 to 19 years 1.04 lakh
20 to 29 years 10.29 lakh
30 to 39 years 11.52 lakh
Qualified youth
Postgraduates 0.59 lakh
Graduates 1.16 lakh
Matriculate 5.56 lakh
Unemployment burden
Registered unemployed 8.25 lakh
Kangra 1.85 lakh
Mandi 1.47 lakh
Shimla 92,000
Una 82,576
Hamirpur 65,184
Chamba 58,139
Solan 55,681
Bilaspur 52, 269
Kullu 49,398
Sirmaur 49,125
Kinnaur 7,819
Lahaul Spiti 4,234

PVT Education very expensive
Dharamsala should be promoted as a sports and education destination. The international cricket stadium was an asset. Other sports should also be promoted. Better educational facilities in the government sector should be brought in. Education in private institutions is very costly and poor students from the region cannot afford it. Engineering colleges should be set up. — Kiran Sandhu, b.com student
Stop killing environment

The environmental damage being caused to the fragile hill ecology on account of hydro-power projects must stop. Already a lot of damage has been done, so effort should be towards sustainable development. The tainted image of politicians is what pains me. They must have a clean image. Poor infrastructural facilities and shortage of teachers in government educational institutions in rural areas is also a matter of concern. — Rattan Negi, pursuing mphil at himachal pradesh university

Create jobs for us
Politicians should work for generating employment for the youth in Himachal. There are very little employment avenues in the state and most of the youth have to travel to other states for jobs. Employment opportunities should be created within the state and the youth can even work for lesser wages. — Alka Katoch, ba student
Retain youth in state

Political parties must create more job avenues for the youth so it doesn't leave the state. It is tough to adapt to the gruelling life of the metros. Save the youth from this ordeal. — Sunil Samyal, college passout
Academic standards poor

Though quite a few universities and professional colleges have come up in Himachal, there is a question mark on the academic standards they maintain. It should be the responsibility of the government to ensure that these engineering and medical colleges or other vocational centres offer quality education with a regulated fee structure. — Payal Chauhan, a student of ba
Be accountable to people

Politicians should be accountable to the people. They should not make false promises to sway the voters and get away with it. Young people should come into politics as only the youth can change the political scenario in the country. Politicians have lost their credibility. — Ritu Jamwal, b.com student
No credibility

The credibility of politicians is at an all-time low. It is time they stop taking the public for a ride. They must exhibit a sense of commitment and not simply grab power. — Sunil Thakur, working at a private enterprise
Cong Manifesto for youth
A sum of Rs 1,000 to be given as unemployment allowance to the youth who are

graduates and have passed plus two.
10,000 laptops for toppers of class VIII, X and XII.
A skill development corporation to be set up with an investment of ~500 crore to tackle the problem of unemployment.
BJP Promises

Low interest rates for education loans.
Free travel to all students.
Enhancement of age for employment to 45 years.
Loans up to Rs 1 lakh at 2% interest rate for self-employment ventures.
CPI sops

Unemployment allowance of Rs 1,000 per month to the educated jobless.
Jobs in government sector will be regular, not contractual.
Enhancement of subsidised seats in the university, engineering and medical colleges in the public sector.
Preference to Himachali youth in private ventures.

Himachal lokhit
Unemployment allowance between Rs 1,000 to Rs 5,000 depending on academic qualification.
Promote sports in a big way.