on record
Vandana Shukla talks to Sudhir Kakar , Psychoanalyst

'Science is trying to demystify muse'
Till a few years ago, only male artists were creating art. Now, there are more women artists. A good artist does not only paint the female body, but is rather creating content in art that deals more with women than the form. Who would like to see a male nude!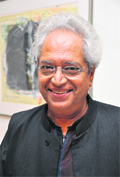 Sudhir Kakar made the dreaded word "psychoanalysis" acceptable to Indians by exploring relationship between psychoanalysis and mysticism for personages like Swami Vivekanand (The Inner World), Mahatma Gandhi (Intimate Relations) and Ramakrishna Paramhans (The Analyst and the Mystic) and by exploring cultural psychology. "The Ascetic of Desire", based on the life of Vatsyayana and "Ecstasy" are among the most popular of his novels. Kakar is a Bachelor in Mechanical Engineering and a Doctor of Economics. He began his training in psychoanalysis at the Sigmund-Freud Institute in Frankfurt, Germany, in 1971, and has been a lecturer at Harvard University. He has authored 17 non-fiction books, five novels and an autobiography, "A book of Memory". He has received Germany's highest civilian honour, Honour Order of Merit.
When a person looks at a painting, what is he or she looking at?
Surrealist painter Andre Breton raised this question - a painting looks out at something, what is it? When you read a literary content, the narrative of emotional conflict follows a chronology, you move with it, so, there is a resonance of that conflict and its release with the progression of the content. In visual art, the tension and its release are concurrent, everything is happening simultaneously. Therefore, they say artists are gifted with synesthesia - the ability to blend senses, which gives them the power to build metaphors and motifs and communicate emotions for different senses, simultaneously.
What kind of content enriches art?
In traditional, religious and iconographic art, the artist remains absent from the work, he is painting myths and characters and their conflicts in a traditional style handed down to him, here and there a few shades of his personal tensions may sneak in, he gets readymade content. But, as individual became more important under western influence, the artist was visible on his canvas with his conflicts and complexities. These conflicts enriched content in art. Henri Matisse used arabesque form for de-sexualisation of his female forms, to resolve his sexualised looking at his mother. Gauguin was very deceitful in real life. He had to compensate for his other failures by creating honest planes in his works. Picasso treated women as junk, and gave life to junk in his art. Back home, Husain's works are rich in emotional content. In Souza's work, his conflicted sexuality creates a fresh creative space.
Where do you place Rabindranath Tagore's works?
All the female portraits of Tagore have dark and melancholic faces. Tagore once said: "I want to be happy, but somehow all my portraits bear a deep sadness." All the portraits of female characters of his had Kadambari Devi's eyes, their melancholy comes in his works with his sense of loss and guilt. Kadambari Devi was Tagore's sister-in-law. They shared a deep loving relationship. A few months after Tagore got married, she committed suicide. Tagore wrote a lot about Kadambari and dedicated his books to her. He barely mentions his wife in his writings. With these works we return to the sights of his loss, and somewhere we relate to our own loss, that's why they bear a strong appeal.
How important is form in art? Where does it come from?
What makes art is form. It happens unconsciously. Though there are some scientific theories, too, like neurologist Dr V Ramachandran says it's a 'biological phenomenon', they explain it through the presence of certain chemicals in the brain. But others like Abhinavgupta, Kumar Gandharwa et al say art comes from transcendental unconscious, creative imagination connects these people to the universe. That's why these artists are geniuses. A lot more practising artists believe in the latter theory, that's why they call her 'muse.' Ghalib was attuned to his transcendental unconscious, so was Tagore. Science is trying to demystify muse.
What does clinical psychology say about creative power of mind?
These are at best, hypothesis. What makes great art is an elusive phenomenon.
How does a psychoanalyst make sense of transcendental Indian art and its regressive social reality?
We have taken from the West their spectacles, by losing our eyesight. We are taking only perversity, only their dross. Their quest for power of knowledge is disregarded by us. We have begun to value everything in one denomination - money. It's amazing how money has devalued everything, art and knowledge. The individual is replaced by his or her worth in money. The relational view of Indian society is lost. Social regression sets in as a complete rejection of this new value system to hold on to the old, as a kind of safety device. But we are losing on both - knowledge and transcendence. We have taken the worst from the East and West.
Indian contemporary art has not been able to find its rightful place on a global platform.
We have many practitioners of art and there are some very original, unique voices, but we lack culture of art. There are hardly any scholars on contemporary art, research foundations, publications, writers. We need all of them to create culture of art appreciation. India needs a school of history of art. Art is judged on the parameter of money alone, which causes great loss of multiple perspectives.
Why has visual art shown an obsession for female nudes?
Freud said abstinence is good for scholars, but not for art. So many artists believe the power to create comes from their sexuality. And most art stems from conflicts of sexuality, so, the obsession with female form. Till a few years ago, only male artists were creating art. Now, there are more women artists and a good artist does not only paint female body, but is rather creating content in art that deals more with women rather than female form. Moreover, who would like to see a male nude!