In keeping with the golden jubilee of British secret agent 007, the latest Bond Skyfall is an absolute rollercoaster ride with action, suspense and humour and though it is all of 143 minutes there's never a dull moment.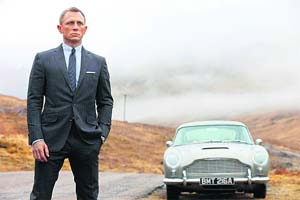 Mind Blowing: Daniel Craig
This is because of an excellent screenplay by John Logan and others liberally strewn with choicest one-liners well spaced and succinctly handled by Sam Mendes who is in full control of the narrative with doses of action dotted with human interest and of course glamorous damsels for Bond (Daniel Craig) to relax with.
In keeping with the tradition of something new in each film here we have motorcycle chases on roof-tops and the blast of an epilogue sets the tempo of the ensuing drama, we have the villain Raoul Silva (Xavier Bardem) make his entry halfway through the film and with Bond being a blonde they've decided to make Bardem one too.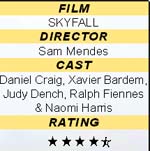 M (Judy Dench) as Bond's commander-in-chief looks a tad tired but is compensated with the best lines, including lines from Tennyson's "that which we are we are" and one wouldn't have expected poetry in a Bond film. Garreth Mallory (Ralph Fiennes) is her prospective replacement and the suave Fiennes does full justice to the role. Eve Moneypenny (Naomi Harris) and his Girl Friday Severine (Bernice Marlobe) provide the romantic relief in typical Bond tradition.
With the action going places, from London to Shanghai (it has a Chrsyeller-type skyscraper) to Macao lensman Roger Deakins has enough scope to make a meal of it but refrains from doing so as not to arrest the narrative flow. It is a case of less-being-more in all streams, including music by Thomas Newman.
As for the acting Craig seems to be growing in his third film and is somewhat overshadowed by Xavier Bardem as the villain in a Ravana-Rama situation. Bernice Marhole underplays her part and Naomi Harris makes the most of her mini role. Veteran Albert Finney makes a surprise entry toward the end as Kinkade, Bond's grandpa's gamekeeper in Scotland for the climax but it isn't for single malts but gunfire.
As for the title I shall not explain it so that it may make you go and see the film. It is easily one of the best Bonds and that's no exaggeration.

Half a scare!
Jasmine Singh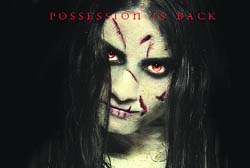 How will you feel if you are served a choco-chip ice-cream and struggle to find any trace of chocolate or chip in it? Similarly, 1920 Evil Returns promises to scare you, but what you get are 'countable' spooky moments, which don't make you cover your eyes and ears even once. So, you sit there watching the movie, which has been directed by Bhushan Patel, sympathising with the writer Vikram Bhatt, who is probably suffering from nightmares.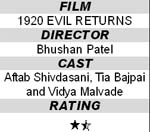 A sequel to 1920, the movie showcases dead-pan expression actor-poet Jaidev Verma (Aftab Shivdasani), the sole loner on the planet, a concerned sister Karuna (Vidya Malvade) and the supposed 'scare factor' Smruti (Tia Bajpai). As for Aftab, you will be asking for too much if you want to see him act! Leaving him to his cheesy-poetic dialogues, the director concentrates on the 'bhoot' - Tia Bajpai.
However, anyone who has spent a sizeable part of their dough watching horror films by the Bhatt camp can detect each twist and turn. Only, you hope the movie gets spookier, which it does not. At least not on time! Tia Bajpai has acted well as the possessed woman and scares you, just a wee bit. It is good to watch the nice, sweet and caring Vidya Malvade. Did we forget to talk about her acting skills?
1920 Evil Returns has a signature Bhatt style - all exotic locations and good music. In fact this is one of the reasons why you can watch the film, but only choose a day when you are in the mood to get scared…whatever comes your way.

Palatable, not pungent enough
Nonika Singh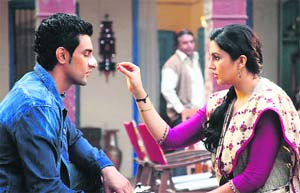 If love be the food of life…no other ingredient is needed. Not only to make life beautiful, but also to make the perfect recipe. On this simple premise rests the narrative of Luv Shuv Tey Chicken Khurana. Set in rural Punjab, revolving around the tale of a family whose male patriarch can rustle up the best of chicken in the entire neighbourhood….it has all the authentic elements of Punjab. Be it the wonderful music by Amit Trivedi or the cinematography that captures the rural landscapes in all its simplicity…here is a film that can easily take a bow for portraying Punjabis as they are; sans artificiality or exaggeration, in their true element with all their flaws and strengths.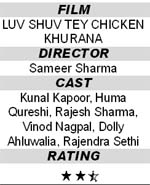 Clearly, both the writer and the director seem to understand the Punjabi milieu. So you have characters, who are real and credible. Meet the hero Omi Khurana (Kunal Kapoor), who in search of his El Dorado finds himself caught in a predicament not unknown to many Punjabi youths bitten by the foreign bug. Then there is the good-for-nothing Titu Mamaji (Rajesh Sharma) whose only mission in life seems to be food (not making it silly, but eating it). Add to it the other members of the loving and forgiving Khurana family…right from the old man (Vinod Nagpal), who has kept his secret recipe close to his heart, to the gruffy chacha (Rajendra Sethi) to his son (Rahul Bagga)...here are people that an average Punjabi can easily relate with. The credit of making these flesh and blood people come alive also goes to actors who are understated yet convincing. Kunal Kapoor as the wayward grandson Omi, who finds his way back home and into the hearts of his family, puts up a decent performance. Huma Quershi the hot babe of Gangs of Wasseypur turns a new leaf and is as refreshingly lovely and consummate in the role of a doctor. Of course, it's Rajesh Sharma as the quintessential Titu mamaji who steals the show.
But before you can declare it delectable fare…the narration is let down by its limpid pace. In the first half, despite the setting quickly moving from UK to Punjab and the flashbacks that provide the necessary twists, the film seems to be going nowhere. In the second half, the tempo builds up and the latter part becomes gripping; yet the package lacks the requisite punch. Its not Omi alone who is in search of the elusive ingredient that his grandfather used to make his special chicken with, the director too appears to be in quest of the right concoction. He gets the flavour right but not the core.
In fact, the film's biggest strength - it's no frills and fancy tenor - also becomes its failing at several junctures. Of course, it has more than its share of delightful moments and comic interludes, most of which are provided by the mamaji.The anti-climax, even though on expected lines, is moving as well.
Wish the movie had moved out of its inertia too and stirred something deep within, but clearly this one is only for the taste buds. So if you like your chicken sweet and simple, go for it.