Midday meal scheme
Schools turn to wood as LPG costs dear
Ropar, November 5
Cooking midday meals at government schools all over the district has left cooks, teachers and students teary-eyed.


Manpreet gears up party for Lok Sabha elections

Phagwara, November 5
People's Party of Punjab (PPP) president Manpreet Badal here today said he would visit each district of the state twice a month so as to expand the party's cadre base ahead of the Lok Sabha elections.



PPP chief Manpreet Badal in Phagwara on Monday. A Tribune photograph

25% posts of principal to be filled directly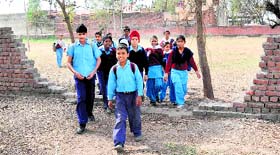 Chandigarh, November 5
The Punjab Government has notified that at least 25 per cent posts of principal in senior secondary schools would be filled through direct recruitment. A similar policy would be followed while appointing headmasters at lower-level schools.

novel move: Through direct appointments, the Education Department wants to infuse youthful energy to revitalise the collapsed school education system. A Tribune file photo

2,500 aided schoolteachers may help govt tackle staff crunch
Ludhiana, November 5
With the government considering to merge the staff of government-aided schools with that of the Education Department, the move will provide the latter an additional 2,500 trained employees.
Govt to promote bamboo farming in kandi areas
Jalandhar, November 5
Chief Minister Parkash Singh Badal today directed the forest authorities to promote bamboo farming in kandi areas of the state.
446 participate in Special Olympics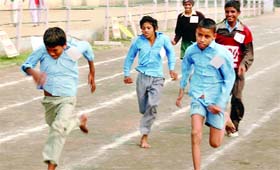 Sangrur, November 5
The three-day 15th Punjab State Special Olympics that concluded here today saw participation by 446 differently abled children.



Special moment: Differently abled children participate in a race at War Heroes Stadium during the Punjab State Special Olympics in Sangrur on Monday. A Tribune photograph

Rice millers face space crunch, blame govt
Faridkot, November 5
Farmers, waiting for their paddy crop to be lifted at various markets, blame rice millers for tardy procurement. But the rice millers say they are being made a scapegoat by government procurement agencies.
Row over shrine takes new turn
Ferozepur, November 5
The controversy over the alleged demolition of a gurdwara on panchayat land in Fatehgarh Gehri village in Guruharsahai took a new turn today with Sikh organisations, led by Baljit Singh Daduwal, laying the stone of a new structure at the same site.


Dancing to the beat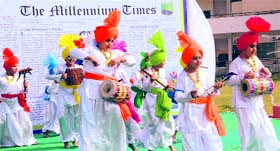 Young boys perform gidda at a school function in Patiala on Monday. Tribune photo: Rajesh Sachar
Notice of motion issued to Punjab Excise Dept
Chandigarh, November 5
Acting on a petition accusing Punjab Excise Department of not issuing Indian Made Foreign Liquor (IMFL) permit to a Ropar firm despite renewal of its licence following court orders, the Punjab and Haryana High Court today issued notice of motion for November 9 and ordered the State counsel to seek instructions in this regard.
Congress workers join SAD in Sirhind
Fatehgarh Sahib, November 5
Several Congress workers from Sirhind town joined SAD (B) at a function, here today. Former minister Prof Prem Singh Chandumajra was the chief guest and officially inducted the workers into the party.
Immigrant makes history, wins elections in Finland
Chandigarh, November 5
Ranbir Sodhi, who is from Dhuri in Punjab, has been elected to the Council of Governors of Vantaa for a second time in a row. Vantaa is a province in Finland adjoining the national capital Helsinki.
Bathinda roads a death trap
Bathinda, November 5
With NGOs shifting seriously injured accident victims to hospitals in the city every day, volunteers of these NGOs demand an immediate ban on heavy vehicles passing through the city areas on high speed.


Court stays order bringing Golf Club under RTI ambit
Chandigarh, November 5
In what is being seen as a major relief for Chandigarh Golf Club, the Punjab and Haryana High Court today stayed the operation of an order passed by the Central Information Commission (CIC) bringing the club under the Right to Information (RTI) Act.
GIKKI MURDER CASE
Supreme Court rejects bail plea of accused
New Delhi, November 5
The Supreme Court today rejected the bail plea of Amarpreet Singh Narula, alias Prince Narula, one of the accused in Jalandhar hotelier Girkirat Singh Sekhon's murder case. Gurkirat, alias Gikki, was shot dead on April 20 last year.
Pathankot Improvement Trust under HC scanner
Chandigarh, November 5
Expenditure of Rs 50.62 lakh by Pathankot Town Improvement Trust on the statue of Dr Shayama Prasad Mukherjee at Pathankot today came under the Punjab and Haryana High Court scanner.


Moga youth held for raping minor
Moga, November 5
Police today claimed to have arrested a 25-year-old youth who allegedly raped a six-year-old girl in Moga yesterday. Identified as Deepak Kumar, alias Deepu, a resident of Dusehra Ground area, the accused is already facing trial in three similar cases.
CM: Book former DC
Chandigarh, November 5
Chief Minister Parkash Singh Badal has ordered registration of an FIR against former Patiala Deputy Commissioner Vikas Garg and others for transferring government land as private property.
Keetu's nephew held for murder
Moga, November 5
The Moga police today claimed to have arrested a nephew of the late Akali leader Malkiat Singh Keetu and his accomplice for murdering him at his residence in Bilaspur village in Moga on October 29.