Rape allegation: Cops agree to victim's medical exam
Sirsa, November 5
Ignoring the parents' allegations of rape of their 12-year-old daughter, the Sirsa police had dismissed the incident as a case of criminal trespass and molestation. However, after the intervention of Sanju Bala, Congress leader and counsel on the panel of the District Legal Service Authority (DLSA), the police agreed to send the victim for a medical examination today, four days after the alleged crime.
6 Gurgaon cops booked for custodial death
Gurgaon, November 5
The Gurgaon police is in the dock as it has had to book six of its officials for murder in connection with an alleged custodial death. Six personnel of Rajender Park police station have been accused of torturing 28-year-old cab driver Bharat Bhushan to death on Sunday night.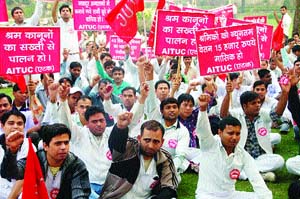 Holding aloft placards on workers' rights, members of various unions participate in a meeting in Gurgaon. Tribune photo: Sayeed Ahmed

No headway in case of gang rape, murder
Parents approach HC, write to PM, Sonia
Sirsa, November 5
Anguished at the failure of the Sirsa police to get them justice in the case of gang rape and murder of their daughter even after 11 months of the crime, the grief-stricken parents of a 16-year old victim have now knocked the door of the high court and written to Sonia Gandhi and the Prime Minister.
Good returns cheer basmati growers
Chandigarh, November 5
Basmati growers in Haryana have a reason to cheer. After having incurred huge losses on basmati crop last year owing to a sharp fall in prices, the growers are getting almost 50 per cent higher returns this year.
Sirsa's 'Acrobatic Boys' shine on TV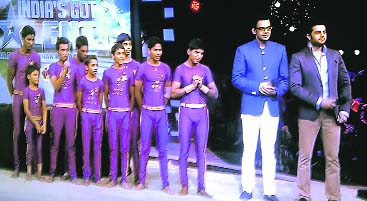 Sirsa, November 5
A team of nine daredevil young boys drawn from poor families of Sirsa town has been made it big in a television reality show by its hard work, dedication and perseverance.
Acrobatic Boys wait for comments from the judges after their performance in India Got Talent on Colours TV. Tribune photograph

News Analysis


Delhi rally boosts Hooda's image
Chandigarh, November 5
The Congress rally in Delhi has helped the party reclaim a lot of ground on the issue of FDI and sent out a clear signal that there is no going back on the issue. The rally has helped boost the party's image. But one person who has benefitted the most is Haryana Chief Minister Bhupinder Singh Hooda. Without Haryana's participation, the rally would have simply flopped.
Khemka not keen on security cover; meets Chief Secy
Chandigarh, November 5
Senior IAS officer Ashok Khemka, who had created a political storm when, as the Inspector-General, Registration, he cancelled the mutation of a sale deed for a piece of land in Gurgaon executed between Sonia Gandhi's son-in-law, Robert Vadra, and realty major DLF last month, met Chief Secretary PK Chaudhery here today.
Six criminals held; 20 revolvers seized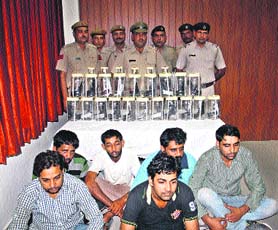 Rohtak, November 5
The police last night arrested six members of a gang along with a huge cache of firearms after an encounter near Lakhanmajra town, about 20 km from here. The firearms seized from the six accused travelling in a Bolero jeep included 13 pistols (9 MM), five pistols (32 bore)and two countrymade revolvers, besides 65 cartridges. The gang had procured these firearms from Bihar for Rs 4 lakh recently. While five other members of the gang were already behind bars, another was at large.
Six criminal in police custody at Rohtak. Tribune photo: Manoj Dhaka

Schoolgirl dies in mishap
Sonepat, November 5
Bhawana, class VII student at MD Senior Secondary School, Makrola in Gurgaon district, was killed and three others were injured when the school bus carrying them overturned near Sohati village on the Kharkhoda-Bahadurgarh road today.

Ajay Yadav meets Sonia in Delhi
Chandigarh, November 5
Haryana Power Minister Ajay Singh Yadav met AICC President Sonia Gandhi in Delhi today. During his 10-minute meeting, Yadav is believed to have discussed the current political situation with Sonia.
CM's nod to panel for SCs
Chandigarh November 5
Chief Minister Bhupinder Singh Hooda has approved the setting up of a state commission for Scheduled Castes. Geeta Bhukkal, Haryana Minister for Welfare of Scheduled Castes and Backward Classes, said although the present state government had been ensuring social justice to all, yet the decision to set up this commission reflected the government's resolve to safeguard the interests of the weaker sections of society. TNS
2 youths, woman arrested
Rewari, November 5
The police apprehended two city youths and a woman of Ramsinghpura Colony in a compromising position from a room near a finance company on Bawal road here on Sunday night. The police produced them in local court which remanded them in 14-day judicial custody. OC