Minister, son booked for stopping cop from his duty
Mandi, November 5
The police has booked Transport Minister and Dharampur BJP MLA Mahender Thakur and his son Rajat Thakur under Sections 341, 353 and 34, IPC, in an FIR lodged at the Sarkaghat police station charging the father-son duo of obstructing a public servant from performing official duties on the night of November 3, a day before polling.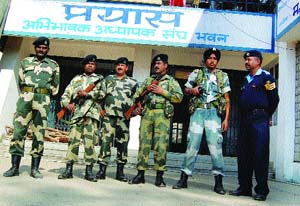 People's verdict under security: Security personnel guard the strong rooms where electronic voting machines are kept after the Vidhan Sabha elections, in Dharamsala on Monday. Photo: Kamaljeet

Weeding out duplicate voters a success
Shimla, November 5
Going by the figure of over 75 per cent, it is a record turnout, but if one takes into account the impact the exercise carried out to weed out duplicate voters (those enrolled as voters at more than one place), it is a high turnout, in line with past trends.
Violation of Norms
Take action against owners of hotel, MC told
Shimla, November 5
The state high court has directed the Shimla Municipal Corporation (MC) and the Director, Town and Country Planning (TCP), to initiate action against owners of a private hotel situated on the Mall Road strictly as per the provisions of the Himachal Pradesh Municipal Corporation Act, including demolition of unauthorised construction within a period of four weeks.
Dharamsala's Civil Lines getting converted into commercial hub
Dharamsala, November 5
The Civil Lines has remained as the posh residential area of Dharamsala since the British time. Wooden houses located along the 30-foot-wide road right at the gateway of the town are a part of the heritage of Dharamsala that has remained the district headquarters of Kangra district since 1847, since the Anglo-Sikh war. In the Anglo-Sikh war, the British had defeated the Sikhs and annexed all territory beyond the Sutlej, including Kangra district, that was under the control of Maharaja Ranjit Singh at that time.
Doon tops polling percentage with 89.36
Solan, November 5
Solan district has recorded the second highest polling percentage of 80.34 in the state, with Doon constituency recording the highest polling percentage of 89.36 in the state. There has been an overall increase of 6.45 per cent in Solan compared to the last Vidhan Sabha elections.
Potato growers seek compensation for losses
Manali, November 5
Potato growers of Lahaul-Spiti are up in arms against the state government as it has neither paid compensation to them for the 5,000 quintal of potatoes that rotted last year, nor has it announced the support price for potato this year so far. Farmers said the potato production had come down from 1.30 lakh quintal last year to 1 lakh quintal this year.
3 get life term for taxi driver's murder
Chamba, November 5
Sessions Judge, Chamba, Kanwar Chirag Bhanu Singh on Saturday convicted Kalyan Singh of Jamna Hall village in Paonta Sahib, Jagat Ram of Bunch village and Hari Singh of Dabor village, all of Sirmour district, for murdering Deepak Kumar, a taxi driver of Chamba.
Female voter turnout high in Hamirpur district
Hamirpur, November 5
Polling by female voters of the five constituencies in the district has been high. A total of 2,38,739 votes were polled. As many as 1,33,690 female voters (75.66 per cent) cast their vote compared to 1,05,049 men (61 per cent). In Hamirpur constituency, a total of 63,924 votes were polled, with 23,885 (74 per cent) female and 20,126 male (63 per cent) voters casting their vote.
SP reviews security steps after poll
Bilaspur, November 5
The police has kept a continuous vigil in the district with a view to maintaining law and order during elections after the enforcement of the election code of conduct and a number of arrests have been made and cases registered.
Increase in polling recorded in Nurpur
Nurpur, November 5
The Nurpur Assembly segment has recorded a 3 per cent rise in polling as compared to the 2007 polling. In 2007, polling recorded was 75.29 per cent before the exercise of the delimitation of the Assembly constituency when 65,015 out of the 86,350 electors had exercised their franchise. But now, 78.25 polling was recorded as 56,801 out of the 72,585 electors have exercised their votes yesterday.
2 Congress leaders expelled for 6 years
Bilaspur, November 5
Two Congress leaders of the Naina Deviji constituency in this district have been expelled from the party for six years. This was stated by Congress party secretary Veena Gupta here yesterday.
7% discount on purchase of gold coins
Chamba, November 5
The Department of Posts has announced a 7 per cent special discount on the sale of gold coins on the occasions of Karva Chauth, followed by Dhanteras and Divali. However, the special discount will continue till December 31.
Lawyers urged to adopt mediation procedure
Chamba, November 5
A six-day mediation programme for lawyers of Chamba district concluded here recently. The programme was inaugurated by District and Sessions Judge, Chamba, Kanwar Chirag Bhanu Singh, who is also the chairman of the Legal Services Authority at Chamba.