Model way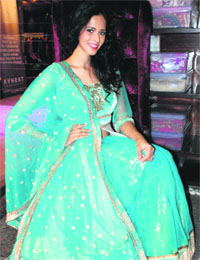 What else is it if not a stroke of luck? Minus any strenuous auditions, competition from other contestants or references from well-connected people, Sneha Upadhyay was able to make it to the final list of the Kingfisher Calendar Hunt 2012. The producer of the show spotted her on Facebook, contacted her through the social networking site and gave her a slot in the final round. "It was easy only till the entry point; the actual test began later. The tasks were extremely tough. I didn't have any experience in modelling, unlike the other girls, who knew how to strike the perfect poses," says the model, who was in Chandigarh for the opening of a fine jewellery and trousseau store, Tashya. And she got her due for all the hardwork she put in after she won the first runners-up position!
poster girl: Sneha Upadhyay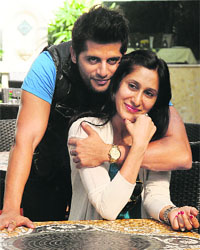 Couple chemistry
One-and-a-half hours is late by even laid-back standards, but when Karanvir Bohra with wife Teejay Sidhu in tow, walk in with profuse apologies and amidst friendly banter while passing the buck, the delay sounds inevitable and the reasons plausible. "Guys, you should never travel by ****** airlines, board a train instead," shoots Karanvir. Chips in Teejay Sidhu, "I had thought I'd wear a parandi and dress up like a pretty Punjaban, but the late arrival watered our plans." As of now, while sitting at Coffee Bean and Tea Leaf, they are out to let Chandigarh know of their Punjabi plans.


SCREEN AFFAIR: Karanvir Bohra with wife Teejay Sidhu

Tradition calling
Gifts are the order of the day as we approach Divali. Although there is no dearth of choices available in the market, what we suggest are traditional gift items for an ethnic festival of lights.
Life as he sees it…
Rows of empty chairs outside a cafe is a passable sight, till someone decides to freeze it into eternity. Nobody would give a second glance to a woman carrying a child at the door step, and then it's turned into a photograph. A captured moment becomes a reason to reflect and ponder. While a few frames depict life's metaphors, others of the 41 photographs by Belgium's globe-trotter photographer Douglas Vanherpe cover a wide spectrum of subjects.
Tracing the roots
Chronicling Chandigarh and its people is what Aneesh Bhanot loves. Now, he is out with his latest book Temples of the Tri-City Vol I.
TRENDSETTER
The right choice
Every person has a sense of style in his/her own right. Yet there are only a few who'd attract the second glances, who have the power to make the camera go zoom on them. It could be tousled hair, it could be torn jeans. Our this week's face in the crowd is Sanna Dhiman, post-graduate student in marketing.
Warm offerings

Welcoming the winter, Woodland, an outdoor apparel and footwear brand, has launched its contemporary 'Woodland Autumn Winter Collection 12 - 13'. Constant innovation for the collection has taken place, be it variety of jackets—sleeveless, reversible, detachable, seam-sealed, water repellent, biker, windshield, and lightweight or warm sweatshirts.
The Woodland Autumn winter collection -2012


Master Chef
So sweet!
No celebration is complete without exotic food, especially sweets. And for this oncoming 'King of Festivals' Deepawali, we are giving you a simple home made sweet Diwali special recipe.
STAR TRACK
Naseeruddin Shah unplugged
Naseeruddin Shah calls a spade, a spade. Read on for his funny and blunt opinions on everything.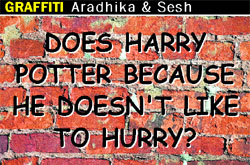 Fearless Deepika


Farah's tribute to working moms


Bollywood congratulates Barack Obama!


Redefining SRK


Couple entry


Get glued


Return gift


Biker's club


Fitness guru...


All for rustic image
chatter box
Bollywood star from Australia
In a unique exercise History TV18 visits Australia to find the next Bollywood sensation. The series, Bollywood Star captures fellow Autralians' desire to achieve fame, glamour, stardom and everything that Bollywood stands for.



Twists & turns


More the merrier


Better luck next time


Shall we dance?


Party time