Use machines, work hard in fields to overcome labour crunch, farmers told

Balwant Garg
Tribune News Service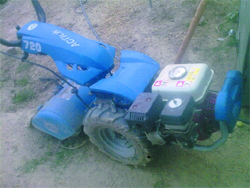 Italy-made Power Weeder (above) is a substitute for many manual jobs in orchards. The Horticulture Department in Punjab is providing this imported machine to the farmers at 50 per cent subsidy.
Bathinda, November 23
With farmers in Punjab facing labour shortage owing to a limited migration of labourers from Bihar following implementation of the MGNREGA Act there, the agriculture department is advising farmers to counter the problem with machines and by returning to fields.
Labour shortage has led to rise in wages too. This season, farmers paid Rs 1,800 per acre for paddy plantation while two years ago, the same job had cost them Rs 1,200 per acre.
"Not only agriculture, the impact of labour shortage could be seen on the industry also. Knitwear, cycle or many other units of Ludhiana are facing acute shortage of labour, thus it is drastically affecting their output," said PD Sharma, president of the Chamber of Commerce and Industries (Punjab).
In every Kisan Mela these days, the agriculture department is trying to attract farmers to new agriculture-related technologies and techniques. Farmers are being advised to bring the new technology into use in order to slash the expenditure incurred on labour and to counter the problem of shortage of manual labour.
Besides promising attractive subsidies on the purchase of various new indigenous and imported agro-machines, the agriculture department is also encouraging the marginal and small farmers to involve themselves in manual agriculture jobs.
Over the last two decades, even a small farmer had started relying on migrant labour for every agriculture-related job.
"While crop yield either declining or stagnant and the cost of inputs increasing, there is no survival for a farmer until he goes out in the fields and do manual jobs himself," said Dr Baldev Singh Dhillon, vice-chancellor of the Punjab Agricultural University.
The Central Government should consider and support the proposal from Punjab to provide 50 per cent subsidy on the price of new agricultural equipment "Zero till seeding fertilizer machine" or "Rotavator". The machine is an answer to the problem of stubble burning. It fertilizes the soil as the straw is recycled and not burnt. The burning leads to killing of micro-organisms beneficial to soil. Further, it would lessen the farmers' reliance on manual labour, said Chief Parliamentary Secretary Mantar Singh Brar.
Italy-made Power Weeders that clean the fields of weeds and many other such power-based agriculture equipment are showcased at every Kisan Mela, he said.
"While the farmers have already started adopting paddy-transplanter or making direct sowing of paddy to overcome the shortage of labour, introduction of machines like Power Weeder would help vegetable growers in clearing their fields of weeds. These imported machines are being offered to farmers on 50 per cent subsidy," said Brar.
Fact file
With easy and cheap availability of labour, farmers almost stopped doing manual jobs in the fields over the last two decades.
About 48.66 per cent of the total 'family labour' — members of a farmer's family — available for agriculture remains underutilised in Punjab, revealed a study on the Economics of Farming and Pattern of Income and Expenditure Distribution in Punjab Agriculture, conducted by the Department of Economics, PAU, two years ago.