As Punjab Agricultural University celebrates its golden jubilee today, two former vice chancellors look at the challenges ahead
Lack of global exposure stunts PAU growth
There is too much inbreeding at PAU, with more than 95 per cent faculty having received their basic as well as doctoral degrees from the university. For fresh and novel ideas to invigorate the education system, training in advanced countries is a must
Dr. Manjit S. Kang

Punjab Agricultural University (PAU) is celebrating its Golden Jubilee this year, having completed 50 years of significant contributions towards food security of the country. The past accomplishments of PAU have been aptly summed up by Mira Kamdar, a former Senior Fellow with the World Policy Institute, New York, in a 2008 article entitled "On the Front Lines of Global Food Crisis." She wrote, "If a single institution can take credit for bringing the Green Revolution to Punjab, it is Punjab Agricultural University."
The seeds of the Green Revolution were sown in 1963 when the Nobel laureate, Dr. Norman E. Borlaug, sent a new plant type of wheat, characterised by semi-dwarf stature and capability of utilizing fertilizer and water efficiently, to India. Borlaug sent segregating populations of wheat to the Indian Agricultural Research Institute (Pusa Institute) in New Delhi and Punjab Agricultural University, Ludhiana, from which wheat breeders made selections to suit the local conditions and consumer preferences.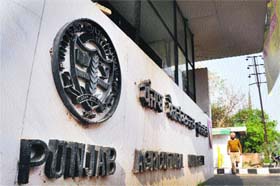 High-yielding varieties with good culinary qualities, e.g., Kalyan Sona and Sonalika, resulted from the efforts of breeders like Dr. D.S. Athwal at PAU. Besides agricultural scientists' efforts, farmers' enthusiasm for new varieties and associated agronomic practices and supportive government policies played a major role in bringing about this revolution.
In Punjab wheat production jumped from 1.9 to 5.6 million tonnes during 1965-1972. Wheat production increased to 7.67 mt in 1980/81 and to 15.78 mt in 2007/8. The increased wheat production was the result of increased wheat productivity per hectare. Wheat variety WL 711, released in 1976 in Punjab, was adopted across a wide area, including Pakistan. Large-scale adoption of PBW 343 variety of wheat released in 1995 benefited farmers to the tune of US$ 200 million annually because of its very high productivity and wide adaptability. Thus, PAU has served as a corridor for revenue generation into the community.
According to a noted agricultural scientist, Prof. M.S. Swaminathan, India produced 80 million tonnes of wheat from 26 million hectares in 2009 (3.1 tons per ha). To achieve this level of production at the pre-Green Revolution productivity level of 1 ton/ha, 80 million ha would have been needed. That's why the Green Revolution is sometimes said to be 'land or forest-saving agriculture'.
Rice breeding efforts were equally impressive. Rice production increased from 1.03 mt (1970/71) to 4.97 mt (1980/81) and to 15.65 mt (2007/8). The respective per-hectare productivity, with the availability of better seeds and complementary production technology, was 2.63, 4.2, and 5.99 tonnes. A PAU alumnus, Dr. G.S. Khush, played a major role in developing many productive rice varieties while stationed at the International Rice Research Institute in the Philippines.
India achieved self-sufficiency in wheat production in 1972 and in other cereals, including rice, in 1974. Mainly because of PAU's research and extension efforts, Punjab -- constituting 1.53% of India's geographic area -- has made lop-sided contributions to India's national food grain reserves annually: 51 to 75 % wheat and 32 to 49% rice from 1980/81 to 2008/9; and these contributions continue apace.
I envision many challenges for PAU and Punjab agriculture during the next 50 years. I will highlight just a few. Despite PAU's monumental contributions to food security of the nation, it faces a chronic shortage of funds now. In the 1960s, PAU never suffered such shortage of funds. I am afraid if the funding of PAU's land grant mission (research, extension, and teaching programmes) continues to be whittled down; it would not be able to fulfill its mandate to the state and to the nation.
The PAU faculty was highly diversified in the 1960s and 1970s. A large number of faculty members were trained in the USA, Canada, Australia, or England. However, currently there is much inbreeding, with more than 95% faculty having received their basic as well as doctoral degrees from PAU. For fresh and novel ideas to be infused into the educational system, training in advanced countries is a must. In 2010, PAU signed an MoU with Washington State University-Pullman (USA), under which in-service candidates from PAU can be sent there to complete their Ph.D. degrees. In 2011, a 2+2 programme was set up between PAU and Kansas State University for undergraduate students. Such programmes will need to be set up with other universities also to combat academic inbreeding. This should help our scientists become competitive internationally.
PAU needs to place increased emphasis on certain newer areas of research. A 'precision agriculture' workshop sponsored by the Indo-US Science and Technology Forum revealed that PAU's precision agriculture programme was in its infancy. Similarly, nanotechnology is an important up-and-coming area, with ramifications for soil science, genetics, plant protection, and many other disciplines. The nanoscience lab will need to be transformed into a nanotechnology lab, where nano-fertilizers, nano-herbicides, and other nano-products will become a reality. Nano-biotechnology also is an important area to be explored.
PAU also will need to grapple with climate change by tailoring its research programmes to develop climate-resilient crop varieties and reduce greenhouse gas emissions. Crop diversification has been a concept only. Extension will need to work hard to translate it into reality.
The writer is a former Vice Chancellor, Punjab Agricultural University, Ludhiana; and Adjunct Professor, Kansas State University, Manhattan (USA)