I am a learner in front of Aamir and SRK: Rani
Having been part of the film industry since 1995 rendering memorable movies like Kuch Kuch Hota Hai, Yuva, Black and No One Killed Jessica, actress Rani Mukherjee says she treats herself as a learner in front of senior actors Aamir Khan and Shah Rukh Khan.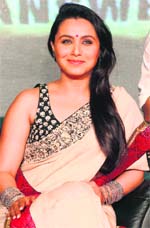 Rani has done two films with Aamir — Ghulam and Mangal Pandey — so far and will next be seen with him in Talaash, while she has done Kuch Kuch Hota Hai, Chalte Chalte, Veer Zaara, Paheli and Kabhi Alvida Na Kehna with Shah Rukh.
The actress reveals that it is Aamir and Shah Rukh whose suggestions she follows. "I have always treated myself as a youngster or learner in front of two people — Aamir and Shah Rukh. I do look up to them. I may not be shy in front of them anymore but I learn a lot from them," Rani said in an interview here.
"When they suggest anything its important for me to take it. Because I know what they are suggesting is for my own good," she said.
Rani feels Aamir is one such actor whose films people compulsorily go to watch as they know it is going to be good.
"Aamir is like somebody whose film is like compulsorily to be seen. If you know it is an Aamir Khan movie then you have to go and watch, irrespective of whether you like the promo or not," Rani expressed.
"If people watch Aamir Khan film it is because he has created an image for himself. That is because of his single-minded focus for his work and his dedication. The kind of films he chooses to do have made an impact in peoples' lives," she added. Rani is all praises for the way Aamir promotes his films and says she would any day go to watch the film. "The strategy with which Aamir promotes his films, we cannot deny the fact that he is a very intelligent person. And if he decides to do it in some way, probably he knows what he is doing," she said.
Rani first teamed up with Aamir in 1998 for Vikram Bhatt's Ghulam. "I am a huge Aamir Khan fan. I had a crush on him when I saw Qayamat Se Qayamat Tak. When I did 'Ghulam' with him I used to look at his shoes as I used to be tensed and nervous. I was very nervous while doing romantic scenes with him," the actress said.
"I would look at his shoes because I couldn't look into his eyes. But now I look at his eyes, keep gazing until he asks me not to do it," she said. Rani insists that now she has become good friends with the 'perfectionist'. "Over the years, Aamir and I have built a friendship which, I would like to believe, is for life. I think I will be attending his 80th birthday," she said. Now that Rani would be again seen opposite Aamir in Reema Kagti's upcoming suspense drama Talaash, she feels Aamir has become a more bigger star today.
"When I was a newcomer he was a huge star. And today I work with him after 17 years, he is still a much bigger star," she said.
"His focus, dedication and sincerity towards his craft, his approach towards filmmaking, performance and character, I think that has only become greater and bigger with time. He was as focused and dedicated then, as he is now," she mentioned.
Rani is geared up for the release of Talaash on November 30. "I would love to discuss the story, the character, the different shades, the layers but I can't speak a single word," she said. Talaash is directed by Reema Kagti, but Rani feels it does not matter if the director is a woman or a man. "Be it a male or female it doesn't matter. It's people's mindset. The only difference is of a good and bad director. In this case, Reema is really good," she said. — PTI
Bipasha goes sci-fi
Actress Bipasha Basu, who has experimented with various genres, is all set now to be part of a sci-fi film directed by Vikram Bhatt.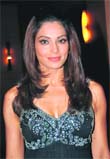 "Bipasha Basu is one actress in Bollywood who is ready to experiment with different genres. Besides, Bipasha suits the role for my sci-fi film," said Bhatt, who recently worked with the actress in Raaz 3. "She is a fabulous actress, and is very enthusiastic about her work. I can't think of anyone else other than Bipasha for my film. She is perfect," he added.
Bhatt has earlier directed Bipasha in films like Aetbaar and Footpath.
Asked if he considers Bipasha as his lucky charm, he said: "Nothing as such. I don't think (of her as) lucky charm, but she is definitely one actress who has evolved over the years and has proved herself." Bhatt says the film will go on floors next year. —IANS
Thrills & chills
Bollywood actors Rajeev Khandelwal, Tena Desae and Paresh Rawal promoted their upcoming action thriller film Table No.21 this week. The film is likely to send chills down your spine, with Rawal playing a negative character and donning a baldpate.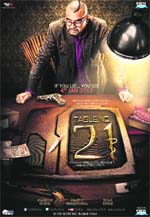 All the three play pivotal characters in the film, which revolves around a live game. The tagline of the film is 'If you lie..you die'.
Rawal, who is well known for his perfect comic timing experiments, this time plays the role of a suave game host, who keeps his guests on tenterhooks all the time. While speaking to reporters, he said that he had never attempted something like this in his career span and added that there was a suspense element as far as his role in the film is concerned. "My role does not have the same kind of negativity that you visualise when you see the promos of this film. This kind of a negative role is different and in some ways justified. When you see the film, you will get to know, whether my role is negative, positive, grey or what," he said.
Khandelwal, who has earlier worked his magic on the silver screen with offbeat films like Aamir and Shaitan, said that the script of this film was demanding and required him to do a lot of homework to excel in this role.
He has also had a successful television career, as host of the popular reality show Sach Ka Saamna, a truth and lie game.
"For me, it was like, I couldn't see myself. I said I just can't do this. The script was too demanding," he said. Desae looked elegant in western attire and happily posed for shutterbugs. Directed by Aditya Dutt and produced by Viki Rajani and Sunil Lulla, the film is shot in the picturesque Fiji islands. The film is slated for a worldwide release on January 4. — ANI
Wicked & happy
Actress Rachel Weisz was thrilled to land a role as the Wicked Witch of the East in The Wizard of Oz prequel because it gave her the chance to play a villain.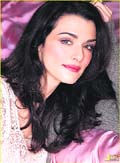 The 42-year-old actress stars alongside James Franco as the wizard in upcoming movie Oz: The Great and Powerful, which is based on the books of L Frank Baum and tells the previous story of Judy Garland's famous 1939 film. Actress Mila Kunis plays Theodora, the Wicked Witch of the West, while Weisz tackles the role of Evanora, the Wicked Witch of the East.
"It's the prequel to The Wizard Of Oz, the genesis of how he became the Wizard and got to Emerald City. There are huge, fantastical special effects — and I can fly. I'd never done anything like that. I play Evanora the Wicked Witch of the East. She's so bad, so it's a total departure (from my other films)," Weisz said. The Mummy star now prefers to tackle smaller, independent movies, but she is always open to returning to blockbusters to give her a break from the emotional intensity of her more challenging roles. "Working with a green screen (on blockbusters) is easy. It's just like being a kid. But it's not nearly as satisfying. I prefer smaller movies because they tend to be more about character than about story... (But) you can't plumb the depths (of emotion) all the time."
— PTI
Write direction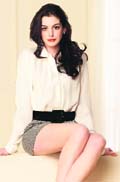 Devil Wears Prada star Anne Hathaway had once attempted to write a screenplay for a film she hoped would feature fellow actress Sally Field.
The two actresses recently met up for a round table discussion organised by a leading entertainment magazine and Hathaway, 30, told the veteran about the project.
"You don't know this, but I tried to write a movie for you, about a spy. I thought, 'Sally would be amazing, because who would ever think she was a spy?'" she said. After her brilliant performance in The Dark Knight Rises, Hathaway will be seen next in musical drama Les Miserables.
— PTI
Cut out for acting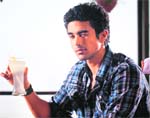 Saqib Saleem started as a model and turned to acting with Mujhse Fraaandship Karoge. He agrees that modelling is an easier job but says he enjoys facing the camera for movies more. The 24-year-old made his Bollywood debut in 2011 and says the variety of different characters that one can play is what excites him most about acting.
"When I was a model, I used to enjoy it. But now, I feel acting has given me so much to do... there is so much more to perform. As an actor, I get to do so many characters in various films. It is, of course, tougher but much more enjoyable," Saqib said.
He did TV commercials for brands like Pepsi, KFC, Tata Docomo and Bar One before he stepped into filmdom through Yash Raj Films. Saqib says it was his visibility in these advertisements that helped him get noticed.
"The ads I did helped people to start noticing me and I got calls for audition. To audition with big production houses, you have to have a good background with commercials. I think I got noticed through television," he said.
Asked if he has any dream role in mind, the actor said: "If a script comes to me, I read it and I see what I can do to it. Everybody does a role differently and I give my touch to each role. I can't say that something is my dream role." Saqib is now ready with his second movie - debutante director Ashima Chibber's Mere Dad Ki Maruti. The movie surrounds the life of a Chandigarh-based Punjabi family. Saqib plays Raj, who loses his father's (Ram Kapoor) car.
The promo of the movie looks fun and it seems the movie is loaded with great comedy. Saqib says a good equation with the director and preparation helped him for Mere Dad Ki Maruti.
"I just feel that if you and your director are on the same page, then things become a lot easier. The other actors of the film had a lot of extensive readings. So, once we started shooting, everything got into pace. I did not feel any pressure," Saqib said.
The young actor is all praise for his on-screen father Ram Kapoor, who is a celebrated name on Indian television.
"I think he is just phenomenal. Of course, he played my father in the film but off sets I had a great time. We had a pretty good time shooting (together). He is very supportive.
"I am new and he was very helpful with how I should be facing the cameras and how I should be in front of the light. When I did something correctly, he appreciated it. So it feels great that an actor like Ram Kapoor liked my work," Saqib said.
— IANS
Marriage on the rocks?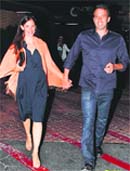 Hollywood star Ben Affleck's marriage with wife Jennifer Garner is reportedly going through a rough patch after the actor not being able to spend much time with wife because of his professional commitments. The pair, who raise three children together, have spent little time together recently due to the growing success of Affleck's latest flick Argo.
"Ben really wants to win an Oscar for this film, and he's become pretty obsessive about it. With Ben on the road promoting his movie, he and Jen are spending a lot of nights apart. They're at a breaking point right now.
"While Jen is trying to be supportive, friends say they aren't sure how much longer she'll be able – or willing – to juggle the kids and her career without Ben's help. Is he does win that Oscar, he'd better thank Jen first!," a source said. Affleck, 40, tied the knot with Garner, 40, on June 29, 2005, in a private ceremony in the Caribbean. — PTI