M A I N N E W S
Alliance with HJC on firm footing: BJP
Gadkari, Sushma lend weight to Bishnoi's rally in Chautalas' citadel
Sushil Manav/TNS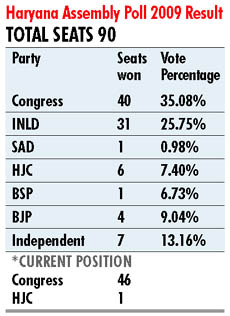 Bishnoi fit for CM's post
In the wake of the alliance coming to power in the state in the next Assembly elections, Kuldeep Bishnoi would be the Chief Minister.
— Nitin Gadkari & Sushma Swaraj
Sidelights


The pandal was decorated with bright yellow marigold flowers matching the colour of HJC flag. The party, it was revealed, had placed an order of 20 quintal flowers from Kolkata


A helicopter showered flowers as the rally progressed


Khayali, a humour artist, entertained the crowd with his performance
Sirsa, December 2
The top bosses of the BJP on Sunday said the party's alliance with Kuldeep Bishnoi's Haryana Janhit Congress was as strong as a rock and was here to stay.
BJP chief Nitin Gadkari and Leader of Opposition in the Lok Sabha Sushma Swaraj said if the alliance comes to power in the state in the next Assembly elections, Bishnoi would be the Chief Minister.
Swaraj said all issues had been carefully resolved at the time of BJP-HJC joining hands in 2011. "These include the question of leadership while forming the government and the division of Lok Sabha and assembly seats between the partners. Therefore, there is no scope of the alliance breaking on any such issue," she said. Dr Harsh Vardhan, BJP general secretary and in charge of Haryana affairs, took a dig at the INLD leadership and said the Chautalas should bother about their cases pending before CBI courts rather than worrying about the BJP-HJC alliance.
While both Gadkari and Swaraj flayed the UPA regime over recent scams, other speakers, including Bishnoi and his wife Renuka Bishnoi, castigated the Bhupinder Singh Hooda government over spurt in incidents of rape and crimes against women in the state.
Bishnoi, who had to cut short his speech, as Gadkari and Swaraj were to leave early for the Gujarat elections, said his family has defeated three generations of the Chautala clan in electoral battles.
Alleging that the Hooda government was pursuing anti-people policies, Bishnoi said the HJC-BJP government would eradicate corruption, provide jobs to unemployed and deliver good governance. Adampur MLA Renuka Bishnoi said a social initiative female foeticide, "Laado", would be launched by the party in February 2013.
Kuldeep Bishnoi got a shot in the arm when four-time MLA and three-time minister Mange Ram Gupta from Jind, former parliamentary secretary Dura Ram from Fatehabad and former minister Ram Swaroop Rama from Ratia announced their decision to join the HJC.
Mohinder Gupta, president of the little known Rashtriya Shakti Party, also announced his party's merger with Bishnoi's outfit.
HJC leaders Chander Mohan, a former deputy chief minister, Dharampal Malik and Ramji Lal, both MPs and BJP state president Krishan Pal Gurjar, national general secretary Captain Abhimanyu and former minister Ram Bilas Sharma were among those who addressed the rally.