Procurement hit as gunny bags short in supply
Chandigarh, December 2
The shortage of gunny bags has forced various procurement agencies to stock paddy in used jute bags. The agencies have so far received 5.90 lakh bales of gunny bags against the order placed for 7.71 lakh bales.
Vital files left to rot in canteen at Muktsar district admn complex
Muktsar, December 2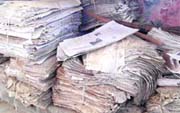 In case you have lost an original document issued by the district administration and you have applied for its duplicate, there is a possibility that your application is rejected and you are told to apply afresh for a new document.

Official documents lying in a canteen at District Administrative Complex in Muktsar. Tribune photo
Demands not met, rice shellers threaten to intensify stir against FCI
Fatehgarh Sahib, December 2
The rice shellers of Bassi Pathana are up in arms against the Food and Supplies Department for its alleged arbitrary decision to shift the storage site from Sirhind to Bassi Pathana. The millers alleged that transporting the consignment to Bassi Pathana instead of Sirhind would cost more.
Cong councillors join Akali Dal
Amritsar, December 2
A number of Congressmen, including several sitting as well as former municipal councillors, today joined the SAD at a function held at Jandiala.
Five high-level bridges to be completed by June: Minister
Chandigarh, December 2
Public Works Department Minister Sharanjit Singh Dhillon today said five new high-level bridges would be completed by June next year at a cost of Rs 300 crore.
Farmers should have freedom to sell produce, says Mittal
Chandigarh, December 2


Punjab is concentrating on vegetable and fruit cultivation for diversification but its inability to amend the Agriculture Produce Marketing Act (APMA) has come in for criticism from industry which wants perishable commodities be removed from the purview of the Act.
Rakesh Bharti Mittal, vice-chairman and MD of Bharti Enterprises
Land-holdings getting bigger; MNCs see ready market
Chandigarh December 2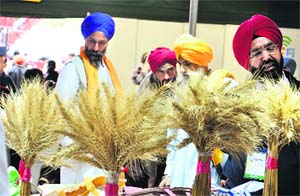 The displays at the Agro Tech 2012 indicate that private players know better than agri experts and even the state government that land consolidation is taking place in Punjab and that farm operational sizes are becoming bigger. It is this market which the multinational companies are hoping to catch by displaying heavy-duty tractors, implements and technological solutions rather than cost-effective innovative farming methods for small farmers.
Farmers have a look at new wheat varieties on display at Agro Tech in Chandigarh. Tribune photo: Pradeep Tewari
Soon, agriculture centre to boost competition
Chandigarh, December 2
The Confedration of Indian Industry (CII) is all set to launch Food and Agriculture Centre of Excellence (FACE) that will contribute to the ongoing policy dialogue on agriculture and food security concerns.


Fighting for justice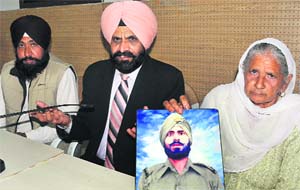 Ajaib SIngh (centre), member of the National Commission for Minorities, with Baljeet Kaur, wife of sepoy Jaspal Singh who has been missing since 1971, and her son Kamaljeet Singh in Chandigarh on Sunday. Tribune photo: Pradeep Tewari
Folk singers to be paid a pittance
Ludhiana December 2
The Punjab Government spent several crores to draw crowds at the inauguration ceremony of the third World Kabaddi Cup where top Bollywood stars performed. Now the government will pay a mere Rs 9.65 lakh to 11 folk singers who will perform at 12 venues during the kabaddi matches.These singers will be paid about 5 per cent of what the Bollywood stars were paid, say sources.
Probe on into attack on wrestler posted in CM's security wing
Chandigarh, December 2
A probe has been launched into the attack on a 21-year-old wrestler posted in the security wing of Punjab Chief Minister Parkash Singh Badal. Gurpal Singh, son of an IPS officer, was allegedly shot at and injured in Haryana's Sonepat district. The police is ascertaining if it was a case of mistaken identity.
Experts blame it on schools
Amritsar, December 2
Even as a survey by the National Book Trust has revealed that Punjabi is dying as the preferred language for reading, experts blame the schools for the same. They say schools are promoting English at the cost of Punjabi. Also, there are only a few Punjabi writers who are taking up burning issues.
Ropar Rural Haat fails to take off
Ropar, December 2
Rural Haat, a scheme sponsored by the Central Government to promote the rural market system has fail to take off in the district despite the fact that lakhs of rupees have been spent on setting up one such market in Rampur village in the Ropar block while another is coming up in Chaklan village of Morinda. The Rural Haat at Rampur, set up at a cost of Rs 17 lakh, was inaugurated on April 18 this year by the local MLA so that small farmers and rural artisans could sell their products there.
Short-staffed hospitals irk Ropar residents
Ropar, December 2
Patients in the district are a harried lot as a majority of posts for medical staff at government hospitals have remained vacant for a long time. At several hospitals, not even a single radiographer is posted leaving the patients with no choice but to go to private laboratories.
Apply for casual leave in advance, DGSE to teachers
Patiala, December 2
The Director General of School Education Kahan Singh Pannu has directed all employees of the Education Department to get casual leave sanctioned from school heads in advance.
Probe how illegal hotels came up near Golden Temple: HC
Amritsar, December 2
The Punjab and Haryana High Court has directed the Municipal Corporation authorities to conduct an inquiry and take action against officers who failed to take action against hotels running illegally around the Golden Temple.
11 arrested with stolen goods worth Rs 26 lakh
Fatehgarh Sahib, December 2
With the arrest of 11 persons, the district police has claimed to have busted two gangs of thieves and recovered stolen goods and vehicles worth Rs 26 lakh from their possession.
2 years on, police unable to catch parole violator
Patiala, December 2
A murder convict jumped parole more than two years ago, is still at large and the Patiala police are still conducting raids to arrest him.