call of faith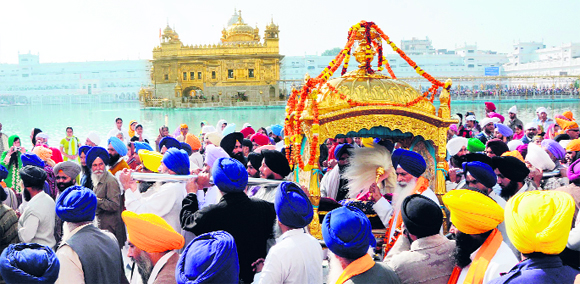 Sikh devotees carry the palanquin during a procession at the Golden Temple in Amritsar on Tuesday, the eve of the birth anniversary of Sri Guru Nanak Dev. Photo: Vishal Kumar
'Technology must to improve yield'
Ludhiana, November 27
Frequent climate change is one of the biggest challenges to sustainable agriculture, said Thomas Lumpin, Director-General, International Maize and Wheat Improvement Centre (CIMMYT), on the sidelines of a three-day international conference on sustainable agriculture here today.
Trade Fair: Punjab bags special award
New Delhi, November 27
After drawing over 15 lakh visitors and 6,000 national and international exhibitors in the last 14 days, the India International Trade Fair (IITF) 2012 today drew to a close in the Capital with a lucky few participants bagging awards for best display and presentation.
'Mistakes' in question paper
Jalandhar: Scores of candidates who appeared in the Central Teacher Eligibility Test conducted by the National Council for Teacher Education on November 18 were shocked to notice mistakes in the question paper.The candidates are now demanding grace marks for these errors. The mistakes appeared in the paper titled 'Child Development and Pedagogy'. A candidate who appeared in the test claimed that the Hindi translation of several questions did not conform with those in English. — TNS
Bungalow controversy: Sukhbir dismisses Bhattal's security plea
Chandigarh, November 27
Punjab Deputy Chief Minister Sukhbir Singh Badal today indicated that the government was in no mood to accommodate former Congress Legislature Party Leader Rajinder Kaur Bhattal, saying the Congress leader could not refuse to vacate her ministerial bungalow for which she was now ineligible by stating security threat to her person.
Health care: Education Dept ties up with NGOs, private hospitals
Chandigarh, November 27
In view of the long waiting list for surgery at the PGIMR, the state government has asked its medical colleges to verify the health status of children from government schools and refer cases to private hospitals for the required follow-up.
Child abuse cases involving girls up by 19% in state
Chandigarh, November 27
The number of child abuse cases in Punjab are up by 10 per cent since 2005-06, a study conducted by Dr DC Sharma, president, Doctors' Federation of India, Punjab, shows. During 2011-12, as many as135 child abuse cases were registered in the state. Out of these, 101 were concerning the girl-child.
Dera row: Security up in Bathinda, Mansa
Bathinda, November 27
The Quick Response Force of the state police has been deployed at strategic points in Bathinda and Mansa districts in view of the prevailing tension following violent incidents in Sirsa.
Shruti says she was under constant police pressure
Faridkot, November 27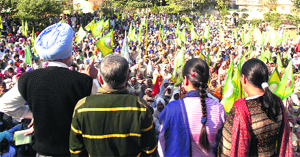 A week after her custody was awarded to her parents, Shruti Sachdeva today appeared before a large gathering at a public park here. Thanking the people for their support, she alleged that the police had constantly pressurised her not to go with her parents.

Shruti, her parents and their counsel at a public gathering in Faridkot on Tuesday.
PPCB rebuts Centre's charge on smog
Bathinda, November 27
Dr Babu Lal, member secretary of the Punjab Pollution Control Board (PPCB), today said that the board did not agree with the Central Government that the state was responsible for causing a 12-day smog over Delhi in late October and early November. He was addressing a seminar on "Major environment issues of Punjab" here.
Arms Licence to Namdhari


No headway, Mohali police fails to trace relevant files
Mohali, November 27
There has been no headway in the inquiry into the issuing of an arms licence to Sukhdev Singh Namdhari, arrested in the Delhi farmhouse shootout in which liquor baron Ponty Chadha was killed.
Vigilance probe into illegal sale of subsidised ration
Patiala, November 27
The Punjab Vigilance Bureau has decided to initiate investigations in a major scam wherein subsidised ration meant for BPL families is pilfered and sold to private millers.
Using loudspeakers banned during Jor Mela
Fatehgarh Sahib, November 27
The district administration has banned the use of loudspeakers, swings and joyrides during the three-day Shaheedi Jor Mela to be held from December 25.
Rights panel notice to Civil Surgeon
Patiala, November 27
Taking strict note of the failure of the Patiala Civil Surgeon to respond to its orders, the Punjab State Human Rights Commission (PSHRC) has directed the former to appear in person along with the report on alleged fleecing of patients at a city hospital.
Outdated equipment, staff crunch mar fire station working
Sangrur, November 27
The Sangrur municipal fire brigade station is providing services to six municipal councils with two fire tenders of 1985 model and a single motorcycle. The station provides services to the local municipal area besides Dhuri, Sunam, Bhawanigarh, Lehragaga and Longowal municipal councils in the district.



In sync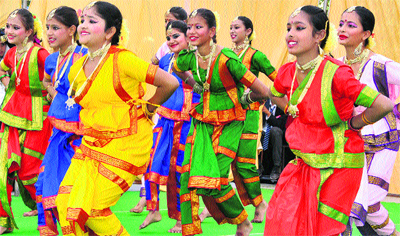 Girls perform classical dance during the annual function of Senior Secondary Modern School in Patiala on Tuesday. Tribune photo: Rajesh Sachar
Six of family booked for immigration fraud
Muktsar, November 27
The Sadar police has booked six members of a Jaito-based family for allegedly committing a fraud of Rs 20 lakh on the pretext of sending four persons abroad.