Tall claims, but fate of three power projects uncertain
Umesh Dewan
Tribune News Service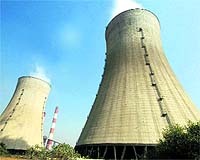 Patiala, November 18
Notwithstanding the claims of the Punjab Government on having taken a major initiative for augmenting power generation, the fate of the three upcoming thermal plants, with a combined capacity of 5,280 MW, is uncertain. These plants are the 1,320-MW Kot Shamir Project, the 1,320-MW Gobindpura Thermal Plant and the 2,640-MW Gidderbaha Thermal Plant.
While the Memorandum of Understanding (MoU) signed between Punjab State Power Corporation Limited (PSPCL) and Lanco Infratech Ltd, Hyderabad, for the coal-based plant at Kot Shamir in Bathinda lapsed early this year, work on the much-publicised Rs 15,000-crore Gidderbaha project and the Gobindpura plant is yet to take off.
For the 2,640-MW Gidderbaha Thermal Plant, an MoU was signed between the PSPCL and the National Thermal Power Corporation (NTPC) in October 2010. Later in year 2011, the NTPC sent a letter to the power corporation, stating that it wanted to set up only two units of 660-MW capacity each and not four units as mentioned in the MoU. To this, the PSPCL replied that it could not deviate from the terms and condition of the MoU.
Speaking to The Tribune, PSPCL Director (Generation) GS Chhabra said: "In a recent communiqué, the NTPC has stated that it will invest only after getting coal linkage."
A senior PSPCL official, requesting anonymity, said: "The NTPC communiqué is ambiguous whether or not it will comply with the terms and conditions of the MoU. Considering the prevailing coal crisis in the country, it is unlikely that the NTPC will get coal linkage for the Gidderbaha plant by 2015."
Work on the 1320-MW Gobindpura Thermal Plant in Mansa district is also yet to start. The power corporation had signed an MoU with Indiabulls Power on August 20, 2010, for the project that hit a controversy following an agitation by farmers whose land was acquired for the project. The MoU has been extended for a year.
Though officially coal linkage is being cited as the main reason behind the non-initiation of work, confidential documents in possession of The Tribune show that a committee of power corporation technocrats had recommended that the corporation would require power from this project for just four months in a year. The matter was discussed at the PSPCL Board of Directors (BOD) meeting. "The developer will obviously not be interested in setting up the plant if the PSPCL is to procure power from the plant for just four months a year", said another PSPCL officer.
Pending Projects
Kot Shamir Thermal Power Plant
Capacity: 1,320-MW (Two units each of 660 MW)
Location: Kot Shamir village, Bathinda
Developer: Lanco Infratech, Hyderabad
Status: MoU Expired
Gobindpura Thermal Power Plant
Capacity: 1,320-MW (Two units each of 660 MW)
Location: Gobindpura
Developer: Poena Power Supply Limited
Status: Work yet to begin
Gidderbaha Thermal Power Plant
Capacity: 2,640 MW (Four units each of 660 MW)
Location: Gidderbaha, Muktsar district
Developer: National Thermal Power Corporation (NTPC)
Status: Not a brick laid