Action against head granthi likely today
Amritsar: The SGPC executive is likely to initiate action against the head granthi of Sri Harmandar Sahib, Jasvinder Singh, in its Ludhiana meeting on Saturday for skipping "Chaupai Sahib" while performing the 'path' of 'Rehraas Sahib' at the sanctum sanctorum last evening.
Not terrorising govt doctors: CPS
Amritsar, November 16
Reacting to state Health Minister Madan Mohan Mittal's remarks that the Chief Parliamentary Secretary, Health, should not act as a " thanedar" and that she had no powers to check the functioning of a government hospital, Dr Navjot Kaur Sidhu today said she was not terrorising government doctors and that as an MLA, she had the powers to check the functioning of any government hospital.
Minister softens stand
Ropar, November 16
The spat between Health Minister Madan Mohan Mittal and the Chief Parliamentary Secretary (CPS) , Health, Dr Navjot Kaur Sidhu, seems to be dying down with Mittal today claiming that "Dr Navjot Kaur Sidhu was no less than a daughter" to him and that his remarks on CPS raids on truant government doctors had been wrongly portrayed in the media.
Lokpal must have more teeth, says Justice Sekhon
Chandigarh, November 16
The Punjab Lokpal, Justice (retd) JS Sekhon, today said the Punjab Lokpal Act needed to be remodelled on the Karnataka pattern to give it more teeth. Justice Sekhon said he would collect statutes of different states, study them and then recommend to the government necessary amendments in the Act.
Mining ban: Sand prices soar
Ludhiana, November 16
The state government's ambitious plan to build world class infrastructure seemed to be grinding to a halt with the ban on mining in Punjab sending the prices of sand and gravel through the roof.
Opposition parties again flip-flop on joint meeting
Chandigarh, November 16
The November 20 meeting between various opposition parties, including the Congress and the People's Party of Punjab (PPP), summoned to discuss issues related to the state, has been postponed.
BSP changes state president third time post-assembly poll
Jalandhar, November 16
The Punjab unit of the Bahujan Samaj Party (BJP) is yet to come to terms with the defeat it faced in the assembly elections held earlier this year. At least that appears from the fact that the BSP has changed its choice for the state unit president three times after the poll results were declared in March. The party was not able to win even a single seat.
Fund-starved govt schools left 'begging' for grants
Bathinda, November 16
A few weeks before Deputy Chief Minister Sukhbir Badal donated Rs 1 crore to his alma mater Lawrence School, Sanawar, the fund-starved Punjab Education Department had asked government schools in the state to generate finances through donations.
Distillery non polluting: Mittal
Bathinda, November 16
The chairman and managing director of Bathinda Chemicals Limited (BCL) Rajinder Mittal claimed that his distillery located near the Machhana village was not creating pollution, as had been claimed by the members of the NGO, Association for Democratic Rights (AFDR).
Declare Sarabha national martyr, demands Badal
Sarabha, November 16
Chief Minister Parkash Singh Badal today said the state government will initiate the process to seek national martyr status for Kartar Singh Sarabha. Paying tributes to the martyr on his 97th martyrdom anniversary at his native Sarabha village near Ludhiana, Badal said Punjab would write to the Centre over the issue.
Farmers offered subsidy on seeder machines
Fatehgarh Sahib, November 16
Agriculture Department would offer subsidy to district farmers on the purchase of Happy Seeder machines in order to stop them from burning their stubble in the fields and thereby saving the environment from being polluted.
Missing Amritsar boy found dead near his house
Amritsar, November 16
Ten-year-old Gurkirat Singh, who was missing from his Verka township house for the past 10 days, was found murdered today. His body was found dumped at a secluded place a few yards away from his house.
Water mixed with sewage in Bathinda
Bathinda, November 16
Residents of the Mehna Chowk area are getting dirty water supply for the last six days. The area is reportedly being supplied drinking water mixed with sewage. People gathered and shouted slogans against the municipal corporation today in protest and also showed the dirty water that they are receiving. Local residents said that instead of being sparkling clear, the water was yellow in colour and was stinking badly. "For the last six days, we are getting dirty water supply. Consequently, many of us have fallen ill," said Gurpreet Singh from the old Ranjit Press street in the locality.
Bathinda youth festival to dwell on social issues
Bathinda, November 16
The elimination round for the zonal legal literacy youth festival was held at the SSD Girls' College today. Students from Ferozepur, Fazilka, Faridkot, Moga, Muktsar, Bathinda and Mansa participated in the event.
Vigilance told to book 8 PUDA officials
Mohali, November 16
Chief Minister Parkash Singh Badal today reportedly directed the Vigilance Bureau to register a case against eight Punjab Urban Development Authority officials, including a senior functionary in the engineering wing, for using substandard material in civic works in Bathinda and Mansa.
NGO to help AIDS patient
Bathinda, November 16
A woman, belonging to the deprived section of society with three AIDS patients in the family, was today assured help by the NGO Sahara Jan Seva. The woman, a migrant, who resides in Dhobiana Basti, said she has three sons. Her elder son, his wife and their two-year-old son, are suffering from AIDS.
Garbage dump makes life difficult for Ropar residents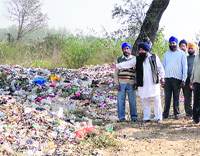 Ropar, November 16
Villagers from adjoining areas of city are up in arms against the Municipal Council for dumping garbage here today. Hundreds of residents from Chhota Surtapur, Bhauwal, Taparian and Rauta villages staged a protest near the dumping ground adding that it posed a health hazard for them.



Villagers show the garbage site that is located outside Ropar city on Friday. A Tribune photograph

Panel to monitor 'secrecy funds'
Chandigarh, November 16
The Punjab Government has constituted a four-member committee for monitoring the utilisation of "secrecy funds" by the Punjab School Education Board (PSEB).
CJM defers decision on Shruti's custody
Faridkot, November 16
A week after Shruti's parents moved two applications in the court of the Chief Judicial Magistrate (CJM), Faridkot, demanding the medical termination of her pregnancy as well as her custody, the court today deferred a decision on both till November 19 after the public prosecutor said that the state government and the police wanted to submit its reply.
Elderly Patiala couple found murdered
Patiala, November 16
An elderly couple was found dead in their Rajpura Colony house, here today morning. Both were retired power corporation employees. The man's body was lying in a pool of blood and his wife's corpse was found in the adjoining room.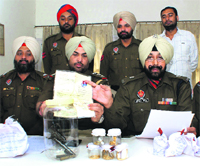 Gang of robbers busted in Rajpura
Rajpura, November 16
Rajpura police today claimed to have solved at least 50 cases with the arrest of two members of the dreaded Bawria gang from Uttar Pradesh (UP). Rajpura city Station House Officer Bikramjit Singh Brar, who cracked the case, said the two gang members Lakhan, resident of Shamli in UP and Balvir Singh, resident of Khanna, were arrested with 500 gm of psychotropic powder each and a pistol.

Police displays the weapons and drugs seized in Rajpura on Friday. A Tribune photo

15 vehicles & the fatal pile-up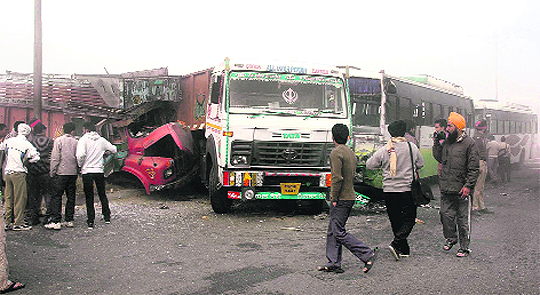 A view of the piled-up vehicles on the Jalandhar-Amritsar highway on Friday morning. Tribune photo: Malkiat Singh

One person was killed while 14 sustained injuries as 15 vehicles collided on the Jalandhar-Amritsar highway on Friday morning


Among the injured was Deputy Superintendent of Police (Jail) Amritsar and four other policemen accompanying him


Officials said the condition of three of the injured was stated to be critical


The police officials said that the accident reportedly occurred due to the negligence of the driver of a truck-trailer


The police has impounded the truck-trailer and registered a case under Section 304 of the IPC against the truck driver