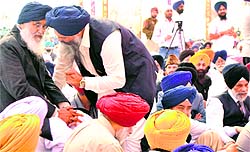 Lokpal appointed on merit: Badal
Rakhra (Patiala), November 11
Chief Minister Parkash Singh Badal has slammed the Congress for questioning the appointment of Justice JS Sekhon as the Lokpal of Punjab.


Chief Minister Parkash Singh Badal talks to SAD leader Prem Singh Chandumajra at a function in Rakhara village near Patiala on Sunday. Tribune photo: Rajesh Sachar



Chief Minister rubbishes allegations of bungling of grants

Moga police 'ignored' threat to former MLA Keetu's life
Moga, November 11
The Moga police had ignored threat to the life of former Akali MLA Malkiat Singh Keetu for the reasons best known to it. He was allegedly murdered by his nephews and their associates all of whom are hardcore criminals. Malkiat Keetu
Amid fear of spurious sweets, Milkfed doing record business
Faridkot, November 11
Sweets indeed are an integral part of festivals, especially during Divali. Adulteration, however, can play a spoiler.
Defunct mill workers stare at another black Divali
Budhlada, November 11
Seeking re-employment, about 300 workers of the closed down Budhlada Sugar Mill completed 500th day of their chain hunger strike today.
Suicide at police station
Ex-SHO among 4 policemen booked
Gidderbaha/Muktsar, November 11
The district police has booked a former SHO and three other policemen for negligence in performing duties that led to the suicide by a 32-year-old Dalit woman at the Kotbhai police station on September 30.
Objectionable scenes removed, SGPC panel clears 'Son of Sardaar'
Amritsar, November 11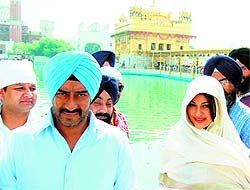 The five-member Shiromani Gurdwara Parbandhak Committee (SGPC) panel formed to look into the objections raised by the community regarding a few scenes in the upcoming Ajay Devgn film 'Son of Sardaar' is satisfied with the final print of the movie. The film is all set to be released on the occasion of Divali on Tuesday.


'Son of Sardaar' actors Ajay Devgn and Sonakshi Sinha had visited the Golden Temple on October 10. The film is set to be released on Divali. A Tribune file photograph





Akali Dal hits back at Delhi Govt over 'bid to stall' 1984 memorial
Amritsar, November 11
The SAD (Badal) is up in arms against the Delhi Government's alleged move to derail the construction of a memorial to those killed in the 1984 anti-Sikh riots in New Delhi, dubbing it as a "politically motivated" step.



Govt provides LCDs to 500 schools for quality education
Chandigarh, November 11
The Punjab Government has provided television screens and computers in 500 government schools in the state to impart quality education. Teachers would be given training to use LCDs and computers with modern technology.

21.71% families in Punjab without toilets
Ludhiana, November 11
Even though the state government is hoping to rope in investment worth thousands of crore rupees to take Punjab to new heights, data with the Director, Census Operation, shows that people did not even have access to bare essentials.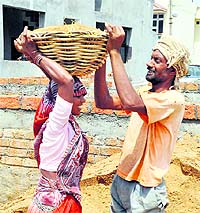 Not many takers for job scheme in Sangrur
Sangrur, November 11
The Mahatama Gandhi National Rural Employment Guarantee Scheme (MNREGA) that was launched in February 2006 has not found many takers in the district. Out of the 46,897 families that were issued job cards, only 8,822 families demanded employment in the past seven months of the current financial year (2012-13). Moreover, only one family has completed the full 100 days of work.


Workers prefer to work in cities as they get paid more than MNREGA wages. A Tribune photograph

Sarabjit's fresh mercy plea to be sent to Pak president
Lahore, November 11
Sarabjit Singh, who is on a death row for alleged involvement in a string of bombings in Pakistani cities in 1990, has signed a fresh mercy petition to be sent to President Asif Ali Zardari.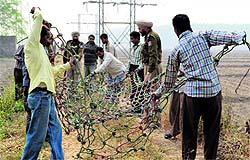 Leopard on the prowl in Ladhowal
Ludhiana, November 11
High alert has been sounded in 10 villages located near the Sutlej in Ladhowal after a leopard, rescued from a well, escaped after injuring a forest guard. The incident took place this morning when a farm labourer, Vikram Singh, spotted a leopard in a well.


Police and forest officials arrange a net to rescue the leopard


Govt to assess teaching days lost in schools
Bathinda, November 11
The Government of India will be studying the attendance of teachers and students in primary and upper primary schools of the state to find the effect of various schemes being run in these schools.

Dry fruits are a hit this season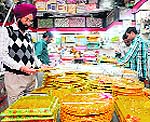 Bathinda, November 11
Dry frits have eaten away a major chunk of the market share that sweets used to hold during Divali. Most of the families and corporate officials are purchasing dry fruits instead of sweets to present as gifts to their relatives, clients or staff. A visit to the shops in Dhobi Bazaar revealed that the sale of dry fruits had increased this Divali as compared to the previous year.

Pending works in Bathinda expedited
Bathinda, November 11
Deputy Commissioner Kamal Kishore Yadav has issued directions that pending works in the district be completed soon and if any of the departments faced any problem regarding these works, it can seek help from the DC office.



HC: Private colleges liable to pay gratuity
Chandigarh, November 11
The Punjab and Haryana High Court has held that the liability to pay gratuity is that of non-government colleges, and not the state government.



Friends held for Shahkot boy's murder
Shahkot, November 11
The police has arrested two friends of 13-year-old Vijay, whose was found murdered near Baopur village here yesterday, for allegedly committing the crime.

Nine inmates booked for using cell phones
Patiala, November 11
Nine inmates lodged inside the Central Jail Patiala, including two Nigerian nationals, were booked for using cell phones on the premises. Police have registered cases against the accused at Tripuri police station.