NABARD to fund Rs 464-cr dairy, irrigation projects
Chandigarh, November 14
The National Bank for Agriculture and Rural Development (NABARD) is all set to pump in Rs 464 crore to uplift the sagging rural economy of the state. The bank has agreed to sanction various projects for the dairy and irrigation sectors.
PGI exam scandal
Baba Farid university treads with caution
Faridkot, November 14
The use of high-end mobile phones with powerful cameras and bluetooth devices for cheating in the MD entrance examination at the PGI, Chandigarh, has added to the worries of the Baba Farid University of Health Sciences (BFUHS) authorities.
Misuse Of Funds
Govt to hire pvt company for auditing
Chandigarh, November 14
In the wake of reports of fraud in the utilisation of grants and funds released for development projects to local self-government institutions such as village panchayats and local bodies, the state government has decided to engage a topnotch private company to conduct the audit of all such institutions.
Bumper paddy crop despite poor rainfall

Chandigarh, November 14
Notwithstanding deficient rainfall, Punjab has had a bumper paddy crop this year. Already, more than 126 lakh tonnes of paddy has arrived in various grain markets in the state. Of this, about 121 lakh tonnes has been procured by various state government agencies and 5.94 lakh tonnes by traders and other private agencies.

Paddy arrivals at the Amritsar grain market. A Tribune photograph


To cut smoke, fewer fireworks at Golden Temple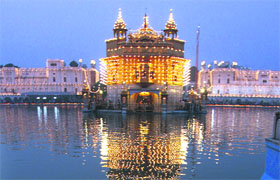 Amritsar, November 14
To give a message to the Sikh Sangat to save environment and to check pollution around the Golden Temple, the Shiromani Gurdwara Parbandhak Committee (SGPC) displayed fireworks for only 10 minutes on the occasion of Bandi Chhod Diwas (Divali) last night.


An illuminated Golden Temple on Divali in Amritsar on Wednesday. Photos: Vishal Kumar

Release pending funds, Centre told
Chandigarh, November 14
The state government, which remained dilly-dallied on carrying out reforms in urban areas for about five years to avail of funds under the Jawaharlal Nehru Urban Renewal Mission (JNURM), has now urged the Central Government to release the pending sum of Rs 300 crore in the wake of the measures initiated by the Local Bodies Department.
Muktsar realtors promoting illegal colonies as approved
Muktsar, November 14
All efforts by the state government to keep a check on the mushrooming growth of unauthorised colonies have fallen flat as several such colonies are coming up in the district with impunity.
Badal: Nation's economy not safe with UPA Govt
Ludhiana, November 14
Chief Minister Parkash Singh Badal today said that the Congress-led UPA Government at the Centre had neither the clarity nor the vision to ensure nation's security, both internal and external. Neither was the country's economy safe in the hands of the UPA Government, he said.


Befitting tribute to Chacha Nehru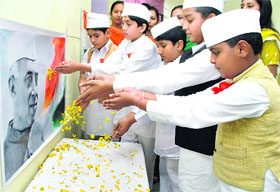 Children dressed up as Pandit Jawaharlal Nehru, pay tribute to him on his 123rd birth anniversary, which is known as Children's Day in India, in Patiala on Wednesday. — Tribune photo: Rajesh Sachar
Inspector's arrest may spell trouble for tainted DSP
Ludhiana, November 14
The arrest of "tainted" Motor Vehicle Inspector (MVI) Rakesh Gupta may cause more trouble to former Vigilance Bureau (VB) DSP Gurcharan Singh, currently in jail for allegedly taking a bribe of Rs 25 lakh from the former.
SGPC college in Fatehgarh Sahib
Fatehgarh Sahib, November 14
Shiromani Gurdwara Prabandhak Committee will set up a degree college in Bhagdana village to help youths in the area get suitable jobs and deal with the crisis faced by the farmers whose land had been recently acquired to lay a railway track for Nilas Thermal Plant.
B Ed students to be charged for training
Bathinda, November 14
To raise funds for government schools in the state, the Director General of School Education (DGSE) has decided that Rs 500 will be charged from each B Ed student undergoing training at the government schools.
Ropar clothes shop gutted in fire
Ropar, November 14
Goods worth several lakh rupees were gutted in a fire at a shop in Nurpur Bedi near here yesterday. Varinder Kumar, the owner of the shop, said garments worth over Rs 15 lakh were destroyed in the incident.
Nankana Sahib pilgrims to get security cover
Bathinda, November 14
Pilgrims visiting Nankana Sahib in Pakistan would get extra security cover, said Bathinda MLA and Chief Parliamentary Secretary Sarup Chand Singla. He was a member of the state's delegation that visited Pakistan recently.


Leave encashment to retiring employee facing probe can't be withheld: HC
Chandigarh, November 14
The Punjab and Haryana High Court, in a significant judgment, has held that the amount of leave encashment, payable to a retiring employee facing criminal or department proceedings, cannot be withheld.


Heroin seized
Ferozepur, November 14
The Ferozepur police today seized heroin worth Rs 20 crore from a village near the India-Pakistan border and arrested a drug courier.
Woman gangraped in Moga
Moga, November 14
Three youths allegedly abducted a 35-year-old widow and her children from Kot-ise-Khan town in the district yesterday. They took them to the nearby Karial village and raped the woman.
Man kills cousin for property
Lambi, November 14
Greed of 12 acres of land allegedly led a man to kill his 10-year-old cousin at Sarawan Bodla village in Lambi last night. The accused, Harjit Singh (35), in connivance with his wife Jaswinder Kaur and sister-in-law Kulwinder Kaur, allegedly fired at his cousin Jagmeet Singh with a .12 bore gun.