Minor dip in air, noise pollution
Chandigarh, November 14
The air and noise pollution level on Divali night once again exceeded the permissible limit in the city this Divali. However, this year, the figures of air and noise pollution witnessed a minor dip as compared to last year. It was only between 10 and 11 pm that the city crossed the figures of the noise pollution level in 2011.
Smoke engulfs a street after fireworks in Chandigarh on Tuesday night. Tribune photo: Manoj Mahajan
Panchkula won't know how noisy it was this Divali
Panchkula, November 14
The Pollution Control Board in Panchkula "went deaf" this Divali with the noise meter, that was supposed to measure the noise pollution, lying defunct for the past 15 days. As a result, the board will have no data regarding the noise pollution created on the night of the festival of lights.


For some, festival of lights ended in hospital
Chandigarh/Panchkula, November 14
Divali celebrations proved a nightmare for 101 persons in Chandigarh who reportedly suffered burn injuries last night while bursting crackers to celebrate Divali. As many as 62 cases of burns were reported at the Government Multi-Specialty Hospital (GMSH) in Sector 16, Chandigarh, 24 cases at the PGI and 15 cases at the Government Medical College and Hospital, Sector 32, Chandigarh.

An injured boy outside the Panchkula General Hospital


Burn victims ( from left): Tarun, Gaurav, Renu, Rami Singh, Shivnath and Vikram. Tribune photos: Manoj Mahajan
18 minor incidents of fire reported
Chandigarh, November 14
Eighteen minor incidents of fire were reported on Divali night. However, no major loss was reported from any part of the city. A fire broke out in house No. 2849/3, Sector 49-D, after a firecracker fell into the house. Family members were busy bursting crackers on the ground when the incident took place.


Lotus sellers have a blast
Panchkula/Chandigarh, November 14
Lotus, which generally does not have many takers, was in demand this Divali. Associated with Goddess Laxmi, the flower, that is sold between Rs 10 and Rs 20, fetched between Rs 100 and Rs 150 last evening. "Usually the flower costs between Rs 10 and Rs 20. However, since it is in demand on this day, the highest price at which it was sold was Rs 150," said Madan, a florist based at Sector 7, Panchkula.
No dinner for hostel inmates on PU campus!
Chandigarh, November 14
Panjab University hostel inmates, who decided to celebrate Divali away from their home, had a tough time during the festival as they had to visit nearby sectors in search of food for dinner as all canteens were closed.
3 suffer eye injuries in Mohali
Mohali, November 14
Three persons, including two children, suffered eye injuries during Divali celebrations last night. They were admitted to the local Civil Hospital in Phase 6. Apart from that 16 cases of burn injuries (15 mild and one serious) were also reported in the town, which otherwise witnessed a peaceful Divali as far as the crime scenario is concerned.
| | |
| --- | --- |
| Devotees light candles at a gurdwara in Mohali on Tuesday. Tribune photo: Parvesh Chauhan | A boy, who suffered an eye injury, with his mother at the Civil Hospital in Mohali on Tuesday. A Tribune photograph |
Vishwakarma Day celebrated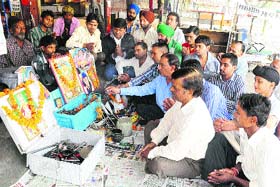 Mechanics worship Lord Vishwakarma on the occasion of Vishwakarma Day in Sector 48, Chandigarh, on Wednesday. Tribune photo Parvesh Chauhan
Cracker smoke causes allergies
Panchkula, November 14
"Eco-friendly" crackers left their marks in a different way when a number of cases of pollution allergies were reported last night. The crackers left rashes, allergies and permanent scars on many on the Divali night. As many as 45 cases of pollution allergies were reported at the Panchkula hospitals. No such incident was reported in Chandigarh and Mohali.
Tragedy strikes two families
Chandigarh, November 14
Tragedy struck two homes on Divali as two women died in separate road accidents last evening. While a Sector 20 resident, who was returning home after presenting a Divali gift to her sister, was killed after the car in which she was travelling was hit by a private bus, a 60-year-old woman riding pillion on a bike died after being hit by a speeding tempo-traveller.


Garbage mess in Chandigarh
Chandigarh, November 14
A day after the most celebrated festival of the nation, localities are facing the acute problem of garbage strewn around house. Adding to this post-Divali problem, a majority of sweepers of the Municipal Corporation have been on two-day holiday on account of Vishkarma Day and Bhai Duj.

A heap of garbage after Divali in Chandigarh on Wednesday. Tribune photo: Manoj Mahajan
Sweets traders do good business
Chandigarh, November 14
Witnessing a trend reversal, sweets found a favour with the city residents this Divali as the sweetmeat sellers have pegged the sales at Rs 8 crore. A member of the sweetmeat sellers association, pleading anonymity, said this year more people bought sweets than last year.


'Short stay home' short on facilities
Chandigarh, November 14
It seems that the short stay home, which has been set up to provide temporary shelter to needy women and children, is in the dire need of permanent infrastructure.


Chairperson of the Chandigarh Social Welfare Board Kamlesh interacts with inmates of a short stay home in Chandigarh on Wednesday. Tribune photo: Manoj Mahajan
'Dreamland' theme of Chandigarh Carnival this year
Chandigarh, November 14
Micky Mouse, Bunny, Tom and Jerry, Donald Duck, Scooby-Doo, Shaggy and other cartoon characters will enthral the crowd at this year's edition of the Chandigarh carnival, beginning from November 23 in the Leisure Valley in Sector 10 here.


When bees attack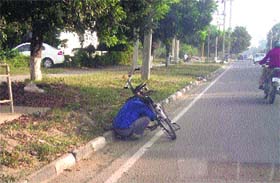 A man saves himself from bees on the road separating Sectors 38 and 39 in Chandigarh on Wednesday. A Tribune photograph
Kingfisher postpones its operations till month-end
Chandigarh, November 14
There is no clarity, till now, over the recommencement of kingfisher Airline's local operations from Chandigarh. The airline was expected to begin its operations by November 6 but as per the latest information, but they have been postponed till the end of this month.
Walkathon on Nov 18
Chandigarh, November 14
The Department of Endocrinology, PGIMER, will organise a walkathon on November 18 (8 am) at the Sukhna Lake. It will start from the police post of Sukhna Lake and after reaching the Rock Garden the participants come back to the police post.

mess charges
Can't roll back hike, says VC
Chandigarh, November 14
Even as the students' hunger strike over the hike of Rs 6 per meal entered the ninth day, Panjab University Vice-Chancellor Arun Grover today made it clear that due to the rise in LPG and grocery prices it was impossible to rollback the hike as demanded by the students.
Students protest against hike in mess charges at the PU in Chandigarh on Wednesday. Tribune photo: Manoj Mhajan


Private schools defy orders
Chandigarh, November 14
For yet another year, the common admission schedule, announced by the UT Administration for admission at the entry-level classes in the private schools of Chandigarh, fell flat as the schools have gone ahead with their own admission schedule.
Children celebrate their day at Nehru Park
Chandigarh, November 14
The Municipal Corporation organised a cultural programme at Nehru Park, Sector 22, to celebrate the Children's Day today. Around 1,000 children along with their parents from different parts of the city participated in the colourful event. During the celebrations various competitions were organised by the MC, including painting competition, clay modelling, quiz and fancy dress competitions.

A magician shows his tricks at Nehru Park in Chandigarh.

Children participate in a fancy dress contest.

Children take part in a painting contest.
Tribune photos: Parvesh Chauhan

A bhangra team performs at Nehru Park in Chandigarh.

Play highlights nexus between mafia, police
Chandigarh, Nov 14
Play "Shaweta Jivit Hai" was staged at the Tagore Theatre during the annual theatre festival of the Chandigarh Sangeet Natak Academy today. The play, directed by Jagdish Chandra Tiwari, highlighted the collusion of a mafia gang leader with a police officer, who were involved in liquor and drugs trade.
Artistes stage a play at the Tagore Theatre in Chandigarh on Wednesday. A Tribune photograph