SGPC removes Harmandar Sahib head granthi
Amritsar, November 17
The Shiromani Gurdwara Parbandhak Committee (SGPC) executive on Saturday removed Harmandar Sahib head granthi Jasvinder Singh from the key post after he skipped "Chaupai Sahib" while performing the 'path' of 'Rehraas Sahib' at the sanctum sanctorum on Thursday evening.
Paddy stubble burning acquires political hues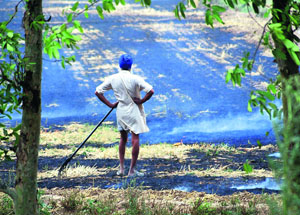 Gurdaspur, November 17
Paddy stubble burning seems to have acquired political colours in this border district with senior police officials claiming that they are under pressure from politicians not to book erring farmers. Plumes of toxic smoke rising from the burning fields not only give rise to fog but agriculture experts say this pollution plays havoc with the environment of the area.

Halqa (constituency) chiefs are 'preventing' the police from taking action against farmers indulging in stubble burning.

UPA discriminating against us: Sukhbir
New Delhi, November 17
Deputy Chief Minister Sukhbir Singh Badal has accused the Union Government of discriminating against states ruled by opposition parties in disbursing grants and relief from central funds.

Pakistan looking for Badal family's missing relative
Lahore, November 17
Pakistan has launched an investigation to trace a distant female relative of Sukhbir Singh Badal, the Deputy Chief Minister of Indian Punjab, who has been missing in Lahore for the past two-and-half months.
Rampant adulteration in sweets, bakery products, says Health Department
Ludhiana, November 17
The State Health Department after testing 1,248 samples of sweets and other eatables this year, found that bakery products contained non-permitted colours and milk and milk products were adulterated with foreign fat.
CM honours 43 litterateurs
Chandigarh, November 17
Chief Minister Parkash Singh Badal today announced to double the cash amount of Shiromani Awards bestowed upon leading litterateurs, journalists, poets and other eminent personalities for their contribution to the promotion of the Punjabi language, literature and culture.
Will set up factories if states provide land: Rly Minister
Chandigarh, November 17
The Railway Ministry is planning to set up railway factories in Punjab and Haryana if the state governments provide land for the purpose, said Union Railway Minister Pawan Kumar Bansal.
HC bars recruitment of rural associate teachers
Chandigarh, November 17
The Punjab and Haryana High Court today restrained the Punjab Education Department from finalising the recruitment of 5,078 rural associate teachers. The directions by Justice Tejinder Singh Dhindsa came during the hearing of a civil writ petition filed by Paraminder Pal and three other unemployed B.Ed candidates.


Murder case registered two years after death
Moga, November 17
More than two years after Kulbir Singh, a resident of Vadda Ghar village of the district, died after allegedly consuming poison at the nearby Saffuwala village, a police probe has now found that the man was murdered.
9 killed in separate accidents
Amritsar/Ferozepur, November 17
As many as nine persons were killed in separate accidents in Amritsar and Ferozepur last night. Three persons were killed when the Hyundai Verna car they were travelling in fell into a canal after skidding off the Sangatpura bridge.
34-kg heroin seized
Amritsar, November 17
In yet another haul, the BSF today seized 34 kg of heroin near Kot Razada border outpost in Ajnala sector. The contraband is estimated to be around Rs 170 crore in the international market. The BSF also received a magazine and eight cartridges from the spot.