Migratory birds add colour to upcoming winter
Throng Pong Lake in Nurpur, largest man-made wetland
Rajiv Mahajan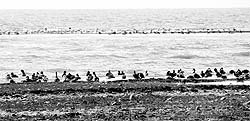 Exotic migratory birds have started thronging the Pong Lake in Kangra district. Photo by writer

Nurpur, November 17
With the onset of winter, eye-catching migratory birds have started thronging the Pong Lake, on the foothills of Kangra district, giving colour to the largest manmade wetland of northern India. The wetland, also known as Maharana Pratap Sagar, is sprawling over 24,000 hectares in Nurpur, Jawali and Dehra subdivisions of the district.
The state government had declared it as a wildlife (birds) sanctuary in 1983 and was notified in 1999. The sanctuary was declared as wetland of national importance by the Government of India in 1994.
This is the first major wetland offering a transitory resting reserve for the migratory birds such as bar-headed geese, rRuddy shelduck, pintails, coots, pochards, gulls, red necked grebes, cormorants, mallards. The birds fly in from China, Tibet, Iraq, Pakistan, Siberia and Mongolia in the winter season as there is great scarcity of food for them. Thus, the flocks of birds fly miles to reach Pong Lake to spend winters in a more congenial climatic condition, from November to March every year.
According to Sangeeta Chandel, the District Forest Officer (DFO), Wildlife, Hamirpur, around 25,000 to 30,000 birds had arrived in the Pong Lake until November 15. Last year, the total number of these birds had touched to 1,32,000.
"A few years back, these birds were falling prey to poachers who used to hunt secretively. But with the concerted efforts of the wildlife department poaching has been discouraged.
"The department has set up a Van Thana at Nagrota Surian headed by a deputy ranger. A team of field staff of the wildlife department, along with hired daily wagers, conduct round the clock patrolling to check the poaching menace. Last year, not even a single case of poaching was reported," she asserted.
The DFO also revealed that the department had been undertaking a two days' exercise of the census of migratory birds in the end of January every year with the active participations of NGOs and national-level institutes like the Wildlife Institute of India, the Geological Survey of India, the Bird Wildlife Fund for Nature and the Bombay National History Society of India.