OPED —

Agriculture
Stay ahead, but with non-toxic grain
The focus earlier was on increasing the yield manifold, even if it meant indiscriminate use of pesticides. The rules of the game have changed since. India must ensure quality and safety parameters if it has to compete in the international food market, where many of its consignments have been rejected on account of toxicity
Sarbjit Dhaliwal
The concept of clean agriculture has caught the imagination of farmers in certain countries and is being promoted by small, well-organised groups, but it is yet to draw the attention of the farm community in India. Over the years, farmers in states like Punjab and Haryana have been concentrating on mass production of foodgrain and other farm products, by and large ignoring their quality and other related aspects.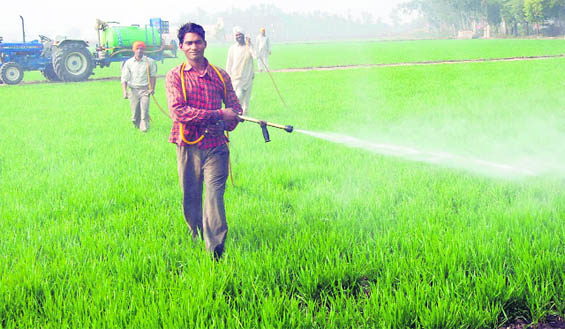 TOXIC FOODGRAIN: Recently, rice consignments from North India were rejected by the US for having traces of pesticides.
Bulk production was the need of our extensively foodgrain-deficit country some decades ago, when it depended on developed countries and imported foodgrain. All efforts were focused on enhancing productivity.
How it began
Grain export

Foodgrain, related commodities: Over Rs 1 lakh crore per annum


Rice: Over 7 million tonnes in 2011-12, including 3.2 million tonnes of basmati
Export reject
About 40 per cent wheat samples drawn from various stocks in Punjab failed recently. In some samples, Karnal bunt (fungal infection) was found while in some of the other samples unacceptable levels of chemicals were detected. These stocks were rejected for export.
What can be done

Educate farmers about judicial use of pesticides


Strengthen monitoring of pesticide usage


Control sale of pesticides; introduce prescription system
PAU recommends

Use pesticides when absolutely necessary; prefer non-chemical methods of pest control, like bio-pesticides


Minimal use of pesticides with persistent effect


Don't harvest crop immediately after spraying pesticides


Spray pesticides before flowering, fruiting
US residue norms
Eight chemicals were identified in the basmati rejected by the US. Among these were traces of pesticides such as isoprothiolane, tricyclazole and bavistan. It should not have been beyond 0.01 parts per million (PPM). Some pesticides allowed in other countries are banned in the US.
Insecticides commonly found in food
Aldrin, dieldrin, chlordane, dicofol, endosulfan, fenitrothion, lindane, monocrotophos, tridemorph and lufenuron
The use of pesticides was negligible in Punjab before the '60s. After the green revolution, pesticides became an integral part of the farm sector. Extensive use of pesticides, weedicides and insecticides began in the '80s and touched its peak in the mid-90s.
Experts blame the cotton crop for the wide use of pesticides. In the '80s, the cotton crop saw repeated attack of American bollworm. Desperate, farmers used all types of pesticides. There were repeated cotton crop failures in the '80s due to bollworm. This led to a large number of suicides by farmers. In the '70s, most "desi" varieties were replaced with hybrid varieties. In the '80s, major pesticide companies had set up home in Punjab and launched campaigns in support of pesticides use.
After cotton, farmers started using pesticides on other crops such as paddy, wheat and sugarcane. Earlier, farmers used to remove weeds manually, but in the '80s, they started using weedicides.
Export rejects
The need of the fast-changing times is quality, clean foods within safe parameters fixed by various authorities for use of chemicals, especially in Punjab and Haryana, which have become foodgrain-surplus states. The international as well as the domestic market have become conscious of the (mal)practices, particularly excessive use of pesticides and other chemicals, being used to produce foodgrain, fruits and vegetables. Even the poorest of the poor countries have framed strict quality control parameters and introduced measures to check the standard of food items. It is an era where the brand determines the price. The best brands fetch the best prices. Quality plays the most crucial role in building the brand of a product that may be clothes, shoes or food products. Undoubtedly, farmers need to be educated in this regard. About 20 lakh tonne wheat is being exported from Punjab during the current financial year.
In the recent past, rice consignments from North India were rejected by the US because these had traces of pesticides. This was not the first case of rejection. Some exporters feel international politics could be behind such rejections. Companies exporting rice have argued that they aren't responsible for the quality of foodgrain. They have put the ball in the court of farmers, producers and the state government concerned.
Failing samples
It is a fact that chemicals are used by farmers to enhance productivity. To fight various types of pest attacks and diseases, farmers use pesticides, some times more than required. This is reflected at the time of testing of their samples. Excessive use of pesticides on vegetables and fruit crops has become a major concern. Failure of milk samples has also become a routine affair.
As per figures of the Punjab agriculture department, the consumption of pesticides and insecticides in the state had jumped from 3,200 tonnes in 1980-81 to 7,200 tonnes in 1995-96. It came down to 6,000 tonnes in 2011-12. Pesticides are also used by government procurement agencies and private companies to save their stocks of foodgrain from pest attacks and diseases in warehouses.
Bulk buyers of fruit often use highly toxic chemical to quicken the process of ripening. Blaming the farmer alone for the poor quality of foodgrain is unfair. Vijay Setia, former president of the Rice Exporters Association of India, says there should be a three-month crash course for a person given the licence to sell pesticides and other toxic chemicals for use in the farm sector. Basic knowledge about pesticides and their use should be provided to the licensee.
Likewise, there should be a course for "arthiyas" (commission agents) to educate them on the quality aspect of foodgrain. Some weeks ago, wheat samples were drawn from various stocks in Punjab and about 40 per cent failed. In some samples, Karnal bunt, a fungal infection, was found while in others chemicals were detected. These stocks were rejected for export.
Monitoring cells
In the past, certain varieties of rice, with an excellent yield record, have been rejected in the market because these failed to meet even the parameters fixed in the domestic market. It will be wrong to suggest that our institutions are not checking the quality of foodgrain and other produce, but they are not working at a fast pace. There is an urgent need to gear up monitoring and set up special cells at the state-government level to sensitise farmers.
The Punjab Agricultural University (PAU) Vice-Chancellor, Baldev Singh Dhillon, says the university is doing its best to guide farmers with regard to the judicial use of toxic chemicals and fertilisers. "We are focusing on promoting good agricultural practices in our farm extension services," he says.
Dr Balwinder Singh, Professor and head of the department of entomology, says: "The most serious problem resulting from the unregulated use of pesticides is the presence of residues in the food chain and other components of environment."
An encouraging sign is that the level of pesticide residue in food commodities has started declining. "Between 1997 and 2011, the PAU analysed 4,156 samples of various commodities. The contamination level was down 18 per cent as against 62 per cent during 1976-1996. The residue of pesticides was found in excess only in 4 per cent samples whereas during the 1976-96 period, it was found in 29 per cent samples," he says.
The propagation of the integrated pest management (IPM) approach has reduced pesticide application, especially on cotton and basmati rice. The PAU has launched a special monitoring project on the use of pesticides on basmati in 150 villages of Amritsar, Gurdaspur and Tarn Taran districts, where high quality basmati is grown for export. The Agriculture and Processed Food Products Export Development Authority is also involved.
The Food Safety and Standards Authority of India has not only fixed parameters for various eatables, but is also actively monitoring the quality. But the efforts being made by various institutions are far short of the desired goal. Keeping in view the vastness of the country, a sustained campaign is needed. States like Punjab, "lazy" on this front, should play a proactive role, since it is hoping to bring about diversification in agriculture.
Dwelling on food quality and safety aspects, Dr SS Marwaha, Chief Executive Officer of Punjab Biotechnology Incubator (state-of-the-art quality testing lab in the country), says: "Food habits of consumers are changing fast the world over. In the emerging scenario, quality and safety aspects of raw and processed foods produced by using conventional and innovative techniques, including biotechnological tools, must be the focus. With increasing levels of competition in the food export market and awareness of consumers, the significance of quality has become paramount."