Chief Secy for more job opportunities to villagers
Chamba, November 27
Chief Secretary S Roy has said all officers with the state government should make concerted efforts to take welfare and progressive policies and programmes of the government to the needy and target groups. He said this while presiding over a review meeting of district officers here today.
Pvt security agencies shy away from registration
Solan, November 27
The move to register private security agencies in the state by the police appears to have met a dismal response as barely 35 agencies have been registered till now.


Striking a note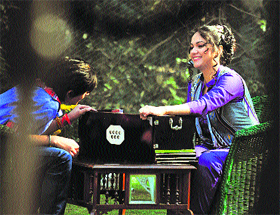 Bollywood actress Gracy Singh during the shooting of the film "Blue Mountains" in Shimla on Tuesday. Photo: Amit Kanwar
Saach Pass closed for winter
Chamba, November 27
The 4,423m high Saach Pass has been officially closed to vehicular traffic and pedestrians as sthe formation of ice on the pass and its environs has begun.
Hoteliers to knock at doors of Civil Aviation Ministry
Shimla, November 27
With the absence of regular flights to Himachal Pradesh affecting tourist flow to the state, worried hoteliers in Shimla, Manali and Dharamsala have decided to knock at the doors of the Union Civil Aviation Ministry as repeated pleas of the state government have failed to yield a result.
SFI protests hike in fee, price of forms
Shimla, November 27
Up in arms against the hike in examination fee and price of forms, the Students Federation of India (SFI) has launched a signature campaign to oppose the move.
Lawyers told to maintain standard of profession
Shimla, November 27
"The Bar is the judge of judges." Stating this here yesterday, Justice Deepak Gupta of the state High Court told lawyers that they not only had to live in order, but also maintain the standard of the profession.


Waiting for star of Bethlehem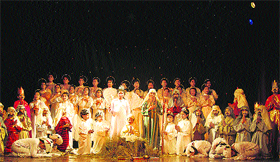 Christmas nativity celebration at Auckland House School in Shimla on Tuesday.
Additional Chief Secy for slum-free industrial area
Solan, November 27
Dr PC Kapoor, Additional Chief Secretary (ACS), Industry, has stressed the need to rid the industrial area of Baddi-Barotiwala-Nalagarh (BBN) of jhuggis and introduce a sense of green and clean environs.
Electricity consumers resent inflated bills
Hamirpur, November 27
A large number of electricity consumers in the town and surrounding areas have resented inflated bills for this month from the Electricity Department.
Guru Nanak's birth anniversary celebrated
Chamba, November 27
Officials of the Central Industrial Security Force (CISF) deployed at the NHPC's Chamera Power Station-II celebrated Guru Nanak Dev's birth anniversary on the project premises at Karian in Chamba.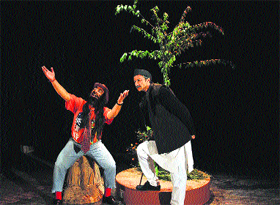 Artistes in a scene from the play "Chanku Ram", organised by the Amar Jyoti Group Pahal, at the Gaiety Theatre in Shimla on Monday. Photo: Amit Kanwar
Villagers seek SDM office at Jhandutta
Bilaspur, November 27
Led by gram panchayats presidents Rakesh Chandel (Jhandutta) and vice-president Sohan Singh, Prakasho Devi (Behana Brahammana) and vice-president Subhash Minhas, Babu Ram (Balghaad) and vice-president Vijay Kumar, Block Development Committee (BDC) member Raseel Singh, Beopar Mandal president, Jhandutta, Anil Dhiman, former Beopar Mandal president Kuldip Singh, Rohal panchayat vice-president Kamlesh Kumar and ward member Subhash Kumar, a large number of village leaders have urged the government to consider their demand for opening the office of Sub-Divisional Magistrate (SDM-civil) at Jhandutta.
Cong leader, son attacked
Bilaspur, November 27
Jhandutta Block Congress Committee president Capt Om Parkash Chandel (retd) and his son Ajay Chandel are said to have been attacked by some persons while they were sitting in their shop at Barthin bazaar, 42 km from here, last evening.
Husband, brother-in-law held
Nurpur, November 27
The Jawali police arrested Budhi Singh, husband of complainant Neha, and his brother Vijay Kumar of Bharmara village last evening for allegedly thrashing and harassing her. DSP Sanjay Sharma said the accused had married to Neha Devi, daughter of Des Raj of Darkati village, on October 24 last and had been torturing her demanding more dowry. Her husband was also demanding a vehicle from her parents.