Secretariat to don new corporate look
Pratibha Chauhan/TNS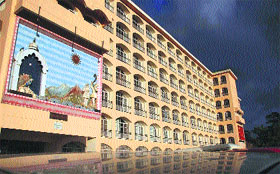 The Armsdale building in Shimla. Photos: Amit Kanwar
Shimla, November 20
The next Chief Minister and his Cabinet colleagues can look forward to an innings in a completely new setting as the Secretariat is all set to don a new corporate appearance, replete with eco-friendly modular offices and furniture.
The State Administration Department (SAD) has rolled out an elaborate plan to give the Secretariat, office to 1,600 employees, a facelift to make it more public-friendly and work-efficient.
The makeover, based on the go-green mantra, is being undertaken in a phased manner. It has already begun as two offices for secretarial staff and a retiring room for bureaucrats has been done.
With a modern workstation for every employee, replete with space for computers and other office material costing between Rs 20,000 and Rs 25,000, the price for the new fresh look can run into a few crores.
"We have embarked on the task of not only providing a proper workstation for every employee, but also creating a visitors' room, an officers' retiring room and a common room for the staff on all six floors of the Armsdale building and also at the old Ellerslie building," says Sudripta Roy, Chief Secretary.
The old Armsdale building, housing the offices of the Chief Minister, ministers and the Chief Secretary, will also don the new look. This building has about 125 rooms, much bigger in size than the ones in the new Armsdale building, which has about 200 rooms.
"We intend to undertake the plan in a phased manner. The rooms of ministers will be done only after the new Cabinet is formed, as per their requirement and taste," says Ajay Bhandari, Principal Secretary, General Administration and SAD.
He says the basic motive behind the exercise is to provide a better work environment to employees, which will help increase efficiency and results in the optimum utilisation of space.
The Secretariat, except the office of the Chief Minister, does not have any waiting room for visitors, resulting in people crowding the office of the personal staff of ministers and officers.
"The furniture that we will provide is completely green-guard certified as it is mostly made of recyclable material and is thus eco-friendly," says Kaplish Aneja, Assistant Manger (Sales), Godrej Inerio, which has been assigned the task. He says it will help improve the look and efficiency.
The exercise will help do away with bulky furniture, which is not practical and occupies a lot of space. It will help create sitting space for more people and be more functional and practical.