Monarchy, ministers lead the biking craze in Denmark
Aditi Tandon in Copenhagen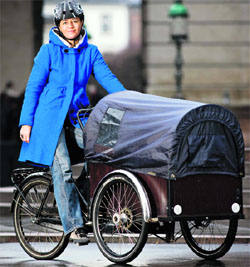 Denmark's Deputy Prime Minister and Minister for Economic and Interior Affairs Margrethe Vestager rides her family bike
Walking the streets of Copenhagen, it is normal to hit upon Denmark's Crown Prince, Speaker of its National Parliament, Deputy Prime Minister and the city's Lord Mayor biking to work and back every day.
Crown Prince Frederik André Henrik routinely drops his kids to the kindergarten in a specially designed family bike fitted in front with a basket to carry children safely through streets. Country's Deputy PM Margrethe Vestager has a similar routine so does Speaker Mogens Lykketoft.
Led by the wealthiest and most influential people of society, Denmark's traditional craze for cycles is now hitting an all-time high with the country setting a world record by recently crossing 396 km of dedicated cycle lane construction for safety of bikers to and from work.
Nowhere in the world, not even in Amsterdam famous for its bikes, has cycling been integrated into urban design the way it has been in Denmark. Inquiries reveal that the Government of Denmark has placed cycling at the heart of its ambitious goal of becoming the world's first carbon (CO2) neutral country by 2025. Even as the experiment holds out lessons for other countries suffering congested cities, Danes are busy making cycling a way of life.
Today, one in three Danes bikes to work every morning, 55 per cent because they feel biking is the fastest mode of transport. Around 32 per cent find it healthy and 29 pc say it is cheap.
"Until the cartoon controversy broke out and the Prime Minister's security became a cause of concern, even the Danish PM used to bike to work," says Henrik Woco, an expert in tourism in Copenhagen.
The best part of the story is that the craze cuts across segments. Despite Danes enjoying the highest average levels of wealth in the world, often topping the world rankings in average per capita incomes, the majority population chooses bikes, the low expense two wheelers over four.
Cycling's traffic modal share to work and education in Denmark is currently 36 per cent and Copenhagen, the capital, has the highest proportions of journeys to work by bicycle in any European capital. Amsterdam is second with 22 pc.
"The plan is to increase cycling share in traffic to 50 per cent by 2015," according to Frank Jensen, Lord Mayor of Copenhagen, who has eight Mayors working with him, all avid bikers.
Ayfer Baykal, Mayor for Environmental Administration told this correspondent: "The Danish experiment can be replicated in congested cities across the world that are largely flat and enjoy a dense, compact design. Weather is no deterrent considering Danes cycle though winter temperatures that sometimes dip below minus 15 degree centigrade."
By promoting cycling, Denmark is already cutting CO2 emissions by 90,000 tonne annually. Health expenditure saved by cycling per year is 230 million Euros and net social gain for every km travelled by bike instead of a car is 0.16 Euro.
No surprise then that the use of cars, heavily taxed and discouraged in Denmark, has declined drastically. Part of the credit for that goes to the government that has recently expanded metro carriages to enable people to carry their bikes along.